Every week, I post a picture of the food that has gone bad over the last seven days. I started doing this in March of 2008 to help motivate myself to use up my food instead of wasting it and it's been very effective. Since it helped me so much, I invited other bloggers to join me in posting their food waste photos, and Food Waste Friday was born.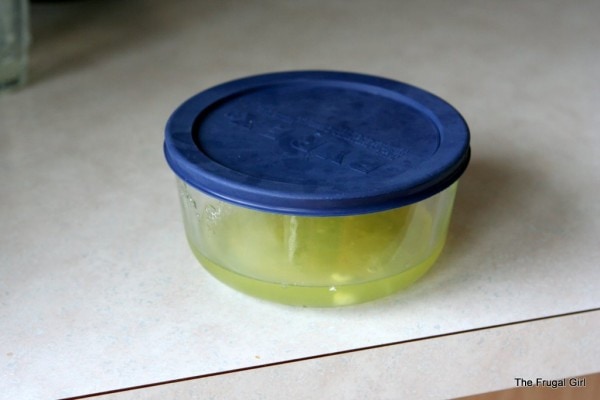 Usually the food that I waste is composed of produce, but this week I did manage to use up all my fruits and vegetables. The bowl above contains several egg whites that were left when I made a Key Lime Pie for my husband (it was one of the 14 things I did for him during our 14 Days of Valentines). I was going to scramble them up for breakfast or use them in baking and somehow, I just never did. If only good intentions counted for something, huh?
I also wasted some other protein, in the form of chicken. Remember how I said I was going to try cooking chicken in the Crock-Pot? Well, I did, and I was none-too-thrilled with the results. It was really easy, and very un-messy compared to roasting a chicken, but the meat had a weird flavor and texture (it was almost mushy). I don't know if I maybe cooked it too long, or if the chicken I bought was going to have a strange flavor no matter what, but I don't think I'll be slow-cooking a chicken again. We did eat it for dinner, and with the help of copious amounts of cranberry sauce, made it through part of the leftovers (which tasted more and more odd as time went by), but we just could not manage to eat it all. I threw it out earlier in the week, which is why it's not in today's picture.
I suppose if I was really, really desperate, I would have eaten the chicken, but I've learned that sometimes, unless you're literally starving, it's just not worth it to eat something you really loathe. (The NonConsumerAdvocate had a similar experience with some pepper(!) bagels this week.) On the upside, I do know that I can prevent this particular sort of food waste from happening again simply by roasting my chickens the traditional, albeit messier, way…in the oven!
________________________________________________________
How did you do this week? If you blogged about your food waste, link us up by entering your info into the widget below. You'll save money, reduce your trash output, and get a little publicity for your blog! And if you don't blog, you can still share about your food waste by leaving a comment.