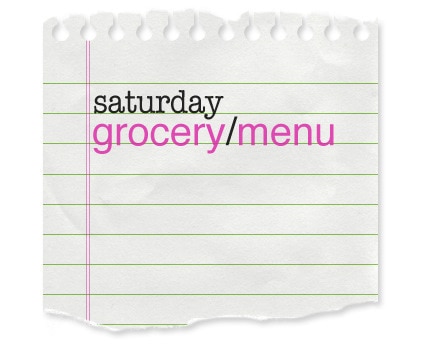 On Saturdays, I share my menu plan for the upcoming week along with a photo of my groceries and a tally of my spending. My goal is to spend $100/week for our food, toiletries, and cleaning products. I'm currently in the midst of trying to buy more local, sustainably-produced food while sticking to my budget. Can it be done? I don't know, but I'm going to try, and I'll share what I learn as I go along.
This week, I spent at $47.44 at Weis and at $46.30 at Aldi.
I also spent $15 at the local organic store for some chicken (I brought my own glass container so my chicken was completely waste free. Yay!) and local eggs.
So, I'm at $108.74, which is $8.74 over budget.
I'd already put some of my groceries away before I remember that I needed to take a photo, and I was going to skip it altogether. But, my children protested because they wanted their stuffed animals to hide in the groceries. So, here are photos of a few of my groceries. 😉
This is Sonia's request (the turtle in there is hers).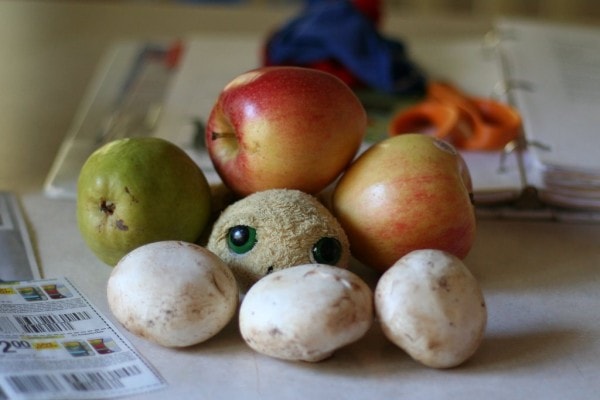 And this photo contains a stuffed animal belonging to each of my kids. The bear and the fish are easy, but my want to know if you can figure out what the other two animals are.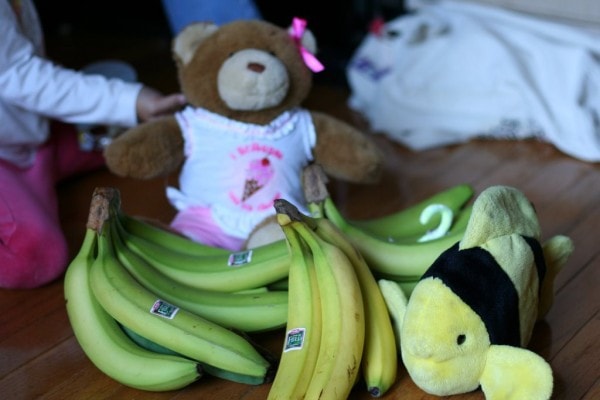 Breakfasts and lunches will be typical this week….oatmeal, cereal, toast, bananas, and juice at breakfast, and bread, jam, yogurt, fruit, and leftovers at lunch.
And here's the dinner plan:
Saturday

Sunday
We'll be celebrating my father-in-law's birthday with Mr. FG's family. I'm probably bringing bread…try not to be too shocked. 😉
Monday
Grilled Bratwurst on buns
green beans
chips
Tuesday
Broiled Tilapia
English Muffins
green salad
Wednesday
Baked Potato Soup
Two-Tone Bread
green beans
Thursday
Friday
We're flip-flopping our date night and pizza night, so we're having pizza on Friday and a date night on Saturday.
Today's 365 post: Do you ever worry that the toys aren't getting enough to eat?