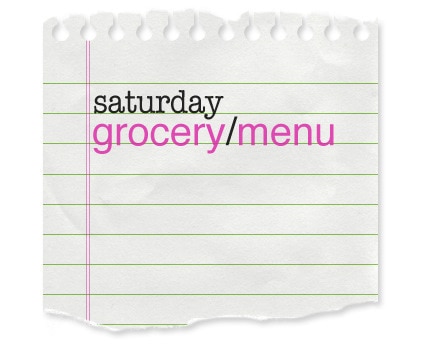 On Saturdays, I share my menu plan for the upcoming week along with a photo of my groceries and a tally of my spending. My goal is to spend $100/week for our food, toiletries, and cleaning products. I'm currently in the midst of trying to buy more local, sustainably-produced food while sticking to my budget. Can it be done? I don't know, but I'm going to try, and I'll share what I learn as I go along.
I'm super over budget this week. WAY WAY WAY over budget.
It's for two good reasons, though.
Last week, I got a call from a local farm letting me know that a quarter of a cow (150 pounds hung weight) was available for purchase. I didn't want an entire quarter, so I found a friend to split it with me. So, I now have a freezer full of local beef (and I do mean local…the farm is 30 minutes from my house), and I spent $218. Normally I'd have planned ahead for an expenditure like this, but the quarter of beef was a surprise to the farmer and to me, and I just decided to go for it.
I've never bought beef like this before so I haven't the faintest idea how long it will last us, but I feel like I got a very good price on very local beef, and I'm happy. And I'm thrilled to give my money to a little family farm that's been around for several generations.
Then midweek I got a sale flier (flyer?) from a local grocery store, noticed that Gold Medal unbleached flour was on sale for $1.50/5 lbs, and I jumped for joy. My Easter sale flour stock was just about depleted (I had 2 bags left), so this was excellent timing.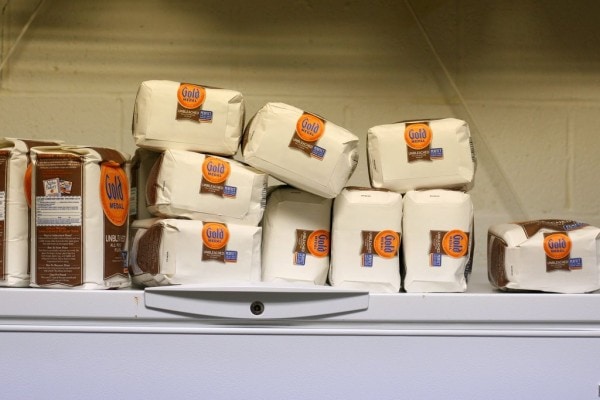 I bought all 13 of the unbleached bags they had (I'm sure there were more in the back but I didn't bother to ask) and gleefully brought them home. Yay! Gold Medal unbleached rocks my world when I need white flour (I grind wheat for my whole wheat flour needs).
So, the flour took another $19.50 of grocery money.
I then proceeded to spend $49.79 at Aldi and $38.12 at Weis.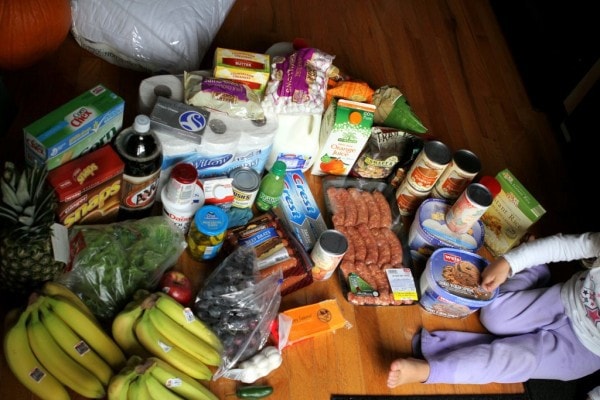 That means I spent $325.41 on groceries this week instead of $100. Dear me. That's almost a whole month's worth of grocery money! But it was for the cause of local food, and I don't feel at all bad about it.
I'm over by $225.41, which is about two week's worth of grocery money. We have the money to cover this (the overage is basically the beef), but I think it would be lovely if I could manage to make this work with just our grocery money. So, I think I'll take $100 out of November and December's budgets which will give me $75 to work with each week until the end of the year. I'm pretty sure I can make that work, especially since I have a decent supply of meat in my freezer, and I absolutely, positively will not need to buy any beef for a long time.
For breakfast this week, we'll be eating oatmeal, muffins, Cream of Wheat, cereal, toast, yogurt, and fruit (not all on one day!).
Lunches will be homemade bread, homemade yogurt, nuts, fruit, cheese, and leftovers as necessary.
And dinners are as follows.
Saturday
Since my nephews were here on Friday night, we thought it wouldn't be the best time to have our weekly at-home date night (the odds of them all playing quietly in Joshua's room while we ate were, uh, not good.). So, we're doing that tonight and our kids will be eating various leftovers (my nephews are going home late this afternoon).
Sunday
eggs for those who want them (usually Sonia, Lisey, and me)
Monday
Grilled hamburgers (with local beef, naturally)
homemade buns
fruit salad
Tuesday
Beef and Chicken Fajitas (with grilled onions and peppers)
chips and salsa
Wednesday
Parmesan Crusted Chicken
Scalloped Potatoes
green salad
Thursday
Cornbread (or if I'm feeling inspired, I may make a yeasted cornmeal bread)
green beans
Friday
Takeout night for Mr. FG and me, leftovers or something easy for the kids
Today's 365 post: The face of discontent