The groceries
This is some free produce I got from my parents' garden. I've gotten a few tomatoes from my plants, but nothing quite like this.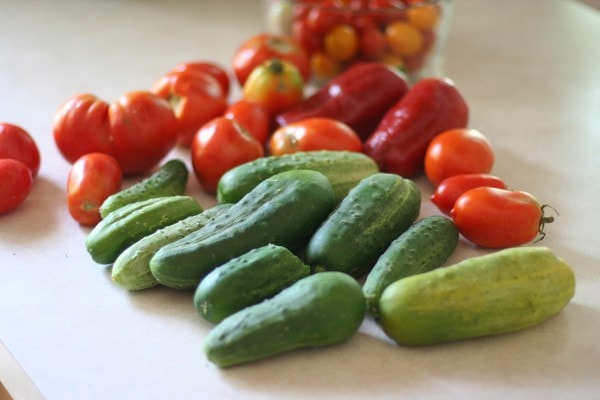 My kids love to snack on tomatoes (especially the cherry/grape kind), and they also are big fans of cucumber slices sprinkled with salt, so they're thrilled with our haul.
We also shopped at Weis and Aldi, and I'm pleased to say that I actually had cash (and even if I hadn't, I'm now the proud owner of an up-to-date debit card), so our shopping was much more pleasant than last time.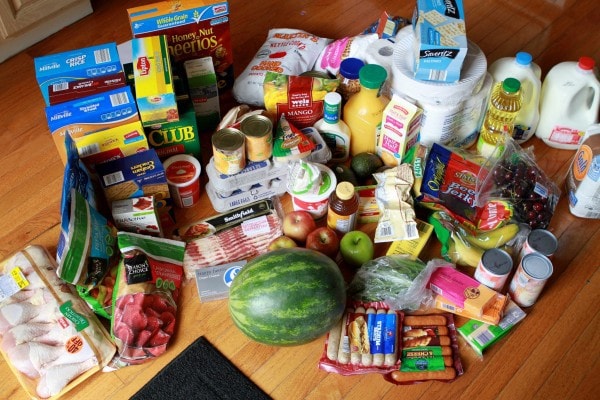 I spent $95.51 at Aldi and $50.87 at Weis for a total of $146.38.
The watermelon in that picture was actually rotten inside when I cut it open last night, so I'm going to stop back by Aldi today to exchange it for a new one. I've had overripe watermelons before but this one was just way beyond what you could possibly eat.
What are we eating this week?
Breakfast options are granola, cereal, yogurt, fruit, toast, and eggs.
Lunches will be comprised of sandwiches made with whole wheat bread, homemade yogurt, yogurt smoothies, cottage cheese, fruit, raw veggies, nuts, cheese, and leftovers as necessary. Of course, we don't eat all of that every single day…it's just a list of the things we choose from for lunch each day. And Mr. FG eats leftovers for lunch pretty much every day.
Here's the dinner plan:
Saturday
Pizza. I think. I'm also considering making something portable and having a picnic dinner at a park, but I haven't decided yet.
Sunday
Monday
Mr. FG probably won't be back for dinner, so I'm going to make a snacky/lunchy kind of dinner, which will make my kids very happy (popcorn, fruit, raw veggies, cheese, and the like)
Tuesday
Parmesan Crusted Chicken
green salad
breadsticks
Wednesday
Pan-Sauteed Tilapia
green beans
Thursday
Friday
Takeout date night for Mr. FG and me, something easy for the kids