(I'm going to do my spending report first. You know, to take a walk on the wild side. 😉 )
I made a trek to Costco this week. Usually this wreaks terrible havoc on my grocery budget, but I came out almost ok this time.
Here's the breakdown:
I had $29.93 left from the last two week's grocery budgets going into this, so I actually had $129.93 to spend.
I spent $70.59 at Costco, and completely forgot to take a picture. I bought vanilla, cinnamon, pistachios, a box of cereal, pecans, laundry detergent, toilet cleaner, and some hand soap.
At Aldi, I spent $43.40, and then at Weis, I spent $23.56.
All of that ads up to $137.56. But, because of my savings from the prior weeks, I ended up at only $7.62 over my $100/week budget. I'm pretty pleased with that considering that I stocked up on a lot of stuff at Costco, and I'm quite sure I can make that up when I go shopping next week.
Here are the photos of my groceries, minus the Costco purchases. Those of you that are new might be wondering why in the world there are stuffed animals (specifically a spider!) in my pictures. A while back, Joshua put the spider in the picture to be silly, and it just took off from there. Most weeks, some or all of the kids remember to throw a few animals in there before I snap the photo.
This week, they went a little overboard.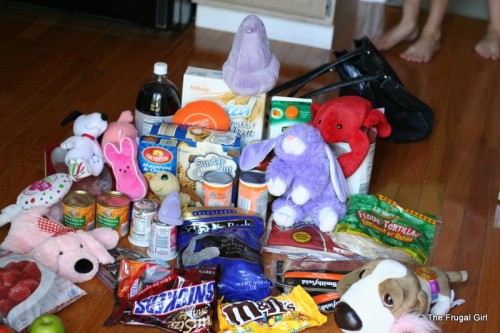 This is my produce. I'm not having to buy a lot in the way of veggies right now because I'm getting quite a few from other people's gardens. So, I mostly just have to buy fruit.
Breakfast and lunches will be as usual…granola, cereal, toast, yogurt, and fruit at breakfast, and yogurt smoothies, bread, fruit, veggies, and leftovers at lunch (not all at the same time for either meal, mind you).
Saturday(I'm not going to be here for dinner. I'm going to my aunt's house, along with my sister, to watch 5 straight hours of Pride and Prejudice with my cousins and aunt. Yay! My family will still need to eat, so here's what I'm leaving for them).
Shrimp Pasta Salad
Cheese Bagels
fresh cherries
Sunday
Buttermilk Pancakes
Orange Juice
Monday
Taco Salad in Tortilla Bowls
fresh peaches
Tuesday
Wraps made with grilled chicken, bacon, cheese, lettuce, tomatoes, and varied salad dressings (which depend upon the preferences of each diner)
Wednesday
Roast Beef Panini sandwiches
Spinach Salad
Thursday
Mandarin Chicken Salad
whatever bread happens to need using!
Friday
Grilled Pizza
green salad
root beer