After I posted my sandwich bread recipe yesterday, a great many of you wondered how I slice my bread so thin (or thinly? Is that even a word??)
Instead of answering this question in the comments, I thought I'd just devote a little post to the topic.
Just so you know, I don't actually normally slice my bread like I did in that picture. That evening, I was using the bread to make sandwiches for dinner and these particular sandwiches require three slices of bread each. So, in that case, thin slices were definitely in order.
Generally speaking, though, I like to cut nice, generous slices of my homemade bread, because we tend to eat it open-faced and not as a real sandwich.
But!
You all wanted to know how to cut thin slices, so that's what I'll talk about.
In order to properly slice bread, there are two things you need: a good bread knife, and proper slicing technique.
The Knife
If you are going to be slicing homemade bread with any regularity, you really, really need to obtain a good bread knife. A dull knife with shallow serrations (or worse, with none!), is just not going to cut it. (ha ha ha.) Ahem.
Here's the knife that I use.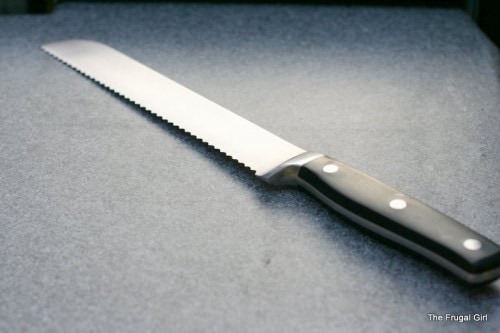 See the lovely, deep serrations? They're really, really important. Do not skimp and buy a knife with chintzy shallow serrations.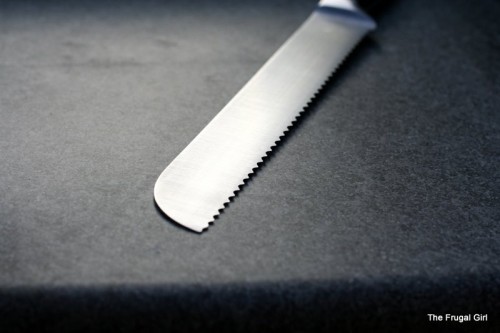 Most of you probably know this already, but a good knife has a blade that runs all the way down into the handle. Cheaper knives have a shorter blade that extends only partway into the handle and thus are not as sturdy. This is just an aside, though…the serrations are what REALLY matter.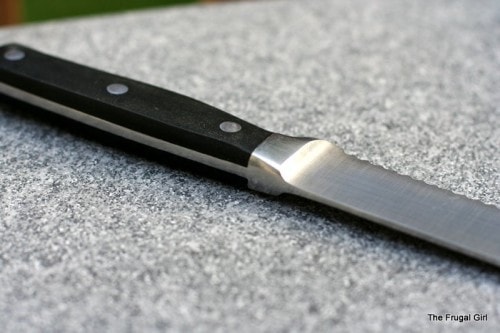 If you don't want to fork over a fistful of cash for a bread knife, though, Cook's Illustrated has ranked the Victorinox Bread Knife a best buy, and it will only set you back about $30.
If you've been struggling to cut your homemade bread with an inferior knife, that will be a well-spent $30. Trust me.
Technique
Now, about technique. When you slice bread, you should use very little downward pressure. Instead, focus your energy on sawing lightly back and forth.
If your knife is sharp, serrated, and of a decent weight, it should make its way down through your loaf with almost nothing but a back and forth motion from you.
The only time you'll want to push down with much energy is when you're almost through the loaf, as the bottom crust tends to be slightly tougher to slice.
Since homemade bread tends to be soft, exerting a lot of downward pressure will just squish the bread instead of cutting it.
Speaking of soft bread, do not try to get thin slices from a loaf of hot or warm bread. It's always especially prone to being squashed when it's warm and fresh, so if you want sandwich-worthy slices, be patient and wait until your bread is thoroughly cooled.
Troubleshooting
If you have a good knife, you're using the proper slicing technique and you're still having trouble turning out respectable slices, the problem might be with the bread itself.
Remember that in my post about gluten, I mentioned that this protein provides structure for your bread. Breads with little gluten will be prone to crumbling, and bread with a lot of gluten will be more bouncy and resilient.
If you have not developed the gluten in your bread properly (this is done by mixing and kneading), your bread will not be strong enough to hold itself together when cut into thin slices.
In case you'd like to see what the inside of the sandwich bread should look like, here's a picture.

I should probably add that slicing homemade bread takes some practice, just like making bread does, so don't despair if you can't manage to turn out perfectly thin slices right away.
Hopefully that answers your questions! However, if I missed something or if you're having a bread/slicing problem that I didn't address here, ask away, and I'll try to help.