At the beginning of the year, I make a list of finance-related goals that I want to meet over the next 12 months. At the beginning of each month, I report on my successes or failures. If you're new here, you might want to read my original goals post, my February update, March update, April update, and May update.
First off, I know I promised to share pictures of my clean office yesterday afternoon. And I did intend to do that.
But, I spent yesterday morning working on something in my office (which I will hopefully be able to show you next week!), and I made a big mess while doing so. And then I spent yesterday afternoon getting Lisey's haircut and mine cut and highlighted…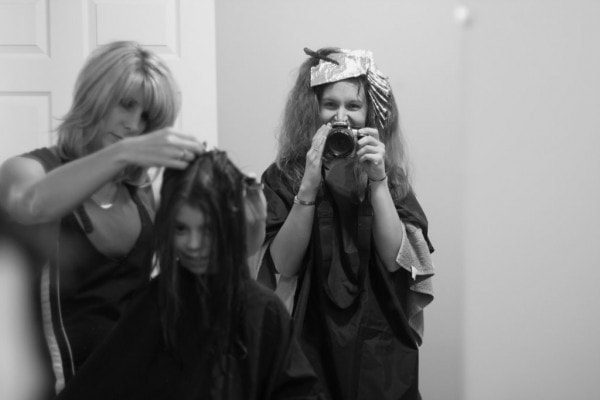 …so I had no time to clean up the office (again!) and take another picture.
Maybe tomorrow!
1) Eat non-cereal breakfasts 4 days a week
This is going well, and in the last few weeks, we've sort of switched from wintery non-cereal breakfasts to summery non-cereal breakfasts. Instead of hot oatmeal and freshly-baked muffins, we're eating the granola and muffins I baked on Friday along with fruit, toast, and homemade yogurt.
2) Save for a replacement van
I had really, really hoped to be able to put a bunch of money towards this in May, but unfortunately, our extra income had to go to a computer upgrade for me. My husband builds our computers, and the one I was using was really, really old. And slow. And it did not have sufficient space to support my ever growing picture habit.
So, we used our extra May money to buy some new innards for my computer case, and I now have mirrored hard drives and plenty of space for picture storage (whee!). I can't imagine that I'll need another upgrade any time soon.
We'd initially tossed around the idea of getting me a laptop but eventually decided to go for another home-built machine. Mr. FG's computer-building skills save us money (he's able to buy good quality components and make a custom machine for much less than the cost of a pre-built machine) and reduce our computer-related trash output (I didn't need to buy a new case, and I didn't need an entirely new system. We replaced what needed to be replaced and kept what didn't, and you can't do that with a laptop).
I'm so grateful that my husband takes care of all this stuff because while I do know more than him when it comes to blog-related techie stuff, he's definitely got me beat when it comes to any other kind of computer knowledge!
Anyhow, I didn't get to sock away a bunch of extra money in the van fund, but I am still faithfully putting $200/month into the fund.
And as long as nothing unexpected and unbudgeted-for happens in the next 4 weeks, I think I'll be able to put more than $200 away before the next goal update post.
3) Buy more organic/local/real food.
I would say I made some progress here. We bought some food from a local farmer's market and produce stand and from a local organic store, and I've still been getting eggs from my local source. I haven't been to the farmer's market in a few weeks because I've had other stuff going on Saturday mornings, but I think I might be able to go this coming Saturday.
Oh, and I just bought 100 pounds of wheat from a food supply place on the Eastern Shore of Virginia. The wheat is not local (I think it's from Montana), but I think it qualifies as real food. 😉
4) Keep Quicken updated once a week.
Still not doing great here, though summer has arrived and I'm hoping to work more Quicken time into my new-found free time (homeschooling moms generally find summer months to be much easier than winter months!).
I did give Mint.com a try and it seemed super easy, which was great. But, I got a little frustrated with it, mostly because I couldn't figure out a way to split transactions. For instance, when I make a deposit of piano-teaching checks, I want to be able to list each check individually and I couldn't see how to do that with Mint.
If any of you are Mint experts and know a way around this, feel free to school me. 😉