This post contains affiliate links.
In case you are as clueless as I was until this week, Grubhub is an app/site that helps you order food from local restaurants for delivery.
They emailed this week to let me know about a $10 off of $15 offer they have for new customers, and while I'd heard of Grubhub before, I've never tried it.
Of course, I wanted to try it before recommending a deal for it!
So, I installed the app, which was easy, clicked on the link for the discount, and then sorted through the restaurants that popped up for my zip code.
The ordering process was really easy, and, at least for the restaurant I chose, there was an option for carryout if you preferred.
One pretty great feature is that I could place my order earlier in the day and just schedule it to be delivered when we wanted dinner.  Super handy on a night when Zoe has dance class at dinnertime.
A problem that was my fault (!!)
My delivery order went a little wonky because of something that was totally my fault: I typed in one digit wrong on my street address!
And I didn't have my phone near me when they tried to call to figure out the problem.
But, I called them back when I realized what had happened and they were very nice about fixing my situation even though it was completely my fault.
So, we got our food, we got our discount and all was well in the end.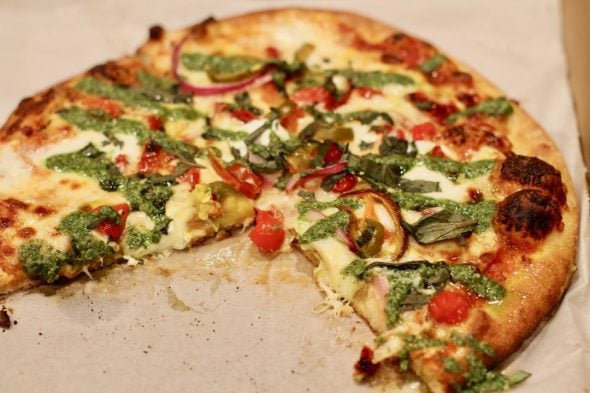 Just make sure you type in your address and phone number correctly, friends!
(I suppose the upside of my mistake is that I got to experience and review Grubhub's customer service.  Silver lining.)
Would I use Grubhub again?
I think this app is probably most useful for people who order takeout a lot, which does not describe me.
Grubhub saves previous orders (which makes it a breeze to re-order), and it's a handy way to have a bunch of your local eating spots in one app (rather than having apps for each restaurant).
Also, if you hate calling to place takeout orders, Grubhub would make you very happy.
Naturally, my most frugal advice is to cook your dinner at home.
But…
…if you'd like night off of cooking, the $10/$15 offer is pretty hard to beat.  Spending $5 for $15 worth of food that you don't have to cook is a great deal!
To get your discount, you can use any of the links or click on any of the Grubhub images in this post.  Easy peasy!