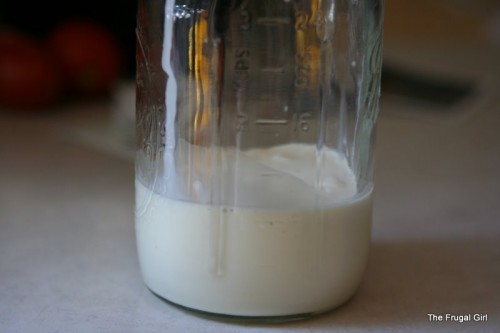 This week, I am embarrassed to say that I have wasted 1 cup of fresh-from-the-farm cream (well, milk that WAS fresh from the farm!). I hadn't quite decided what I wanted to do with this cream (make butter? make ice cream? whip it?), and due to my delay in deciding, it got shoved to the back of the fridge. And we all know what happens when things live in the back of the fridge. Sigh.
In my defense, after I get milk, my fridge gets to be a veritable sea of mason jars full of dairy (yogurt, cream, milk), so it's easy to lose track of what I have.
I am determined to do better, though, and you'll be pleased to know that the cream from this week's gallon of milk is going to be made into ice cream today. I already have it all mixed up, so all that remains is to pour it into the ice cream maker.
____________________________________________________________________________________________
How did you do this week? If you blogged about your food waste, enter your info in the Mister Linky widget below to participate in Food Waste Friday! Participants will get a spot on my Food Waste Blogroll for a week, so come join us!
Incidentally, I completely forgot to update my blogroll last week, so if you participated last week, I'll add you on this week even if you don't participate today. Sorry about that!