Well, it was exciting to me at least.
Over a year after I started composting, my first bin was finally ready to use! I haven't been adding any new compost to that bin for a couple of months, and while there were still some egg shells that hadn't decomposed (I didn't learn until more recently that it's good to crush them!), I decided it was close enough to dirt to be useable.
I remembered hearing that straight compost is too dense to use with plants, so I mixed it with some dirt and use it to repot some plants. And my goodness, the compost certainly does wonders!
Here's my basil plant that's just been in potting soil.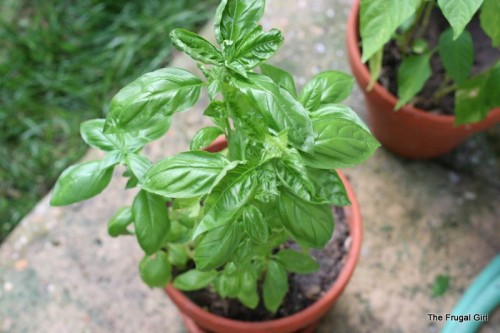 And here's the one that's been in regular backyard dirt + compost. It has lovely, large, dark green droopy leaves after just a few weeks in the compost/dirt mixture.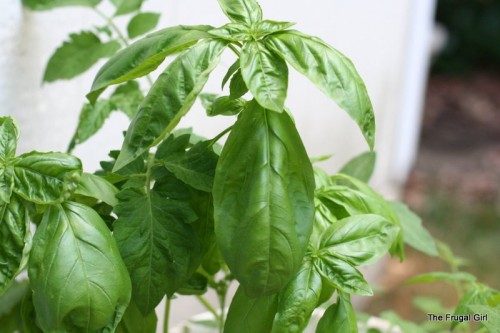 For a better comparison, here they are side by side.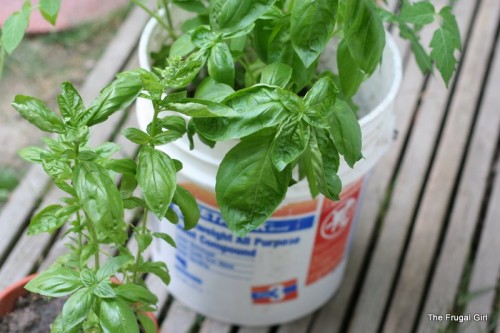 Incidentally, do you not just adore my beautiful pot? 😉 I was out of real pots and didn't want to fork over $20 for a large plastic pot. Since we've done so much remodeling we have spackle buckets aplenty, and though it's ugly as sin, it was free and it works just fine.
When I put these tomato plants and the basil plant into the bucket, they were so small that their tops could barely peek over the edge of the pot, and now look at them just a few weeks later! Compost is amazing.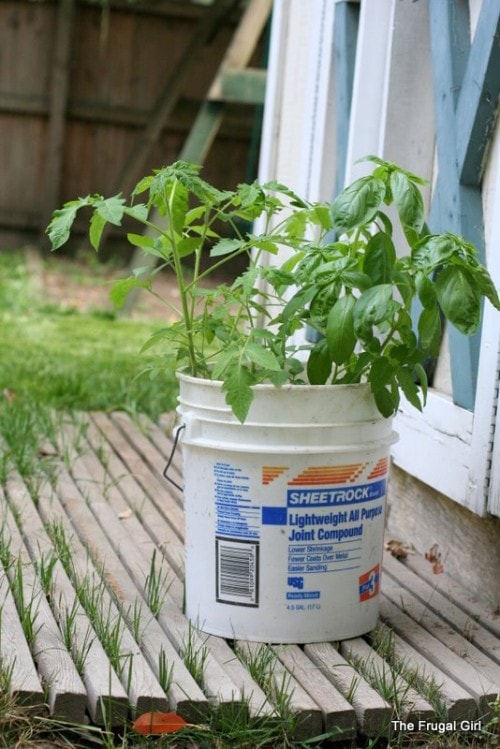 This poor little neglected hosta, which was in some really bad dirt in my yard, is now living in this pot with a compost/dirt mixture. Hopefully it will recuperate.
Last Saturday, I used the rest of the compost to make a mini garden in my backyard. Grass really wasn't growing well behind this concrete pad so I loosened the soil with a shovel and mixed in the rest of my compost. I have basil, peppers, green onions, and several tomato plants growing there. I'm anxious to see how much these plants will grow now that their soil is enriched with compost.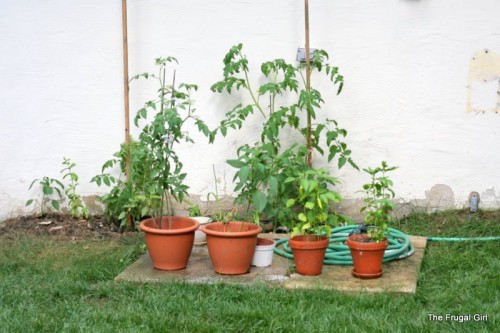 I'm especially interested to see how much this little baby basil plant will perk up.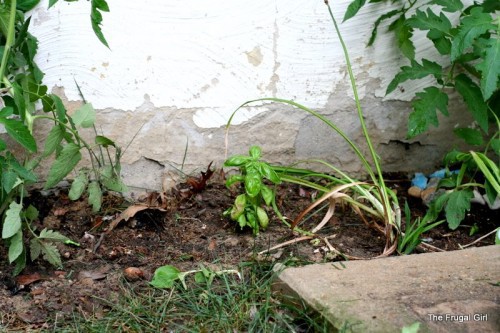 I'll do another post in a few weeks with some comparison photos, just because I love that sort of thing dearly.
If seeing my happy plants has inspired you to begin composting, check out my post on super easy, super cheap composting. and next year you too can grow luscious basil leaves like these.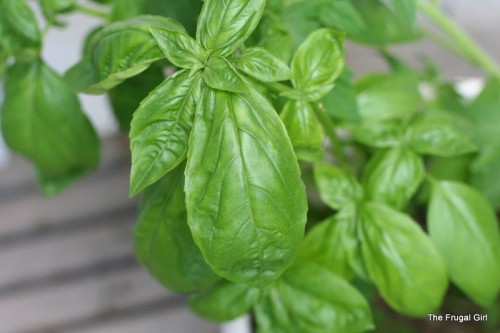 While it might not be thrillsville for other people, I'm tickled to death that our food scraps, which would have gone into the landfill otherwise, have been turned into something that's nourishing the soil, soil which is growing food for us. Happy sigh.
If you already compost, what do you do with yours once it's ready to use?