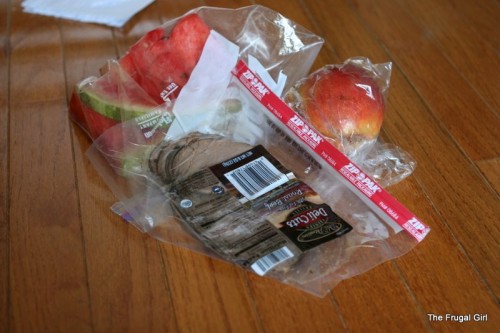 I had a less-than-fabulous week, as you can see. The watermelon and the apple can at least go into the compost, but I'm bummed about the roast beef. It's from Aldi, and I really, really like it. I made paninis with some of it, and then I was going to use the rest to make a sandwich for my husband's work lunch. Unfortunately, he was home sick (the sort of sick that precludes eating) and it didn't get eaten. I was feeling a little off myself, and so I didn't feel like eating roast beef either.
It's been open for a week now, and I tend to err on the side of caution with lunch meats unless I can find a way to cook them (I use leftover ham slices when I make stromboli, for instance). I'd rather waste a few slices of meat than get sick.
I also have about 1 cup of milk that has gone so sour, I am loathe to use it for anything. It's milk left from a gallon we bought from the store probably three weeks ago. I kept thinking I would use it when it was slightly sour, but I never did, and now it is beyond hope.
Happily, my fridge is quite cleaned out now, so I have high hopes for next week!
On a food-waste related note, check out what's going on in Scotland. They have an official Love Food, Hate Waste site dedicated to helping Scots reduce their food waste. While some of the information there will be more helpful if you actually live in Scotland, a lot of the tips can be applied no matter where you live. There's also a UK-wide site devoted to equipping and inspiring consumers to waste less of their food. It would be lovely if we Americans were as inspired about eating our food instead of throwing it away!
You don't need to wait for an official government initiative, though…YOU can work on reducing your household's food waste, and if enough of us do that, we can make a big difference.
____________________________________________________________________________________________
How did you do this week? If you blogged about your food waste, share with us by using the Mister Linky widget below. Participants will get a spot on my Food Waste blogroll for a week, so come join us! Not only will your blog get some publicity, participating will help inspire you to use up your food, saving you money and reducing your trash output.