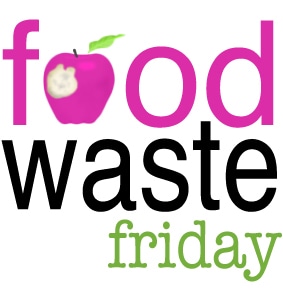 Every week, I post a picture of the food that has gone bad over the last seven days. Why do I do this? Because in March of 2008, I finally got fed up with the amount of food I was wasting, and I thought that showing my waste to other people would motivate me to use up my food instead of wasting it. Because this often embarrassing practice was so helpful for me, I invited other bloggers to join me in posting their food waste photos, and Food Waste Friday was born. If you're not a blogger but still want some food waste accountability, feel free to participate by leaving a comment.
I feel like my fridge has been a disorganized disaster for the last week or so, so I was not at all surprised to discover some food waste when I cleaned it this morning.
It's really dark this morning, so I had to use the flash on my camera. Thank goodness I have the LightScoop.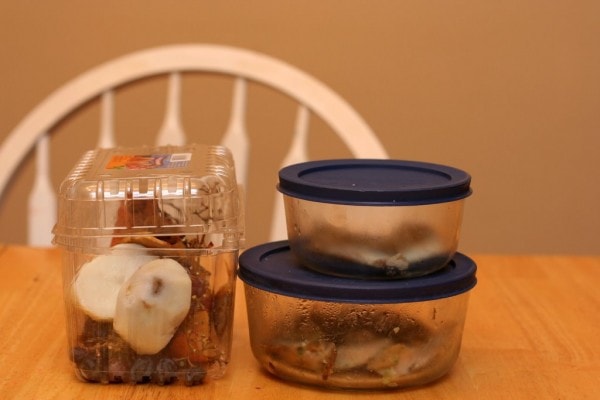 Because without that handy-dandy tool, this is what my photo would have looked like: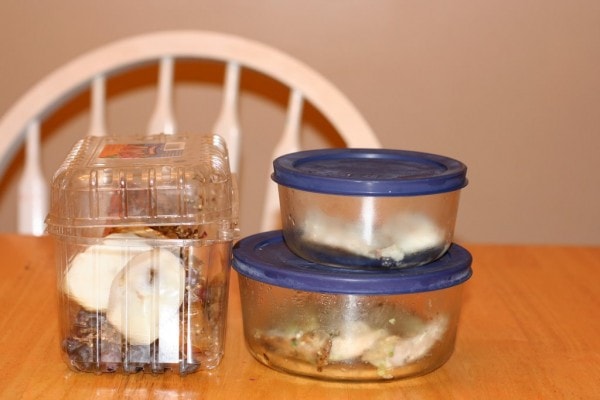 Of course, it's not like food waste pictures are ever beautiful, but I definitely prefer the one taken with the Lightscoop.
(Lightscoop didn't pay me to say that…I just am such a fan of this little tool for really-need-flash situations, I keep on talking about it! If you've got an SLR and you're looking for a cheap way to improve your flash photos, fork over the $30 and buy a LightScoop…you'll be so glad you did! )
I have one small piece of Tilapia that got shoved to the back, a couple pieces of chicken thigh that didn't taste that good to begin with (I think I am becoming accustomed to the taste of small-farmed chicken or something!),and some produce (half a sweet potato, half a potato, some grapes,two apple slices, and some sauteed mushrooms).
Good grief. I haven't been this bad in a long time! A week like this every now and then is good for my growth in humility, though.
Plus, a good fridge cleaning is kind of cathartic, and I'm optimistic about my ability to do better next week. Starting with a clean fridge is so helpful.
Now, if I can just maintain the clean fridge….
________________________________________________
How did you do this week? If you blogged about your food waste, link us up by entering your info into the widget below. You'll save money, reduce your trash output, and get a little publicity for your blog! And if you don't blog, you can still share about your food waste by leaving a comment.
Today's 365 post: This is the work of Sonia.