1. I got a free milkshake for Zoe
Yesterday was a braces-tightening day, and she asked for a milkshake on the way home.
I pulled up the app to make an order and got a notification that I had enough points for a free large milkshake. Yay!
So, this was accidentally frugal. 😉
2. I picked up eleventy zillion library holds
Sonia went on kind of a library hold spree.
I returned a bunch of books while I was there too.
I do sometimes have to pay a few dollars of library fines, but overall, using the library is way, way, way cheaper than buying books.
Particularly if Sonia lives with you.
3. I bought more bruised apples
I will probably not stop until apple season is over because I have learned that I am never sorry about having more apples/applesauce.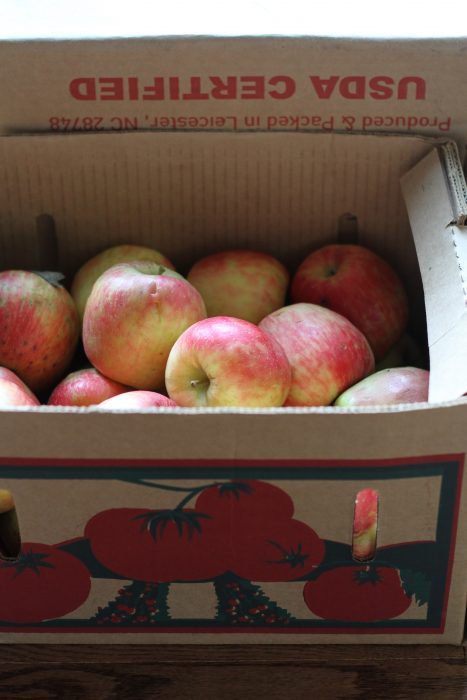 I like bruised apple season better than bruised peach season in some ways, because bruised apples keep so much better than bruised peaches.
If you buy a box of bruised peaches, you'd better be prepared to deal with them that day or the next. But bruised apples can keep for a while.
(Could I say "bruised" a few more times??)
4. I did not buy anything on Amazon Prime Day
If you bought a budgeted-for item that was marked down on Amazon Prime Day, no shame on you!
But there was nothing in particular I was needing to buy, which means that if I'd scoured the deals on Prime Day, I may have ended buying something I didn't really need.
5. I bought a pair of Converse on eBay
My first pair, which I bought brand new for $10 back in 2012, finally bit the dust.
(Click here to see my happy, colorful Converse…just click and scroll down a bit.)
Bit the dust as in, the rubber sides were coming off to the point where I could reach in and feel my foot.
Lisey has some cute white Converse, so she suggested I look for a pair of those. So, I hopped on eBay and ordered a worn-once pair for $14, with $8 shipping.
These cost $50 new, so eBay is saving me a lot of money.
Your turn! Share your frugal five in the comments.