Since I am not living at my house right now, my life is a little…odd. Which means that my frugal activities are sometimes a bit few and far between.
This is one of those weeks where it feels like that has been true, so I may not make it to five this time around!
Let's see what I've got.
1. I made a two-heel peanut butter sandwich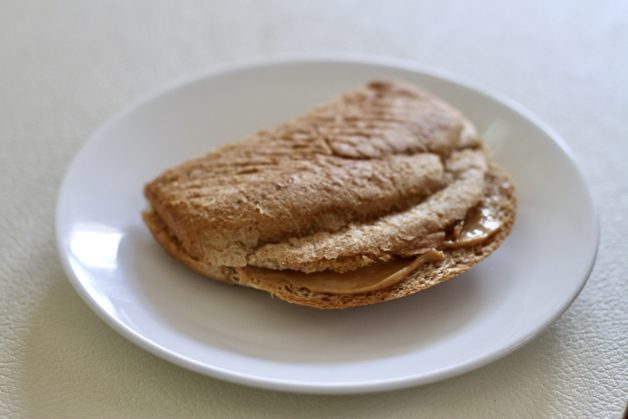 Yesterday I needed a snack to tide me over until dinner, and I noticed that the loaf of bread I'd bought had just ends left.
So, I took two of them and made a sandwich.
Was it the greatest peanut butter sandwich ever? No. But it served its purpose.
Incidentally, I think peanut butter and honey sandwiches on 100% whole wheat bread can occasionally serve as a meal option for:
breakfast
lunch
snack
dinner
They are quite versatile. 😉
2. I put a book on hold at the library
My therapist suggested that I read a particular book, so I hopped on over to the library website to see if I could snag a copy there.
There are 13 people on the wait list, BUT there are 13 copies. So here's hoping my number pops up pretty quickly.
3. I submitted marriage therapy receipts to Cigna
Every marriage therapist we've seen has been out of network, so I always have to self-submit the receipts for reimbursement/credit toward the deductible.
This is an annoying process (something always seems to go wrong, and then I have to follow up/resubmit/follow up/resubmit), but at least it helps us get closer to meeting our deductible.
Every time I have to do this, I am reminded to be thankful that most healthcare providers have people who take care of insurance for me. God bless the dear people who deal with health insurance full-time!
4. I worked on my taxes
I actually hired a CPA to help me do my taxes for my blog, but she won't take over until next year's filing time. So, I'm still going the cheap DIY route this year.
Am I doing this rather last minute?
Well yes, yes, I am. Ahahahaha.
I am allllmost done though, so I should safely get them submitted before the deadline.
5. I found a free spreadsheet for blog money tracking
Since I have to submit financial records to the CPA now, I really need to be organized with my income and expense tracking.
It's sort of like how if you, yourself, are going to the grocery store, you can make a somewhat disorganized, vague list, with lots of abbreviations, and you still will know what to buy.
But if you are sending someone else, then you have to make a very accurate, detailed list.
Anyway! I found a free Google spreadsheet template that is perfect for making my quarterly reports.
__________
Whew. I made it to five.
Your turn! What frugal things have you been up to?