1. My sister-in-law and I did some more treasure hunting
It's been a while since we did a hunt at the abandoned house that my brother bought, but we found out he's sending in demo crews this week.
So then she and I were like, "AHHHHH! We have to rescue all the things!"
We loaded up tubs of kitchenware and other household goods, so now she has a bunch of bins full of treasures (!), and so do I.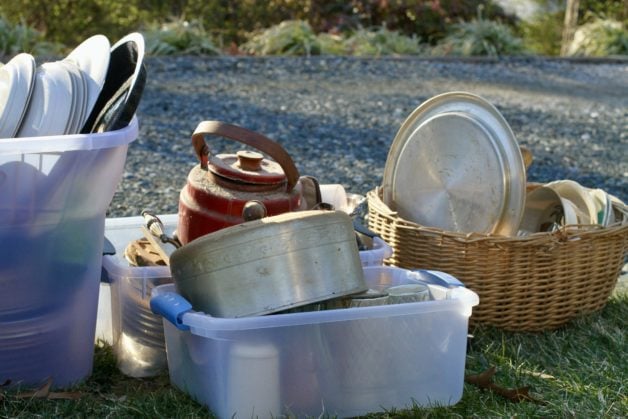 What will we do with it all?
Well, we're not sure. We just both hate to have useful things thrown away, so whether we sell or give away this stuff, we will be happy!
2. I snagged a bowl as a jewelry dish
You know how you have a few favorite pieces of jewelry that you wear all the time, and you don't feel like actually putting them away in your jewelry box?
Well, I saw this little dish in one of the abandoned house bins and I thought it would be perfect to hold a few earrings.
I gave it a good scrub and now it looks like a whole new dish.
This is much better than being thrown in the trash by the demo crew. 🙂
3. I tried to fix my glasses
I hopped into the car the other day, picked up my glasses, and tried to clean them off with my t-shirt. But, the one side just cracked, even though I was doing nothing out of the ordinary.
My dad offered to try some of his special plastic glue on them, which was very sweet because left to myself, I totally would have just used Krazy glue.
The jury is still out on whether the fix will hold, but I am giving myself points for not just throwing them away.
4. I batched trips with Sonia to drop her car off
She had a check engine light situation to address on the same day I had to take Zoe to and from some classes right by the mechanic.
So, we just coordinated the pickup and drop-off time with the already-necessary trips to ferry Zoe around.
I dunno if you have looked at pump prices lately, but this is a very good time to not use lots of gas!
5. I got Zoe a different gift
So you know how last week I gave Zoe some birthday earrings that were absolutely obliterated, and then I was all, "Yay, I complained and now a pair of replacement earrings is on the way!"?
Well. The second pair arrived in even worse condition.
(My theory? A dump truck rolled over the first pair. Then they brought in a steamroller to flatten the next ones. 😉 )
I am not about to pay for earrings that are repeatedly ruined, so I got a refund from that seller, and Zoe picked out a cute frog pin from Etsy instead.
And I am happy to report that this pin arrived intact. Whew.
What frugal things have you been up to lately?