1. I got a $30 truckload of mulch compliments of my dad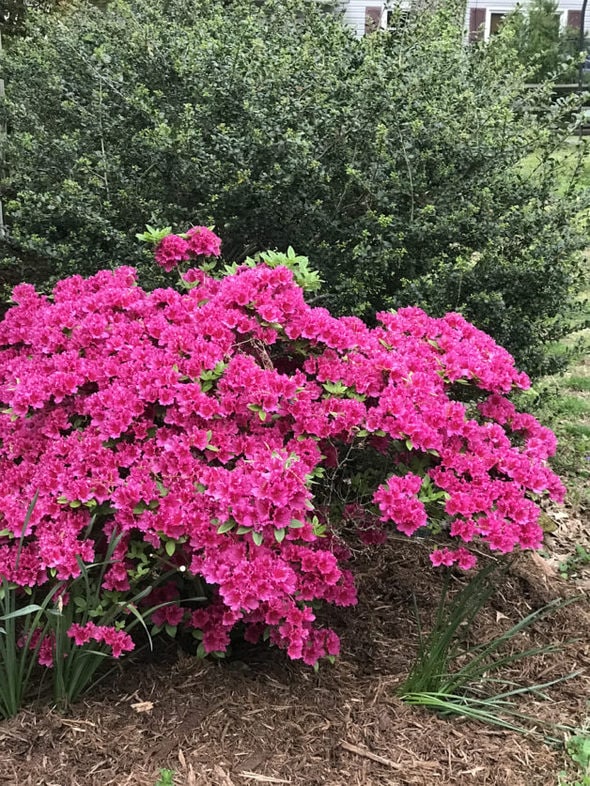 We do not have a truck, but my dad does. And he was kind enough to bring over a whole truck load from the local sawmill.
The entire truckload cost only $30, which is such a bargain compared to the mulch that comes in bags.
Plus, the mulch in bags is sort of annoying because you have to empty the bags one by one.
And of course, a truckload of mulch produces no plastic waste.
So, yay for a dad with a truck!
My dad and Mr. FG and I all worked together to get it spread around and now our beds look so, so much better.
2. My dad brought over a board for our deck
Another one of our deck boards started to rot out, and at first, he thought we might just be able to flip it over.
But once we removed the rotten material, the board turned out to be awfully thin in that spot.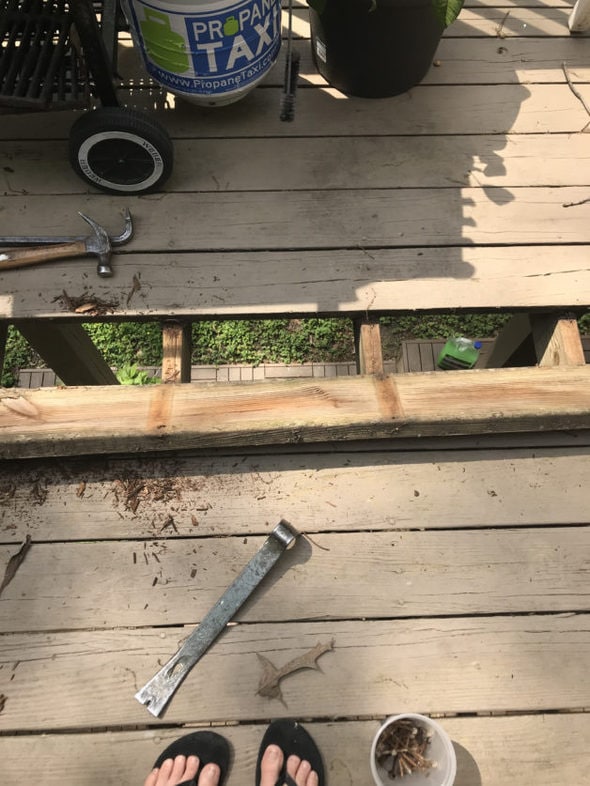 So, he picked up a new board for us (again, a handy dad with a truck is a fabulous thing) and even nailed it in, with a better type of nail than we had before.
And once the pressure-treated wood dries out, I will just give it a coat of deck paint so it matches the rest of the deck.
Since a hot and dry time of year is coming up, the board should be ready to paint in fairly short order.
(Most of you probably know this, but: you can't paint or seal pressure-treated wood at first because it is super wet straight from the factory. It has to air-dry for a while first.)
3. I CVS-ed some contact lens products
I ran out of saline, so I checked to see if it was on sale at CVS.
It was buy one, get one 50% off (for double-packs of saline) but then I saw that my app had a coupon for $4.50 off a $20 eye care purchase.
So, I picked up a box of on-sale Clear Care too.
I had another $5 coupon in my app, so my total was $19.43.
But then I got $8 more in Extra Care bucks in my receipt, so it's really more like my total was $12.
And $12 is a really good deal for four bottles of saline solution and two bottles of Clear Care!
4. I redeemed my TopCashBack earnings with a bonus
I had $66 payable, and I chose the Amazon redemption option, which added another couple dollars to my amount.
Every little bit helps.
Which is really my philosophy when it comes to cashback sites anyway; it's tiny amounts that you get back when you shop, but it's better than nothing!
You can open up a TopCashback account here; it's free and there's often a signup bonus.
5. I planted some marigold seeds I saved from last year
I have so many seeds saved; I need to plant some more of them.
Marigolds are such an easy flower to grow, even from seed.
Which is why they are on my list of plants for frugal black-thumbs.
Your turn! Share your five frugal things in the comments.