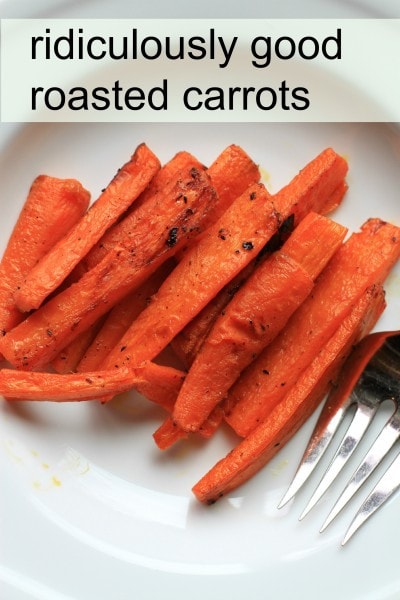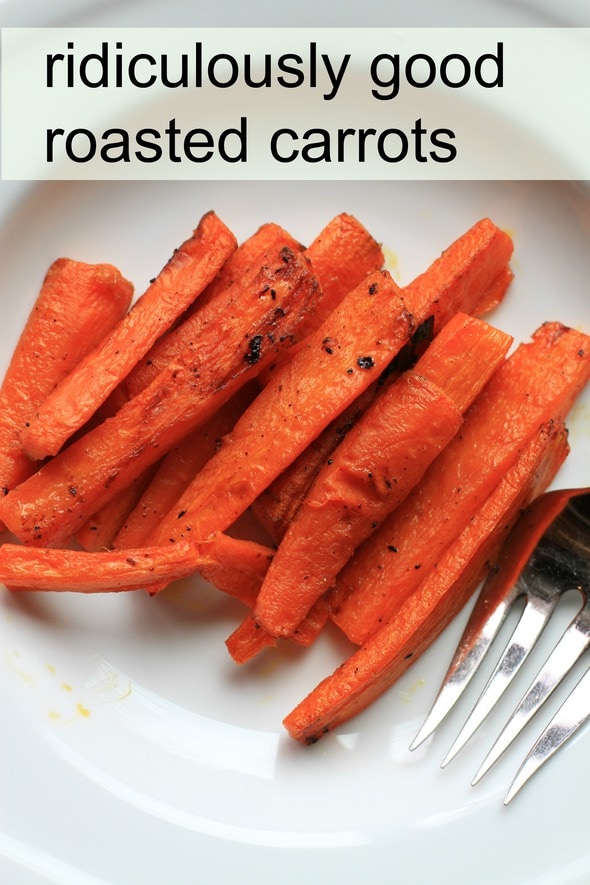 I'll give you once chance to guess where I got this recipe.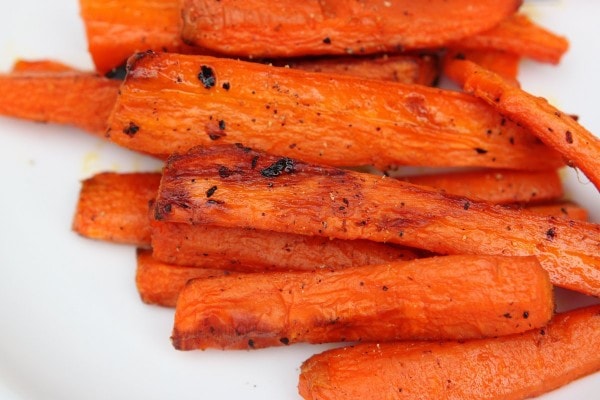 I know. That wasn't even a challenge, was it?
Cook's Illustrated, of course, is the source. (duh.)
I've been trying to add some variety to our vegetable dishes, since the whole steam-and-then-add-butter-salt-and-pepper thing gets awfully boring after a while. And raw veggies are lovely and all, but in the winter, I do tend to like my veggies hot at least some of the time.
So, I logged onto Cook's Illustrated, browsed the vegetable section, and printed off a bunch of recipes.
This happened to be the first one I tried.
And it was, as I like to say, marvy-fab.
Steamed or boiled carrots are ok, but now I know that they just cannot hold a candle to roasted carrots. Roasting makes them so sweet, you'd swear you sprinkled on some sugar along with the salt and pepper. I could not stop eating them.
And after dinner, I made another half batch because both Sonia and I wanted more.
(Seriously, when is the last time you felt like making another batch of veggies after dinner?? That's how good these are.)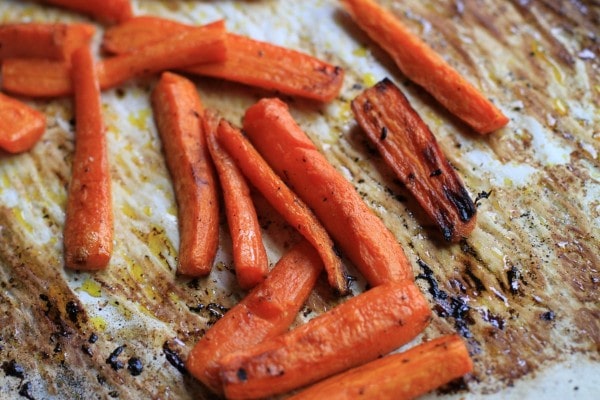 To make 'em, first heat your oven up to 425 ° F. (Yup. Won't be making these in the summertime!)
Then peel your carrots (or don't, especially if they're organic). Cut them in half width-wise, and then lengthwise as necessary to make them into even pieces.
How much cutting is involved will depend on the thickness of your carrots. Just make sure they're fairly uniform so that they cook evenly.
Toss the carrots in a bowl with butter, salt, and pepper. If you can't eat butter, I'm sure you could use another fat, like coconut or olive oil.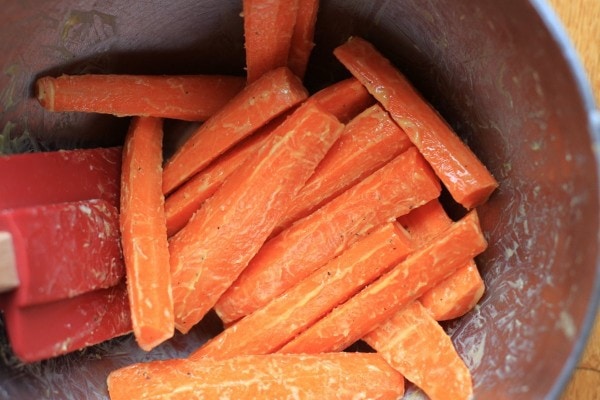 Next, line a rimmed baking sheet with parchment paper* and arrange carrots on the pan in an even layer. Cover the whole pan tightly with aluminum foil.
*this can be made without the parchment if you so desire, especially if your pan is non-stick.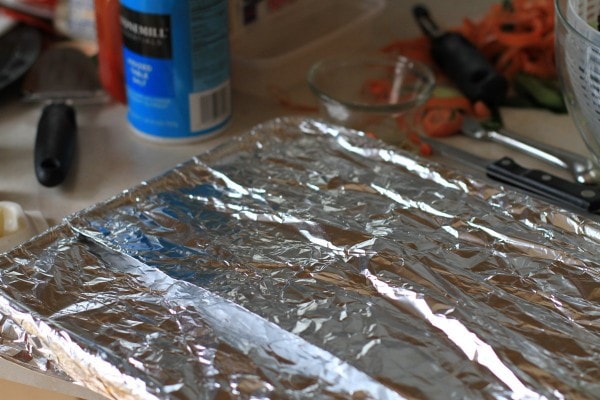 Bake for 15 minutes, and then remove the foil. The carrots should be nice and steamed, and now they're ready for browning.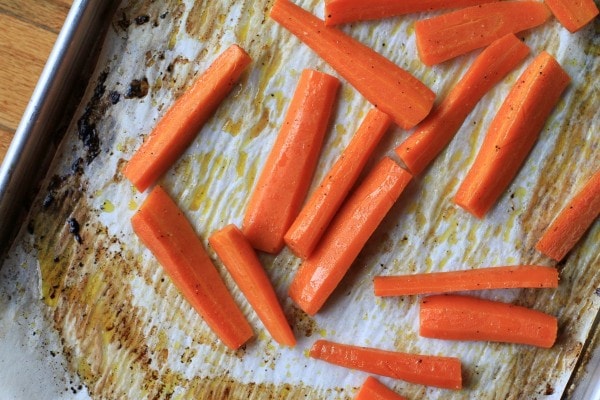 Put the carrots back into the oven and roast for another 30-35 minutes, stirring twice, until they're nicely browned. Your roasting time could vary depending on how thinly you sliced your carrots, so keep an eye on them.
They should look something like this when they're done.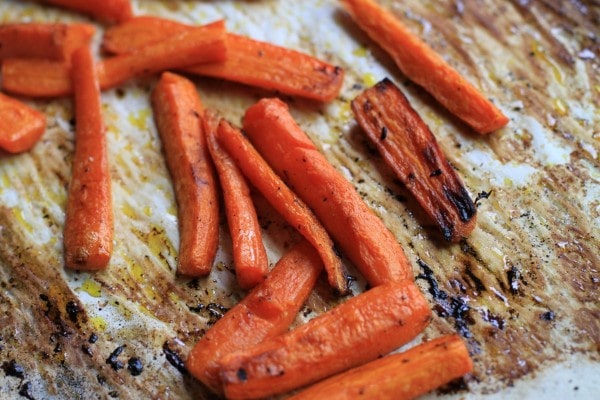 Plate 'em up, and enjoy.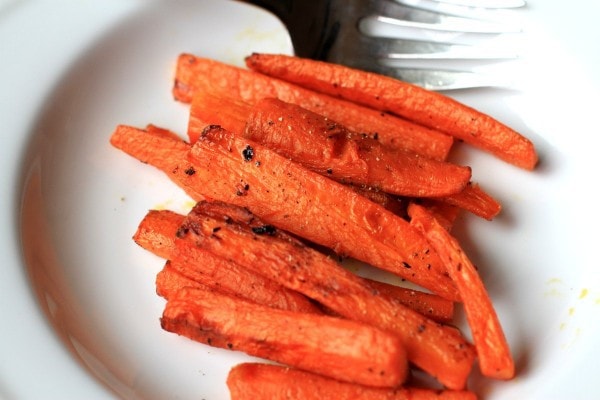 By the way, I really, really love having a membership to Cook's Illustrated's website (and no, they don't pay me to say that. I happily hand over my subscription fee every year because the recipes and reviews are so stinking helpful.)
I highly recommend subscribing, and hey, maybe someone who loves you muchly will give you a subscription for Christmas.
One can always hope. 😉
Or you can find this carrot recipe AND 1,999 more great recipes in this Cook's Illustrated cookbook that I use all. the. time.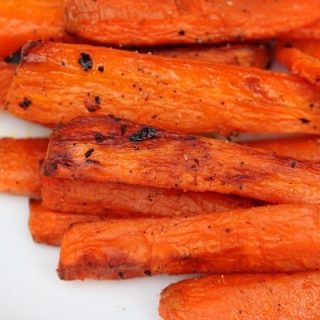 Easy, Ridiculously Good Roasted Carrots
Easy 4-ingredient oven-roasted carrots that are seriously addictive!
Ingredients
1 1/2 pounds carrots, peeled, halved crosswise, and cut lengthwise if necessary to create even pieces
2 tablespoons unsalted butter, melted
Table salt and ground black pepper
Instructions
Heat oven to 425° F. In a bowl, toss together carrots, butter, 1/2 teaspoon salt and 1/4 teaspoon pepper.
Line a rimmed baking sheet with parchment paper. Arrange carrots in an even layer on top of parchment, then tightly cover the whole pan with aluminum foil.
Bake for 15 minutes. Take pan out of oven, remove foil, and return pan to oven for another 30-35 minutes, or until the carrots are lightly browned. Stir twice during cooking time.
Season with more salt and pepper if desired, and then serve.
Notes
You can skip lining the baking sheet with parchment if your baking sheet has a nonstick surface.
This recipe is from Cook's Illustrated's Cookbook.
Recommended Products
As an Amazon Associate and member of other affiliate programs, I earn from qualifying purchases.
Save