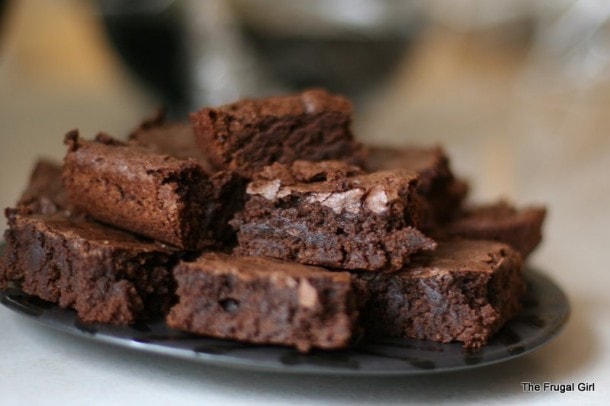 I always am hesitant to make a chocolate recipe that calls for bars of unsweetened chocolate (and many brownie recipes do).
While not exorbitantly expensive, unsweetened chocolate is more pricey than cocoa powder, which means I prefer cocoa powder. I'm not called The Frugal Girl for nothin'.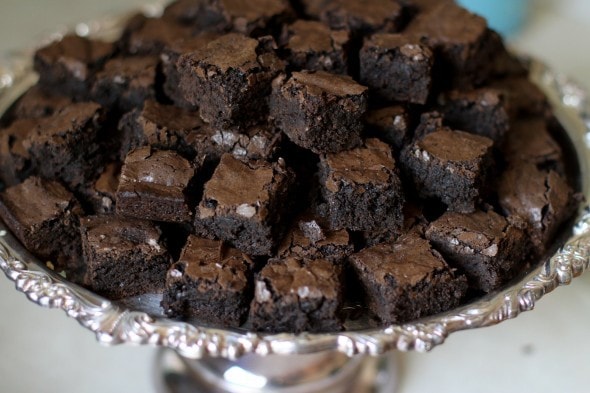 So, I've got a no-unsweetened-chocolate brownie recipe for you fellow frugal people.
Not only does this recipe use cocoa powder, is is also very, very easy and it yields dense, chocolatey, moist brownies.
I don't know exactly how these compare price-wise to brownies from a box, but I do like them better. Plus, they have no artificial ingredients or preservatives.
And since they require ingredients you probably always have in your pantry, you can make them at a moment's notice.
How to make brownies, step by step
First, preheat your oven to 350°F. Melt 5 tablespoons butter in a saucepan over low heat.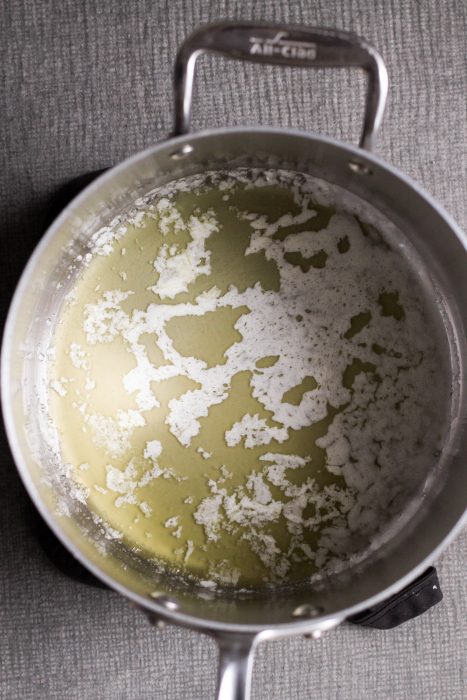 While the butter is melting, mix the dry ingredients together (except the sugar! That will get mixed with the melted butter later.)
Cocoa powder is notoriously clumpy, so I always sift mine when I'm adding it to the dry ingredients.
When the butter is melted, take the saucepan off the heat and stir in the sugar. The mixture will be a sandy texture.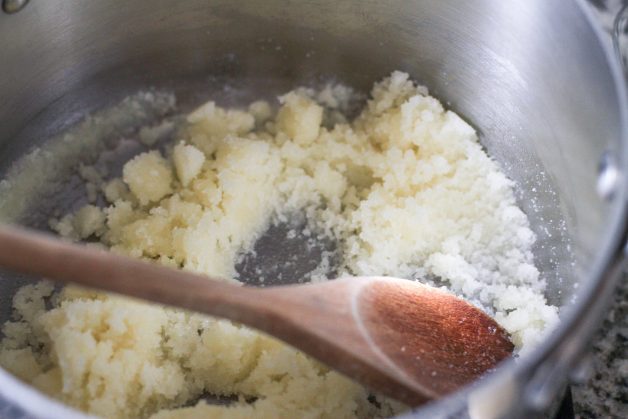 Stir in the eggs, vanilla, and the dissolved instant coffee.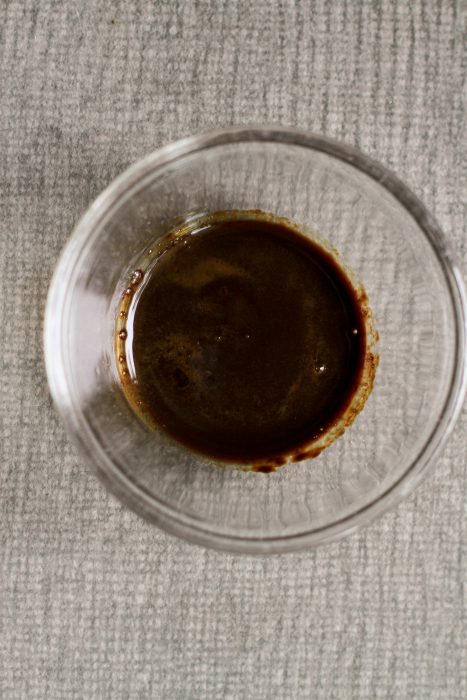 The original recipe says to stir for about 40 strokes…I don't usually count.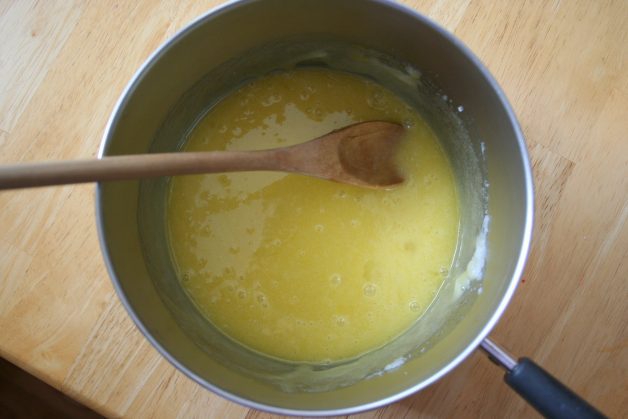 Add dry ingredients to the wet ingredients and stir for 40 strokes. I counted when I first made this recipe, and discovered that 40 strokes IS right about what it takes to get the flour mixed in.
So, just mix the flour in and you should be good.
The original recipe says to use a wooden spoon, which I dutifully do. A metal spoon probably won't ruin your brownies, though!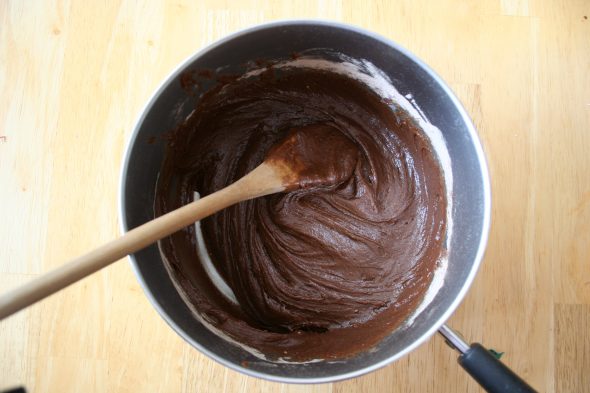 Does this not look delicious?? At this point, I am always sorely tempted to take out a spoon and start eating.
Pour/scrape the batter into a greased 8×8 inch baking pan: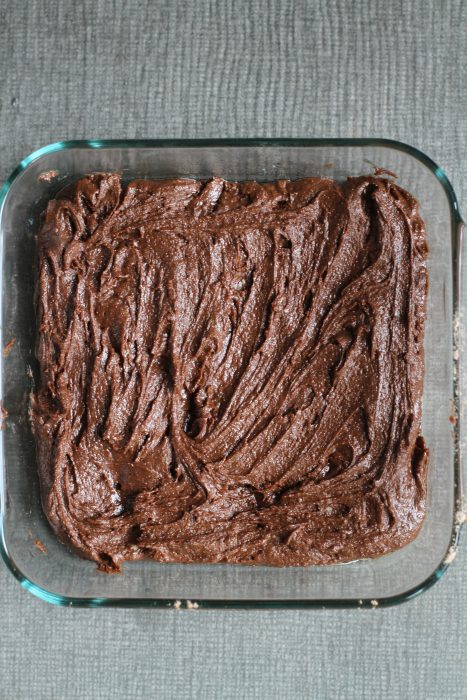 Bake for 20-25 minutes. Check them at 20 minutes; when a toothpick is inserted, it should still be a little wet and gooey.
Cool in the pan on a wire rack and cut brownies into squares.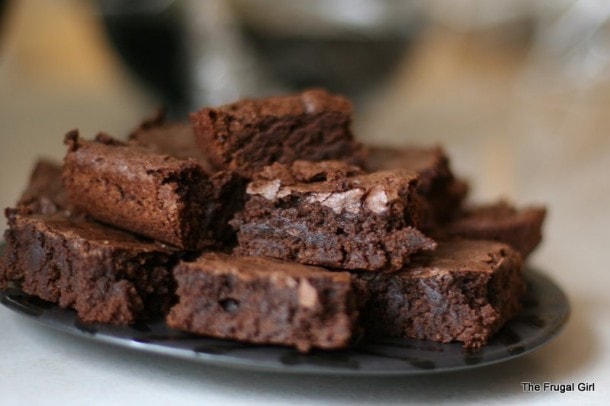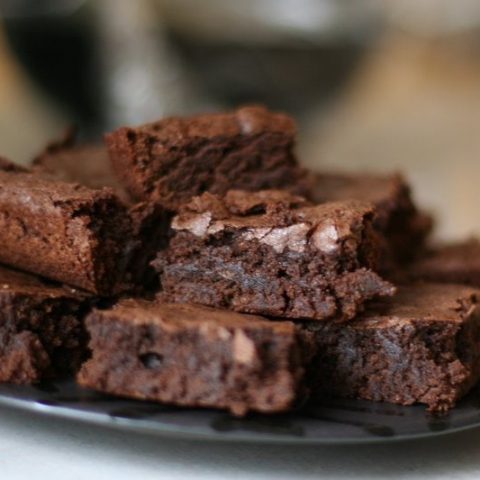 Easy, Frugal, Not-From-A-Mix Homemade Brownies
These brownies don't require a mix and come together in about 15 minutes. Super simple!
Ingredients
1 cup all-purpose flour
1/2 cup unsweetened cocoa powder, sifted
1/4 teaspoon salt
1/4 teaspoon baking powder
5 tablespoons butter
1 ¼ cups sugar
2 eggs
1 teaspoon vanilla
1 teaspoon instant coffee powder dissolved in 1 teaspoon hot water (optional)
Instructions
Preheat oven to 350°F.
In a medium bowl, combine flour, sifted cocoa powder, salt, and baking powder.
Melt butter in a saucepan over low heat. Remove pan from heat and stir in sugar (texture will be sandy).
Stir eggs, vanilla, and espresso mixture into butter/sugar mixture until thoroughly combined.
Stir dry ingredients into egg/butter mixture, and mix until no streaks of flour remain.
Scrape batter into greased 8x8 inch baking pan and bake 20-25 minutes, or until toothpick inserted into center of pan comes out slightly gooey. Cool pan in wire rack, then cut into squares.

Notes
A plastic knife works amazingly well to cut brownies. Give it a try!
What's your opinion on boxed brownie mixes? I know a lot of die-hard scratch bakers love the boxed mixes, so no shame if you love 'em too!