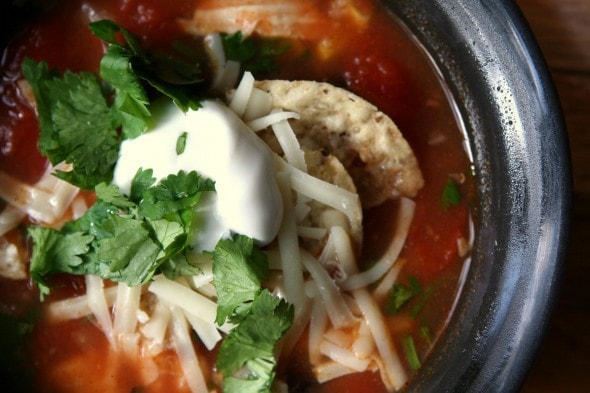 "More frugal recipes!" was a collective cry when I asked you about what you'd like to see on my blog, and since I aim to please, here's an easy, frugal main dish recipe for you.
I made this from a combination of Tortilla Soup recipes I found on AllRecipes, so I can't exactly give credit to any one person. One of the recipes I got my inspiration from is this one, though. It makes for a lovely, quick meal, and it costs very little (way less than takeout for a family!).
The prep is really simple. First, saute chopped onions in a little bit of oil. When they're almost soft, add chopped garlic and saute for about a minute.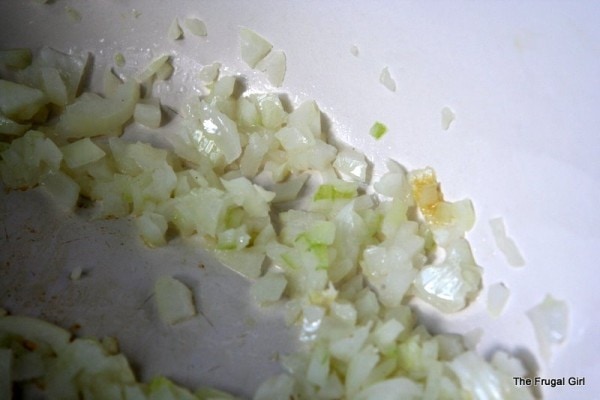 Mix in chili powder, cumin, tomatoes, chicken broth, and water, and simmer 5-10 minutes (longer, if you prefer).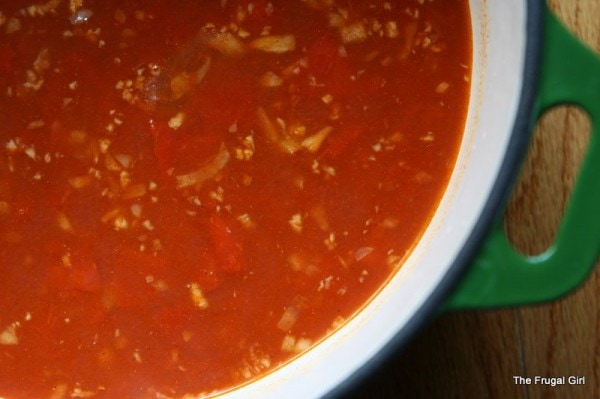 Then stir in chicken, hominy, corn, beans, and chopped cilantro (naturally, if you're one of the unlucky people to whom cilantro tastes like soap, you'll want to leave that out), and once that all heats up, the soup is done.
Wasn't that easy?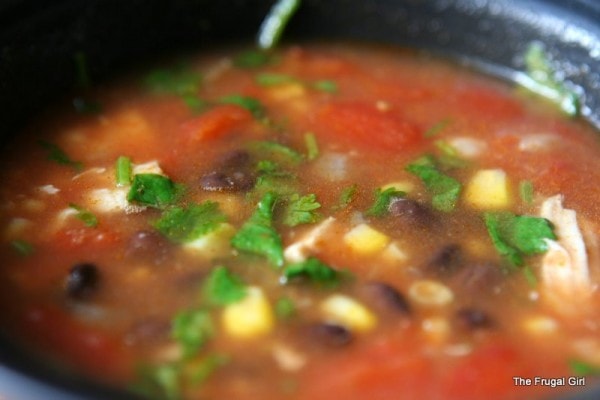 Now, if you want to make it tastier and more beautiful, you can sprinkled crushed tortilla chips, shredded cheese (cheddar looks so much better than Monterey Jack, but alas, I had none when I made this batch of soup), and chopped cilantro on top, and finish it off with a dollop of sour cream.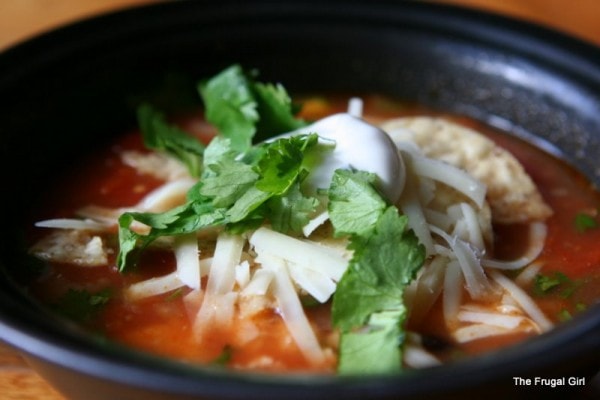 Yum. This goes very nicely with a pan of cornbread or corn muffins.
Since soup-making is not as exact a science as baking, you can customize and modify to your heart's content. If you don't like hominy, use more corn instead. If you don't like beans, you certainly don't have to add them. If you like really spicy soup, you can add more chili powder. And so on, and so on. 😉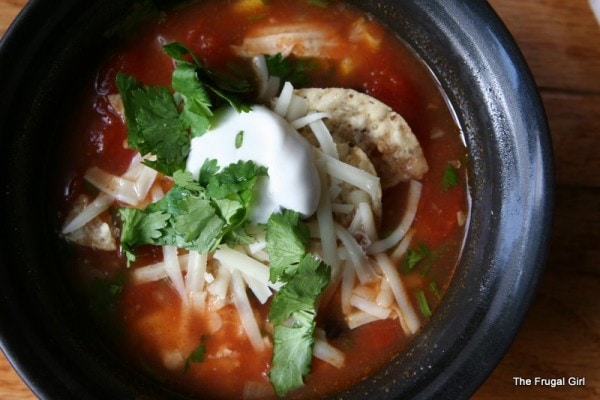 Chicken Tortilla Soup
1 small onion, chopped
1 tablespoon olive oil
2 cloves garlic, minced
2 teaspoons chili powder
2 teaspoons cumin
1 28-oz. can of diced tomatoes
10.5 oz condensed chicken broth
1 1/4 cups water (alternatively, you can use 2 1/2 cups of homemade broth instead of the broth and water)
1 1/2 cups frozen corn kernels
1 cup white hominy
1 15 oz. can of black beans
1 4 oz. can of chopped green chilies (my kids hate spicy food, so I don't add these)
1/4 cup chopped fresh cilantro
2 cooked chicken breast halves, cut into bite sized pieces (I grill mine, usually)
Toppings: crushed tortilla chips, shredded cheese, green onions, additional cilantro, sour cream
In a medium stock pot, saute onion in oil until soft. Add garlic and saute for one minute. Mix in chili powder, cumin, tomatoes, and chicken broth. Bring to a boil, and simmer 5-10 minutes. Add corn, hominy, beans, chilies (if using), cilantro, and chicken, and heat through. Add salt to taste (if you use homemade broth, you will need to add more salt). Ladle into bowls, and add toppings of your choice.