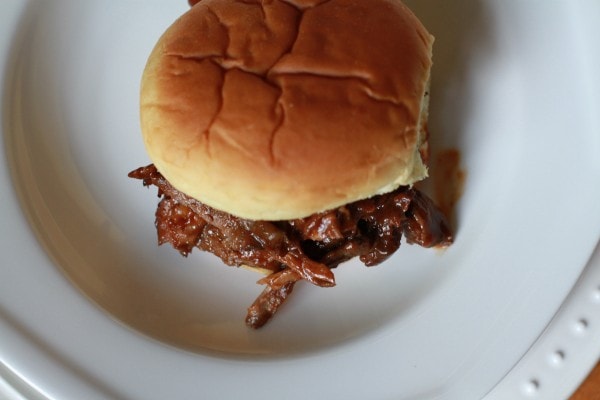 This is such an easy recipe, it almost doesn't even count as a recipe. But, since you all asked, I'm here to oblige.
I recently tried a Cook's Illustrated beef brisket recipe that turned out some outstanding barbeque…it involved a spice rub and a pound of bacon (you top the brisket with strips of bacon).
Nothing that calls for a pound of bacon is ever bad, in my opinion.
However, you might not want to eat that type of barbeque on a consistent basis. And bacon isn't exactly cheap.
So, when you're feeling slightly less indulgent, this version is a good option. Because the roast cooks in the crockpot for 8-10 hours, this barbeque requires very little hands-on time, but it does require you to plan ahead. My mom likes to cook hers overnight, but I soured on that practice during my pregnancies (to a nauseated pregnant woman, the aroma of beef roast at 2 am is, well, less than pleasant).
If you don't want to cook your beef overnight, you could always start it really early in the morning, or you could cook it the day before so that it's ready for the next night's dinner.
I use chuck roast for my barbeque because I think it's pretty much the best beef roast out there, and it's not terribly expensive. Happily, the quarter of the local cow I bought included a lot of chuck roasts. Yay!
Cut your chuck roast up into pieces, about like this.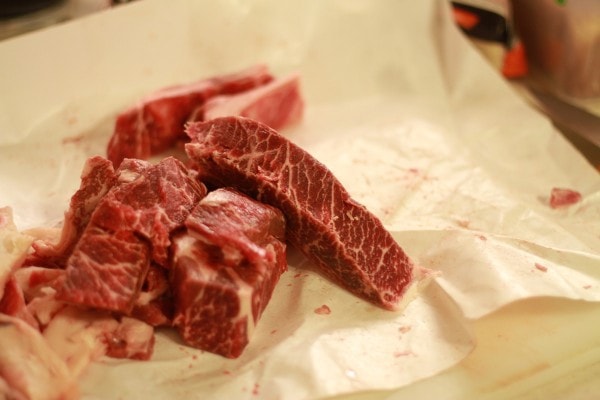 Come to think of it, I wonder if it really is necessary to cut it up. My roasts come with a bone in them and won't fit into the crockpot otherwise, but I imagine that if space was no issue, you could just put the whole roast into the crockpot.
Hmm.
Put the beef into your crockpot and top with some barbeque sauce.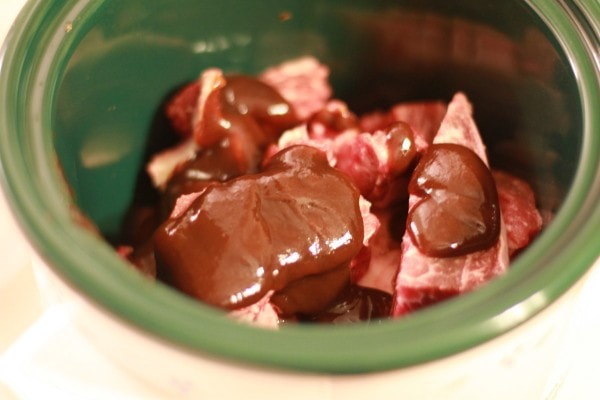 Cover and cook on low for 8-10 hours, or until the beef is fall-apart tender.
The nice thing about a chuck roast is that it's sort of impossible to overcook it. It's better when it's cooked for a really long time, actually. If you check your beef and it looks done, but it's not tender, cook it longer.
Once the beef is done, remove it from the crockpot, let it cool, remove any extraneous fat/gristle, and shred the meat (it should practically shred itself if you've cooked your roast long enough).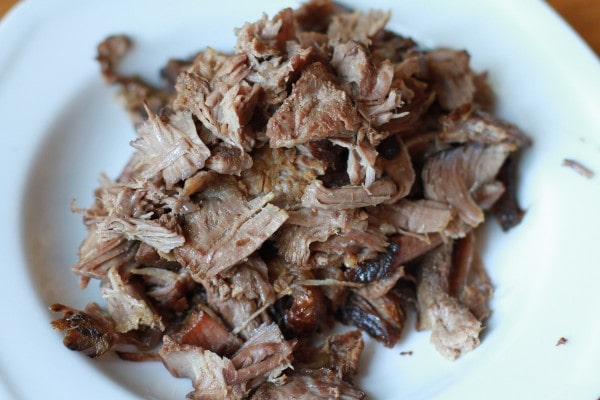 At this point, you can add in your favorite barbeque sauce and call it done.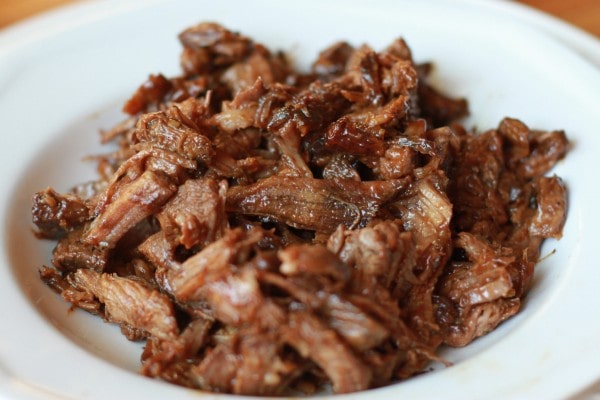 Or, you can make the sauce from my grandmother's recipe, add it to the beef, and let it cook in the crockpot for another hour or two.
Serve on buns, of course.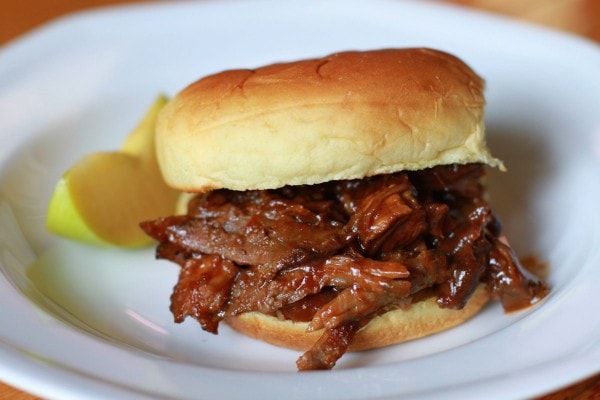 Any leftovers freeze very nicely for a future quick meal.
Crock Pot BBQ Beef Sandwiches
3-4 pound boneless chuck roast
1/2 cup ketchup
1/2 cup water
1 clove garlic
1 teaspoon. chili powder
1/2 teaspoon Worcestershire sauce
1 teaspoon dry mustard
2 tablespoons sugar
Cut roast into large chunks; place in slow cooker. Cook on low for 8-10 hours. Remove beef from pot and let cool. Remove gristle/fat, and shred beef.
Add your favorite barbeque sauce to taste and heat, or combine above sauce ingredients, add to beef, and return beef to crockpot to cook on low for 2 more hours.