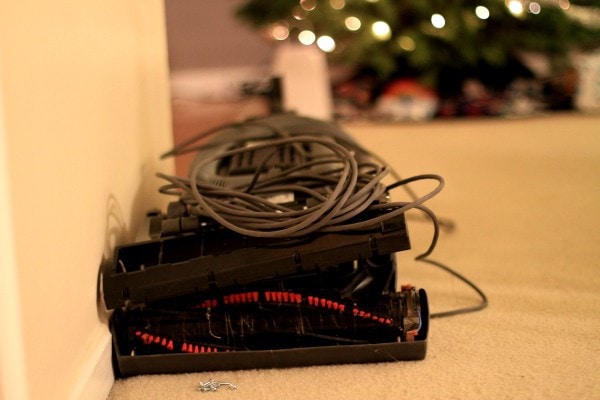 In a fit of helpfulness, one of my girls decided to vacuum her room.
Which was great, except that she's never really vacuumed before and didn't realize that you need to watch out for things like, um, curtains. She has a floor-length sheer curtain in her room, and apparently she got it stuck in the vacuum. And the vacuum sucked the curtain up until it got stuck.
The good news is that the curtain is fine.
The bad news is that the motor of the vacuum appears to be burnt up.
In case you were wondering, if you're the sort of person who wants all of your things to stay nice, you really ought not to have children.
Because even really delightful children seem to be awfully hard on possessions
(One time, someone here vacuumed up a glue stick. The vacuum worked a whole lot better once I took that out, let me tell you! And another time, someone vacuumed up a key and then the key poked a hole in the hose.)
Anyway.
It doesn't appear to be feasible or cost-effective to repair this vacuum, so I'm in the market for a new one. I poked around on Consumer Reports last night and they're recommending the Hoover WindTunnel Anniversary Upright Vacuum, which is $179 after the rebate right now.
This vacuum actually beat out some vacuums that were significantly more expensive (Like the Kirby. Holy moly, that thing is expensive!) And Consumer's said that Dyson vacuums aren't really all that great, which surprised me.
On the other hand, they really liked the German made Miele S7210 Twist Upright Vacuum Cleaner
, which comes with a 7 year casing and motor warranty and a two year replacement warranty. Unfortunately, it costs $400, which is more than double the price of the Hoover.
I suppose if it lasted twice as long as the Hoover, the extra $200 would be worth it, but gosh, how is a person supposed to know?
I read reviews on Consumer Reports and on Amazon, and it does seem like more people like the Miele than the Hoover, so I'm feeling a bit inclined to think spending the extra money would be wise.
Plus, given that I'm trying to lean more towards buying quality items that last, I'm loathe to buy another semi-disposable vacuum, which is what you seem to get in the $100-$200 price range.
Then again, if my kids are going to be using this vacuum, maybe I shouldn't spend a bunch on it. But on the flip-side, maybe a better-built vacuum would be better able to withstand kid abuse
(Though all four of them are certainly going to be talked to about scanning the floor for objects that should not be vacuumed.)
Gah!
I hate trying to decide stuff like this.
So, help me out. Have you owned either of these two vacuums? Or do you have another one that you love and that has lasted for more than a few years?
_________________________________
Joshua's 365 post: I got another instrument!