Today is my first-semester competency test
What's a competency test?
Well, I have to go into the lab at school and have a professor watch me do a bunch of tasks on a manikin.
(That IS how you spell the name of a medical mannequin!)
I'm gonna :
do a head-to-toe assessment, which includes skin, heart, lungs, and much more
give a g-tube med
give an injection med
deliver oxygen via one of a variety of methods
set up a sterile field/put on sterile gloves
put on and take of PPE in the correct order
do a full set of vital signs
This is a lot of stuff to do, but mercifully, if we mess something up, we do get a second and third chance to come back and correct the error on another day.
AND when we get called back, we only have to do the skills we needed to improve; we don't have to do everything all over again.
But, of course, I will do my best to get everything down my first time. The less I have to come back for, the better.
I have gone to lots of open labs to practice, I've helped other classmates learn their skills (teaching others helps me learn!), and I've gone over all the procedures lots of times.
But, it's my first time doing competency testing, and usually, 50% of students end up getting called back for a 2nd chance try on something. Soooo, I know it's quite possible I will be in the 50%.
Stay tuned!
I am still wanting to do Meet a Reader posts
They've been missing because I don't have any submissions in my inbox, but I'm definitely still open to featuring more readers!
If you want to participate, just send me an email (thefrugalgirl@gmail.com).
And if you emailed me and I missed it, let me know in the comments, or send me a fresh email. Sometimes I get very behind on emails and things get lost, and that is particularly true now that I'm in nursing school.
So, feel free to bug me!
Nursing/Medical podcasts
A fellow back-in-school adult reader was asking what I listen to as I study for nursing school.
My main fundamentals textbook does have an audio version, and I listen to that instead of reading the chapters. It's a terrible computer voice, but I can play it at 2x and listen while I'm doing other things like laundry, cleaning, and cooking.
Aside from that, I also listen to the Dr. Matt and Dr. Mike podcast. They're both A&P (anatomy and physiology) instructors in Australia, and I've been listening to their podcast for years.
It helped a lot when I was in A&P, and now I mostly listen to it to keep getting refreshers about A&P content.
They've also got a lot of YouTube content, but I mainly listen to the podcast.
I've also added Straight A Nursing to my podcast queue. I've gone back and searched for specific topics that we're covering in nursing school, and I also listen to new episodes as they come out.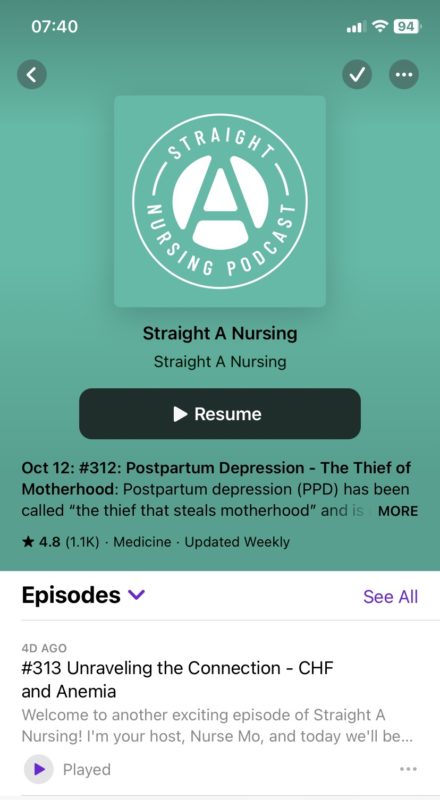 My attitude about medical podcasts is that even if I don't need that particular bit of knowledge at that particular point in time, it's still useful to listen to the episodes. They might refresh my memory about a subject or concept, and they might help me get a head start on something I need for the future.
Of course, I do my assigned homework first since that's specific to my course and then I add the podcasts in when I have more listening time.
Sometimes a visual resource is best for learning nursing concepts, and on YouTube, I like the Dr. Matt and Dr. Mike videos, and I also sometimes watch Ninja Nerd on specific topics.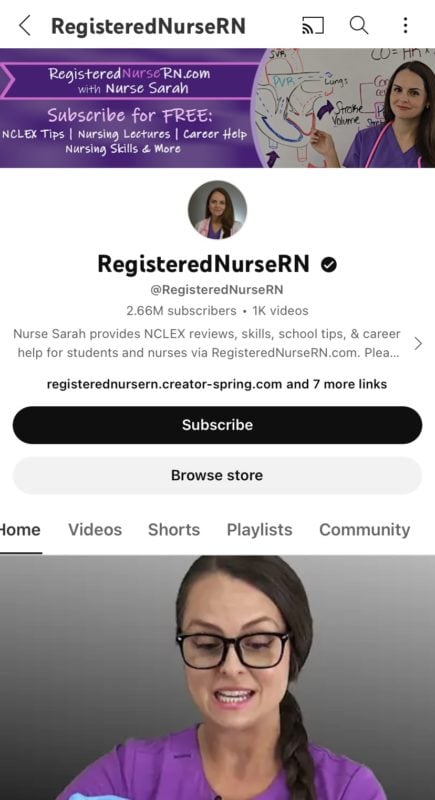 Simple Nursing with Nurse Mike is helpful, and if you don't mind a strong southern accent, Registered Nurse RN is good (her accent is polarizing among nursing students, I'm finding!)
I did something super dumb this morning
I ordered a new computer mouse since mine is having issues.
And when I went to open the package, I cut right through the cable, rendering the brand-new mouse completely useless.
AUGH.
The package design is a little confusing; before I cut it open, I did take a look to see where it looked like the cable was, and I thought I was avoiding it when I decided where to cut!
I looked at the reviews, and I found at least one person who had done the same thing, so that made me feel a little less mad at myself.
I'm having a similar feeling as I did when I cracked my whole stovetop, but hey, at least a computer mouse is significantly less expensive than a whole stove.
When my next one arrives, I am going to be very very careful how I cut the package open.
And now I'm gonna try to shake off the mistake so I can prep for my competency tests with a good attitude instead of an, "I'm so stupid!" attitude. 😉
Wanna share some Monday miscellany with me?
Share some random stuff in the comments! And if you have ever ruined something by opening a package wrong, please tell me so that I feel a little better!