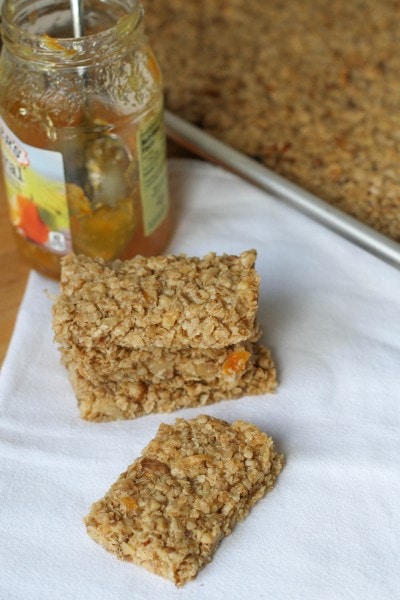 Recently, I was taking a stroll through my archives, and I came across this orange coconut granola bar recipe. Between you and me, I think it's been hiding because it's embarrassed about the not-delicious-looking photos it's been sporting.
Do you feel anxious to make these?
Yeah, me neither. Oy.
These actually are really tasty (assuming you like the flavor of oranges. And coconuts.) and they're delightfully chewy, which is how I love granola bars to be.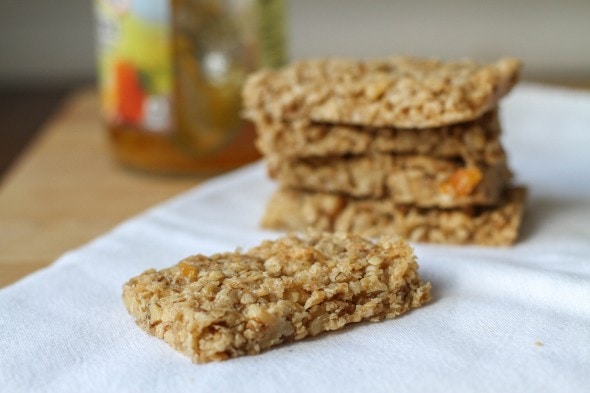 Another great feature: the recipe makes a big half-sheet pan of bars, which is handy if you happen to have four hungry children. A 9×13 pan of bars disappears way too fast around here, so yay for half-sheets of granola bars!
If you don't have a large crew to feed, you'll be glad to hear that these freeze beautifully, so don't be afraid to bake a whole pan.
These are really quick to make…you just mix up the dry ingredients, add the wet ingredients, and bake.
Boom, you're done.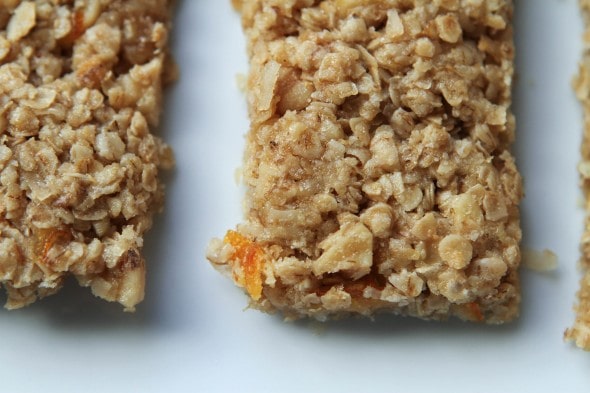 I've often thought that it would be fun to change up the orange flavor of these bars, but I can't figure out how I'd do that. The idea of mixing, say, raspberry jam, into the bars hits me all wrong.
If you have any great ideas, let me know in the comments. But for now, you can enjoy orange-y granola goodness. 😉
This is everything you need…melted butter, orange marmalade, and then the dry ingredients (oatmeal, coconut, chopped walnuts, brown sugar, and salt.)
If you don't like walnuts, you can certainly substitute whatever nuts you'd prefer. Walnuts are not my very favorite nut, but I don't eat enough of them and that's why I use them here.
Mix all of the dry ingredients together and then add the butter and marmalade.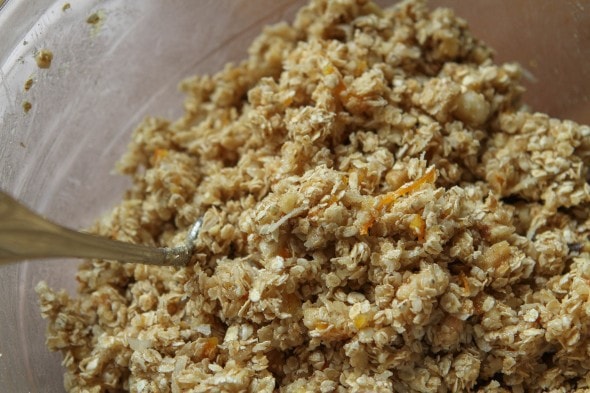 Press the whole shebang into a greased 18×13 half-sheet pan and bake in a preheated 350 ° F oven for 15-20 minutes.
They're not going to look a whole lot different once baked. The edges will just be a little bit brown.
Before baking: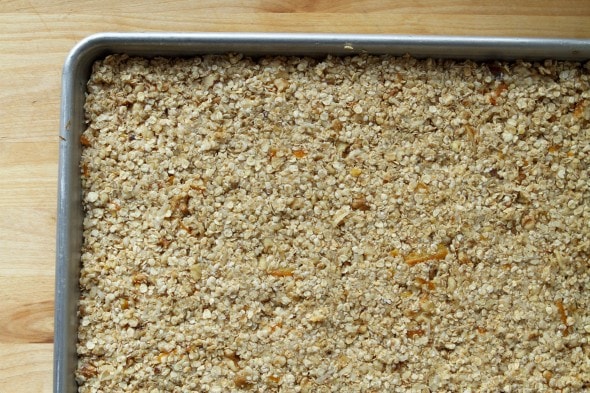 After: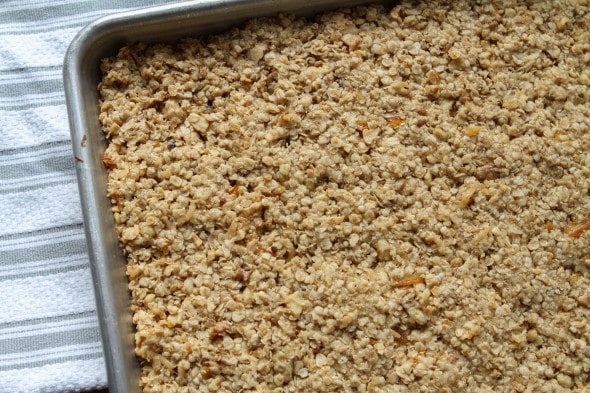 I like to cut mine into bars right after they've cooled a bit because the warm bars are easier to cut than the cooled bars.
Store 'em in an airtight container. Or if you want to freeze them, just package them in a plastic bag or air tight container, and you'll be good to go.
Orange Marmalade Coconut Bars
Printable Orange Coconut Granola Bar Recipe
4 cups quick-cooking oats
1 cup packed brown sugar
1 teaspoon salt
1-1/2 cups chopped walnuts
1 cup flaked coconut
3/4 cup butter, melted
3/4 cup orange marmalade
Preheat oven to 350 ° F.
In a large bowl, mix together oats, brown sugar, salt, walnuts, and flaked coconut.
Stir melted butter and orange marmalade into dry ingredients; mix thoroughly.
Spread oats mixture into greased half-sheet pan. Bake for 15-20 minutes, or until edges are lightly browned.
Let cool for a few minutes, then cut into bars. Store in airtight container.