I already own a toaster, which you've probably seen in the background of some of my photos; it's a bright red number from Cuisinart, and we've been really happy with it.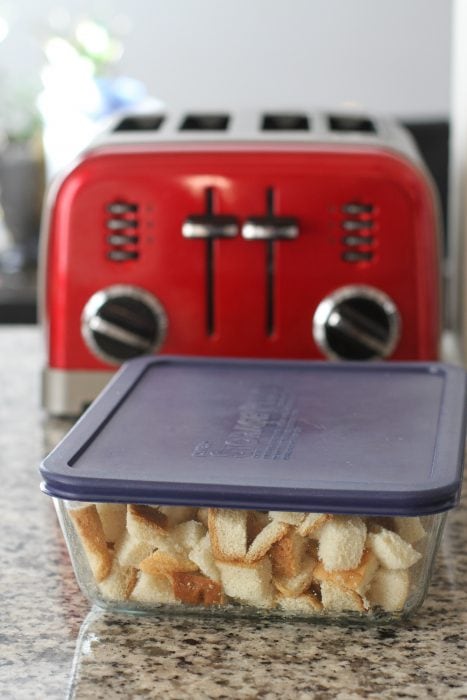 So when Buydeem" rel="nofollow">Buydeem reached out to ask if I would review one of their products, I almost said no.
But then I remembered that Lisey is moving out to go to airplane mechanic school in the fall, and she's going to need all kinds of items for her apartment.
And since she's working hard to save up all her money for tuition, I knew she would be happy for any free items she could get.
So I said yes!
This Buydeem" rel="nofollow">Buydeem toaster has super cute vintage styling; Sonia fell in love right away.
And since it fits so well with her vintage aesthetic, I asked her to help me with photos for this post. 🙂
Women in 1950s ads were always over the moon (or they looked very surprised!) about their new appliances, so we tried to channel that energy.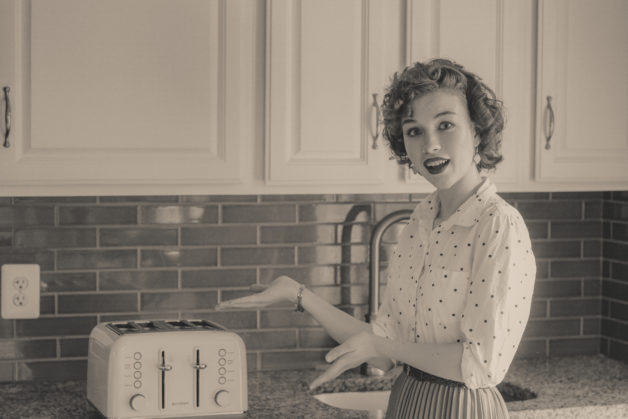 What's good about this toaster?
I love the look of it! It reminds me a little bit of the Smeg aesthetic, but it's way, way less expensive.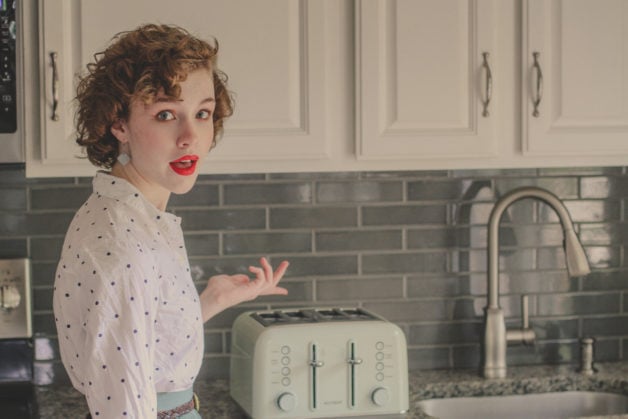 A two-slot Smeg toaster costs $170!
And Buydeem" rel="nofollow">the Buydeem four-slot toaster is less than $60.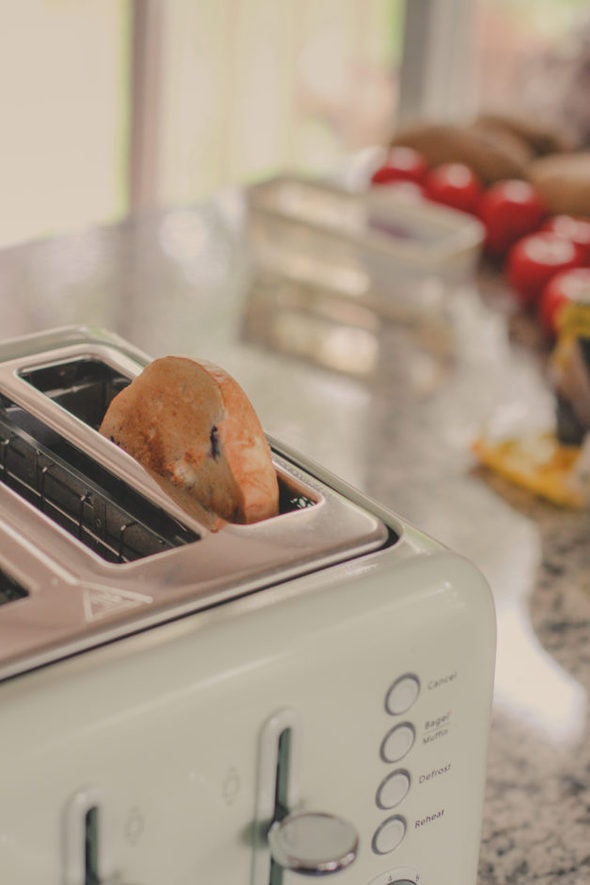 Other good features:
the slots are nice and wide; nothing gets stuck
the slots are long enough to hold bread that's been baked in a wide pan
it has two crumb trays which are easy to remove for cleaning
it has a quiet "pop" when the toast is done
Did I mention it looks beautiful??
four slots are handy for larger households
Does the toaster work well?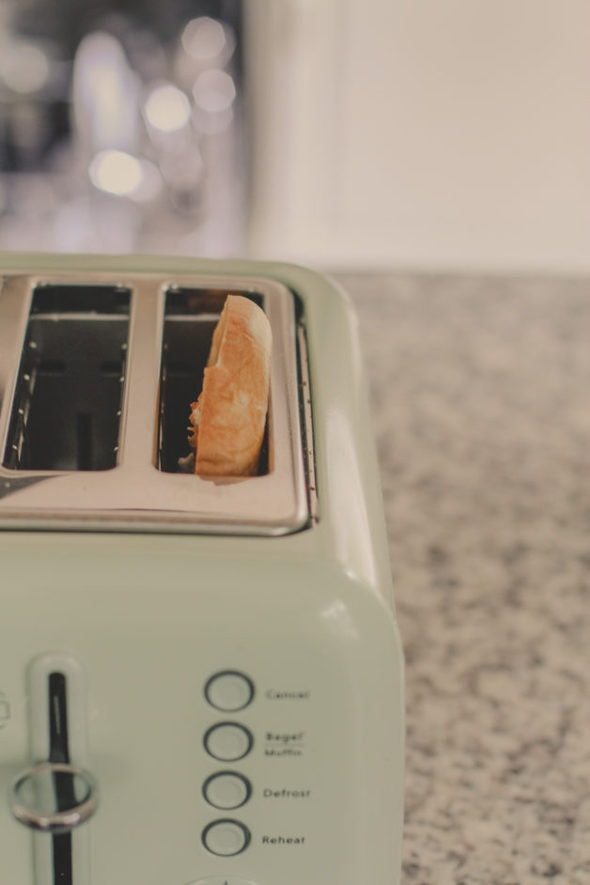 I have to say, this does not do quite as good a job of toasting as our Cuisinart toaster does; the main issue is that sometimes one side of the toast is not as brown as the other side.
Also, the timing on the toasting dial is a little unusual. With most toasters, the dial numbers coordinate with minutes, so if you set it on "3", then your toast is in there for three minutes.
(Edit: apparently this is not always true! It's been true for my own toasters, but I must have just happened to buy the type where the minutes matched up. See here: https://www.snopes.com/fact-check/a-toaster-dial-is-for-minutes-not-level-of-toasty-ness/)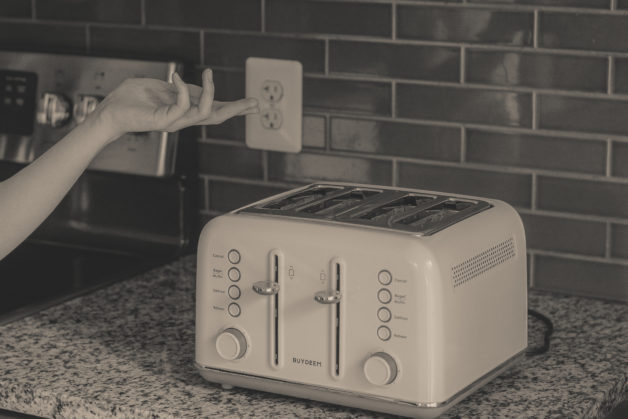 The Buydeem toaster is a little different; if you set it on 4, the toast is only in there for about two minutes.
Of course, you could get used to this over time, but it is a little weird at first.
In conclusion…
If you are mainly going for top-of-the-line toasting quality, I would give the Cuisinart toaster (around $70) a slight edge over this one.
Its looks aren't quite as fun as the Buydeem, but it is still nice-enough looking to leave out on your counter, it's pretty affordable, and the red color we chose is a fun pop of color in our neutral kitchen.
But!
If you really want a retro 50s look for your kitchen and you don't want to spring for the Smeg, I think the Buydeem toaster is a great deal and it does cost less than my Cuisinart toaster.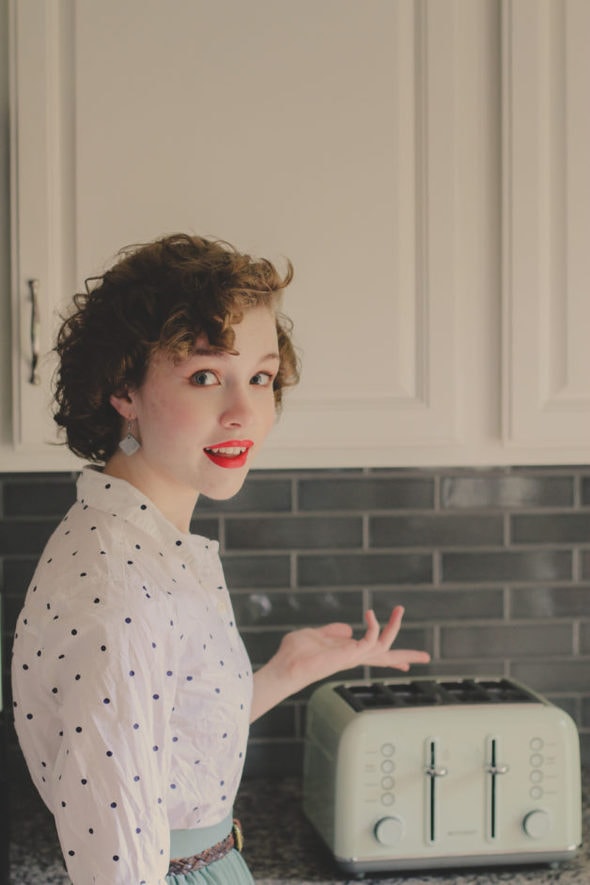 Buydeem">
Many thanks to Sonia for helping me out with this post!