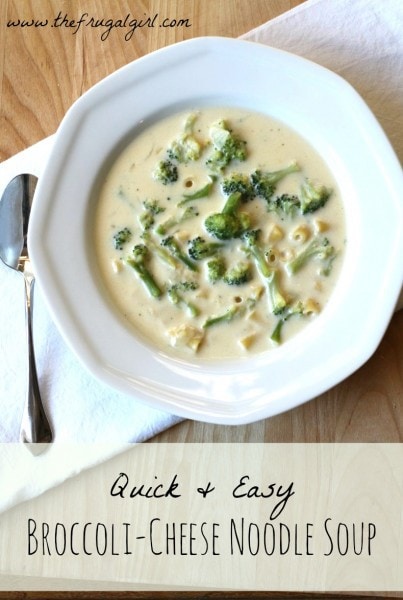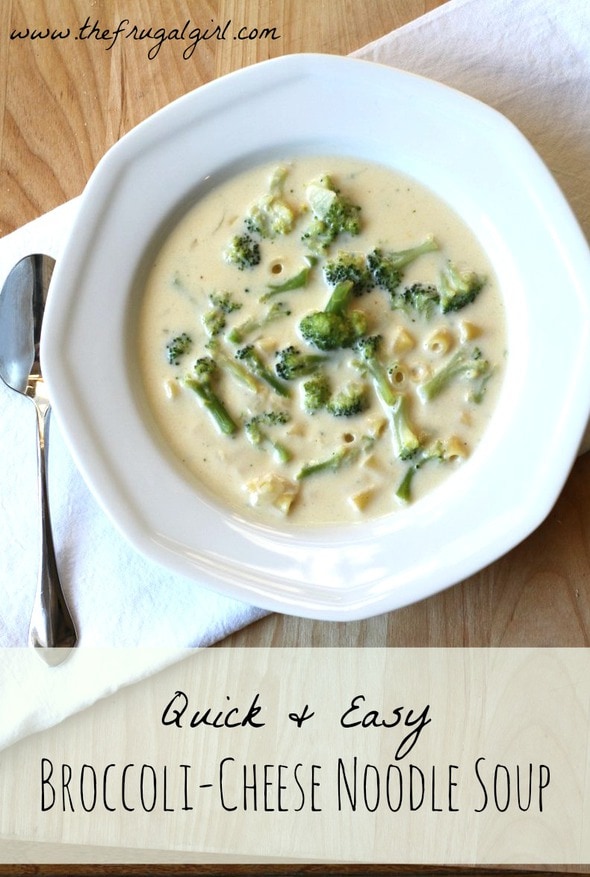 I know I just posted a recipe for a broccoli soup, but I used a photo of the noodle version in a post recently, and you all asked for the recipe.
This is like a country cousin of the more sophisticated Cook's Illustrated broccoli soup recipe I posted…the Cook's recipe uses upper crust Parmesan and this one uses, uh, American cheese.
(I love that of all cheeses, this one is named after my country. It's sort of a dubious distinction.)
Under most circumstances, I am strongly opposed to this kind of cheese, by which I mean that I think it's disgusting.
I don't even use it when I make my grilled cheese sandwiches…Swiss or any other kind of real cheese is so much better.
But I really don't mind it in this soup, possibly because when it's melted with milk and chicken broth, it just turns into a smooth, cheesy carrier for the noodles and broccoli.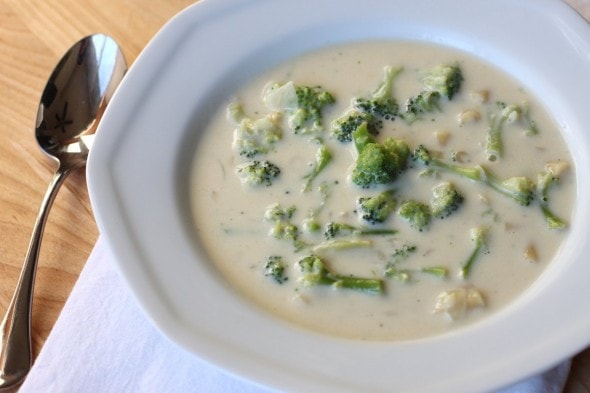 Of course, meltable, processed cheese is not exactly a real food kind of ingredient, but it's not like this soup is a less healthy meal than fast food, and it's inexpensive, easy, and quick to throw together.
Also! As long as you use macaroni instead of ditalini, you can buy all of the ingredients at Aldi.
(They didn't pay me to say that, though…they don't know about this post, and I got my ingredients at Aldi just because that's where I buy most of my groceries.)
I got this recipe from my aunt years ago, and I'm not sure where she got it from…maybe from a collaborative church cookbook or something along those lines.
Ok.
First, melt a tablespoon of butter in a saucepan, and add a half cup of chopped onions. Saute the onions until they're a little bit softened.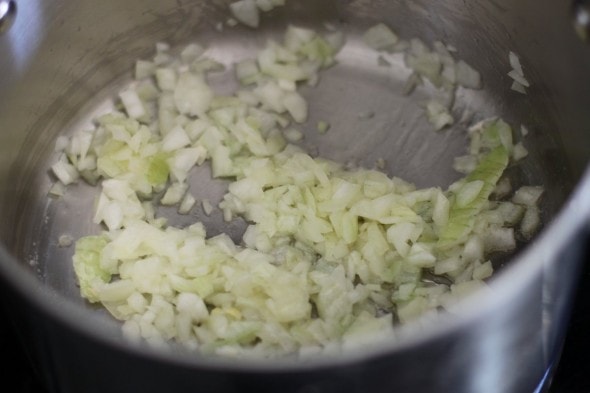 Then pour in 3 cups of chicken broth. The original recipe calls for 3 cups of water and a tablespoon of powdered bouillon, but I almost always have some homemade chicken broth in my freezer.
And since homemade chicken broth is so nutritious and so nigh onto free (Be still, my heart!), I prefer to use it.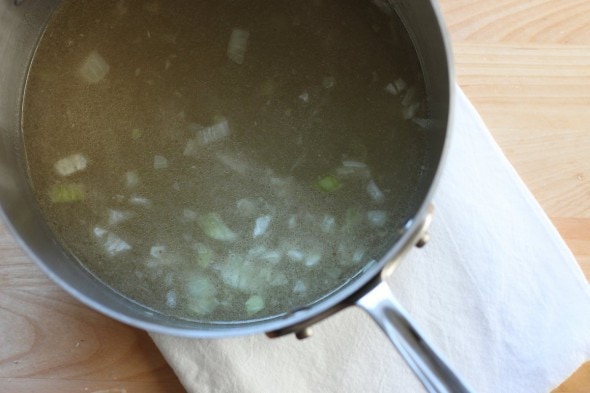 Bring the broth to a boil, and then stir in a cup of small pasta. I used ditalini, but you can also use elbow macaroni or some other small pasta.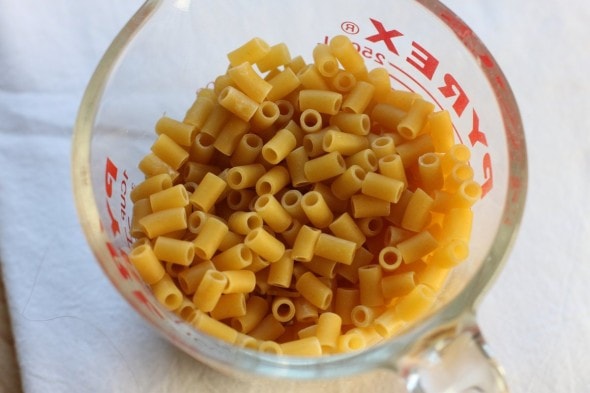 Next, add a package of frozen broccoli.
Aldi doesn't carry the finely chopped stuff, so this is what I use. It's a few more ounces than the recipe calls for, but it seems to work just fine.
If the pieces are a little too big for your taste, you can always cut 'em up.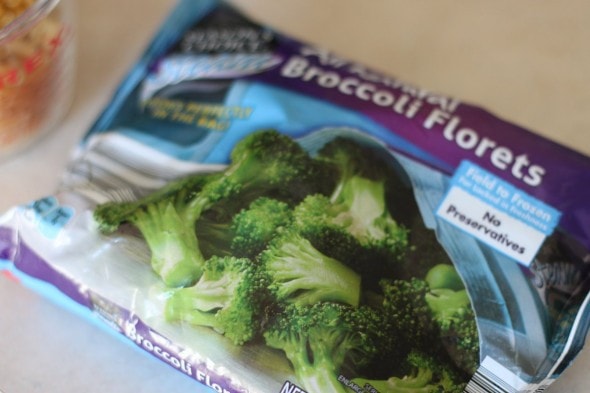 Oh, and you add garlic salt at this point too.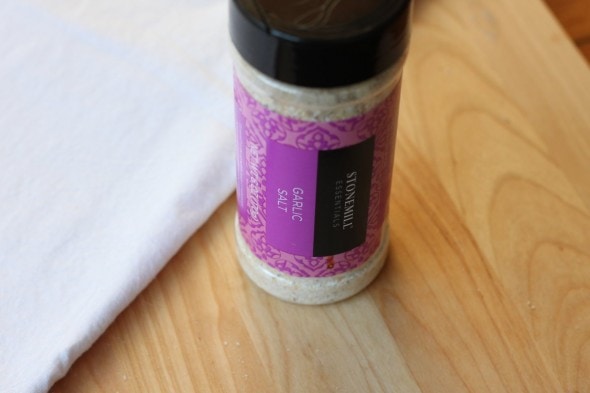 Let this boil for another 4 minutes or so.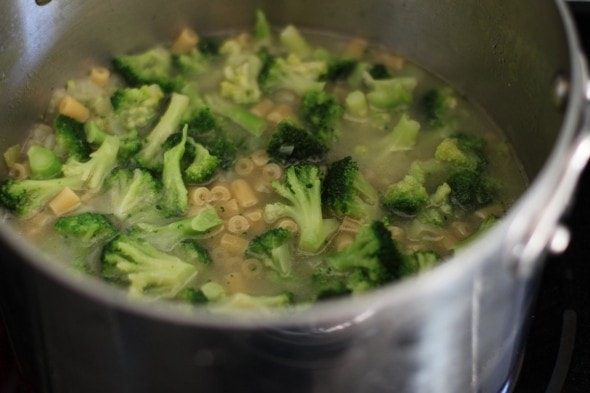 Then stir in cubed American cheese until it melts.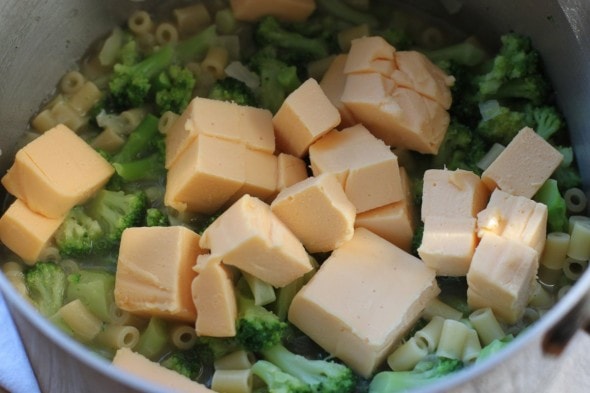 Aldi sells this kind, which has enough for four recipes of this soup (!). Other grocery stores do carry smaller packages if you prefer that.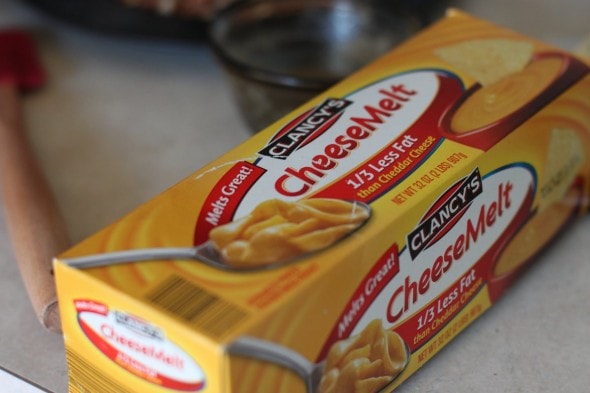 Add 3 cups of milk, and you're done! Just heat it to your desired serving temperature, but it's best not to boil it after this point.
(At least, that's what my recipe card says. I presume that this type of cheese doesn't do awesomely well when it's boiled or something.)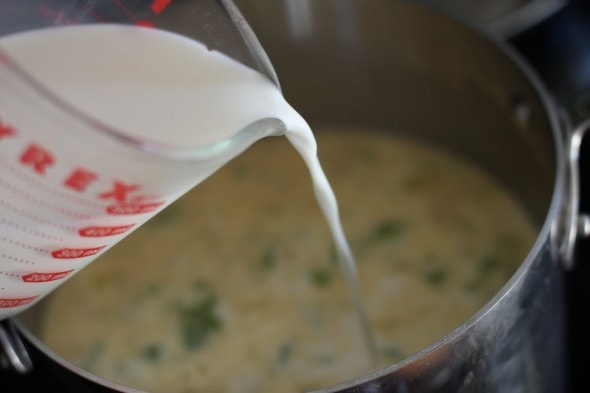 And there you go.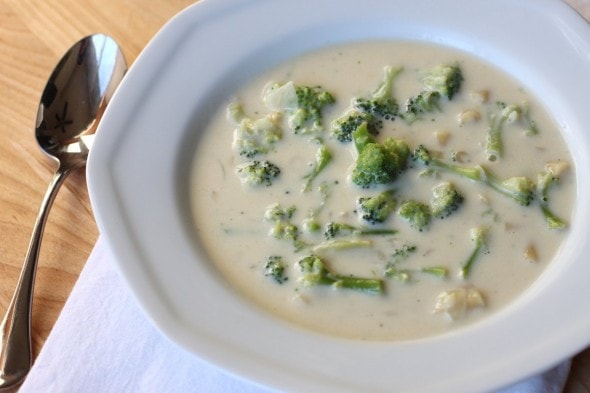 Broccoli-Cheese Noodle Soup
Printable Broccoli-Cheese Noodle Soup
1 tablespoon butter
1/2 cup chopped onion
3 cups chicken broth
4 oz. macaroni or ditalini
1/4 teaspoon garlic salt
12 oz. frozen broccoli
8 oz. Velveeta cheese, cubed
3 cups milk
Over medium heat, melt butter in a saucepan. Add chopped onion and saute for 3-5 minutes, or until softened.
Stir in chicken broth and bring to a boil. Add macaroni and boil 4 minutes. Add broccoli and garlic salt and boil for another 4 minutes.
Stir in cubed cheese until melted. Add milk and heat to desired serving temperature.
_________________
Joshua's 365 post: Rails
Also, Lisey and I have a post up (and if you have tips for making chocolate-dipping easier, go over and help us out!)