Today, we're off to celebrate Christmas with my side of the family, so there won't be a Q&A post today. I do want to show you one of my successful Goodwill Christmas gifts, though!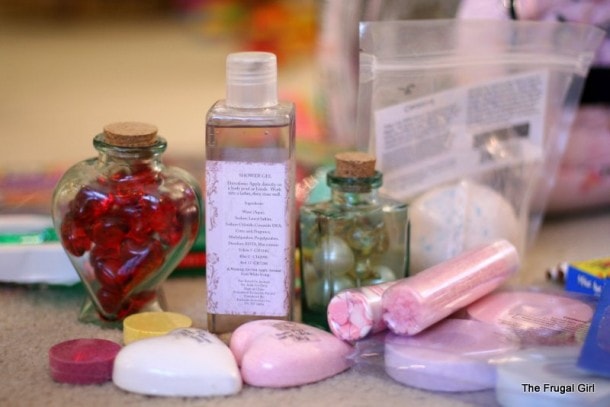 Sonia is indeed the bath queen at our house. From the time she was very small, she's loved to stay in the bath for a r e a l l y long time. She does all sorts of imaginative things in the bathtub (when she was younger, she used to cook breakfast a lot. "I'm makin' you some beckwist, Mommy!"), and she never seems to be at all concerned about the water getting chilly. "I'm not cold, Mommy!" she says, through chattering teeth.
Anyways, because she loves baths so much, we often keep an eye out for fun bath things to give to her. She loves bath crayons, and she also is very fond of bath confetti and bath fizzers. We've bought some for her at Five Below before, but this year, I did much better than that.
All the loot pictured above (plus more that didn't make it into the picture) is from Goodwill. We've been keeping an eye out for bath stuff since her birthday in March, and whenever I found package of fizzers or confetti, I'd stealthily hand them over to Joshua along with some cash so he could sneak up to the cash register and buy them without Sonia's knowledge (there are advantages to having a five year old, that is for sure! They're not the most perceptive crowd out there!).
The prices at Goodwill beat even Five Below's prices…a lot of the fizzers only cost $.10 a piece. And because they were so inexpensive, I was able to buy her a lot of bath supplies. It'll take even her a while to get through all of those.