I've seen these in grocery stores for a while now, and I've always been a little confused by them. I mean, really, how hard is it to make a smoothie?
(hint: not very.)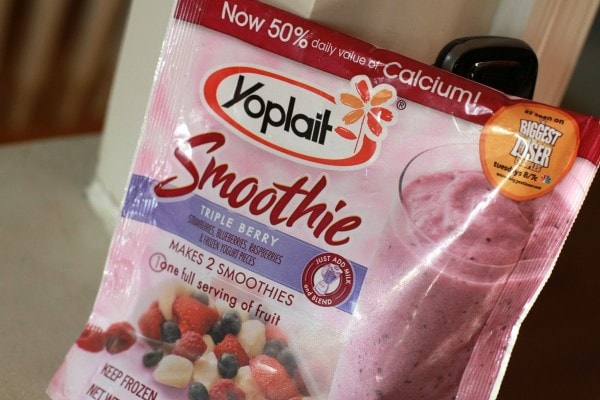 But I thought it would be fun to buy one and compare it to a homemade smoothie.
What's in the Bag?
Here's what's in the bag: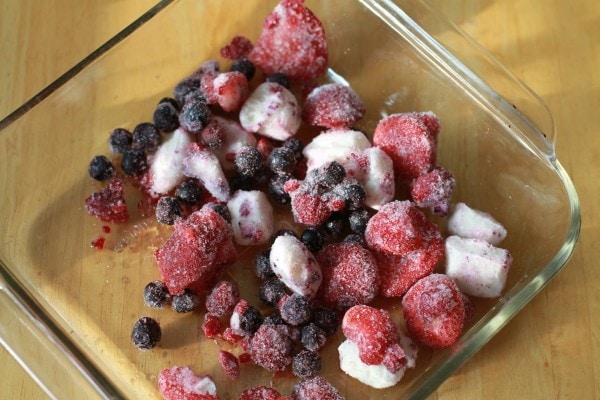 Frozen fruit, plus chunks of yogurt with banana puree.
Here's the official ingredient list:
Strawberries, Blueberries, Water, Raspberries, Nonfat Yogurt (Skim Milk, Yogurt Cultures), Sugar, Fructose, Milkfat, Corn Starch, Banana Puree, Nonfat Milk, Gelatin, Xanthan Gum, Pectin, Carrageenan, Sucralose, Citric Acid, Natural Flavor, Tocopherols (Preservative).
You dump all that in a blender, add a cup of milk, puree it, and voila! You have a smoothie.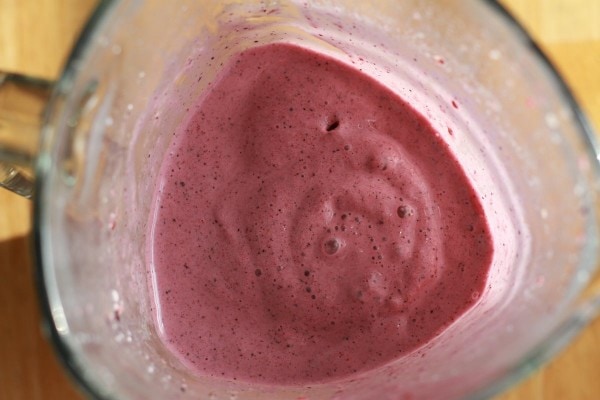 The package makes enough for 2 smoothies, which is obviously a smaller batch than I usually make.
The kids and I all tried some, and while the smoothie was ok, it wasn't great. It had a bit of an artificial flavor to it, and the texture was a little odd too. I imagine that's from the starches and such in the yogurt.
So, then we tried to approximate the smoothie as well as possible, using our own ingredients. I weighed out 7 ounces of frozen fruit (local blueberries, frozen strawberries and raspberries from Aldi, plus a banana chunk).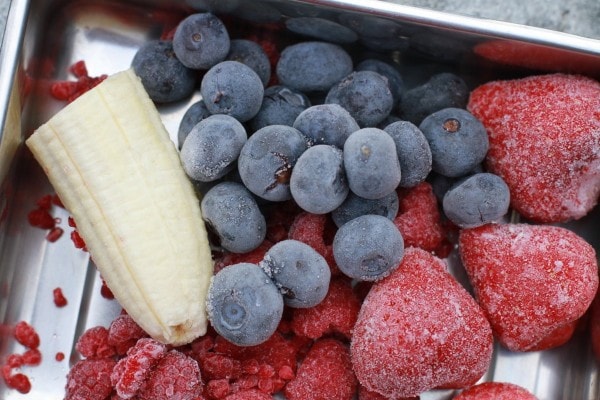 And we blended it up with a cup of homemade vanilla yogurt.
(I wasn't about to freeze my yogurt into chunks, thank you very much.)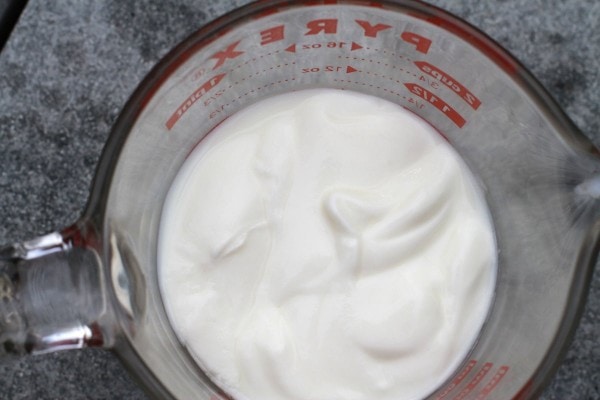 And here's the result.
Which was tastier?
All of us thought the homemade one was tastier, and surprisingly enough, my children said it's because the Yoplait one was too sweet.
I didn't even know they thought there was such a thing as too sweet. Huh.
Which was more expensive?
The bag of Yoplait smoothie costs about $4.
It's a little difficult to say exactly what my homemade smoothie cost, but here's an approximation:
-1 cup of commercial yogurt: $0.62 (homemade is more like $0.25 a cup)
-banana chunk: $0.10
-6 ounces of mixed berries*: $1.12.
So, that's $1.84 or so, which means a homemade smoothie is less than half the price.
*I used this to make the price comparison simple, even though it's not what I personally used and even though it's more expensive than the fruit in the Yoplait bag (strawberries, the most inexpensive berry, aren't included in the mixed berry bag in question.)
On a somewhat related note, the homemade smoothie didn't have any of these ingredients: Gelatin, Xanthan Gum, Pectin, Carrageenan, Sucralose, Citric Acid, Natural Flavor, Tocopherols.
That's always lovely.
Which was faster?
I honestly don't think the Yoplait smoothie was faster. It takes maybe a minute more to make a smoothie from scratch, and that's if you're combining several different fruits.
If you bought a bag of mixed berries and dumped it into the blender with some yogurt, I can't imagine that it would take any longer than the Yoplait kit does.
So, I'm really wondering why people are buying these smoothie bags. I can understand buying pre-prepped food if it saves you time, but this product doesn't even seem to do that.
I'm thinking that maybe some people just don't realize how easy it is to make a homemade smoothie. If you're among that group, let me tell you something wonderful:
Homemade smoothies are VERY simple to make.
Just blend up frozen fruit with milk or water or yogurt (vanilla yogurt will make your smoothie sweeter as will a banana). Play with the proportions and try different fruits…smoothies are very customizable and it's sort of difficult to make one that tastes bad.
Don't just take my word for it! I'm sure the experienced smoothie makers in my audience would be happy to share their best smoothie-making tips in the comments.