In case you want to practice before Easter this year!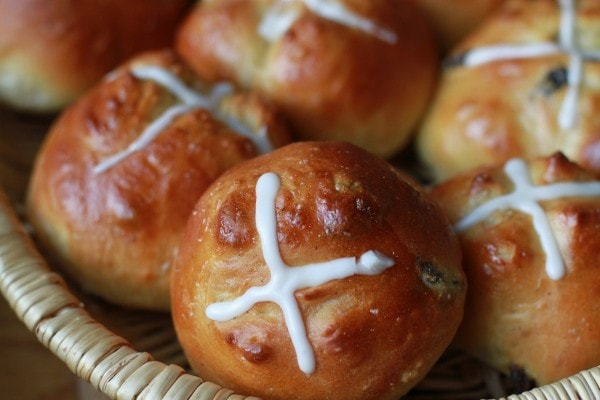 Until recently, I'd never eaten a hot cross bun. If you live in England, I know that's probably unthinkable, but here in the United States, hot cross buns aren't terribly common.
But a recent grocery store ad had them on the front page, and I suddenly got the urge to make a batch.
If you're interested in the history of hot cross buns, you can read this article from The Guardian, but if you just want to know how to make them, read on!
I poked around in several of my cookbooks to find a recipe and settled on one from my 1970s Better Homes and Gardens bread cookbook. I seriously adore that book, people. You should totally go buy a used copy on eBay!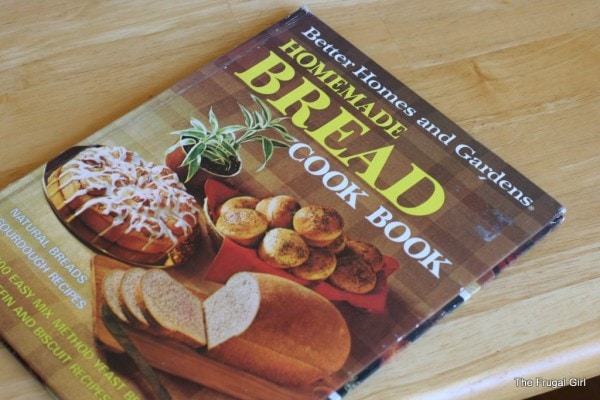 Ok!
The dough starts with flour, yeast, salt, and some spices. I opted to put cardamom and cinnamon in, but a lot of other recipes I saw called for things like saffron, ginger, and nutmeg.
Do whatever floats your boat, I say.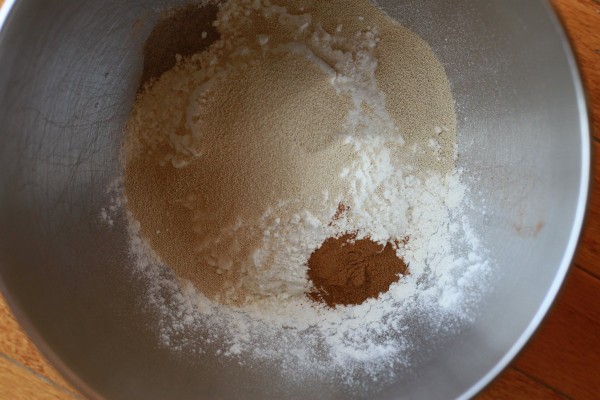 Next, combine the milk, oil, sugar, and salt, and heat to 125° F. You can do this on the stovetop or in the microwave.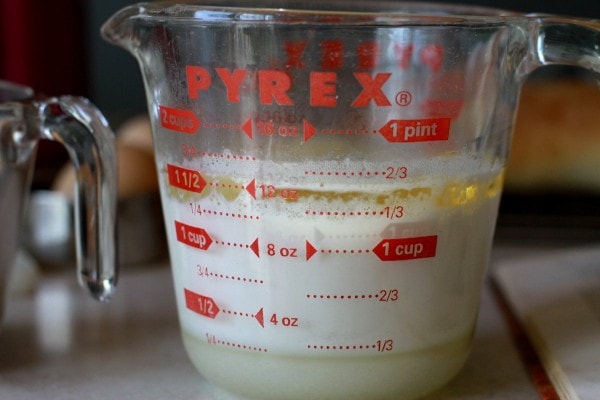 Add the liquid ingredients to the dry ingredients, add the eggs, and beat for 3 minutes. If you don't have a stand mixer, just stir the dough really well by hand.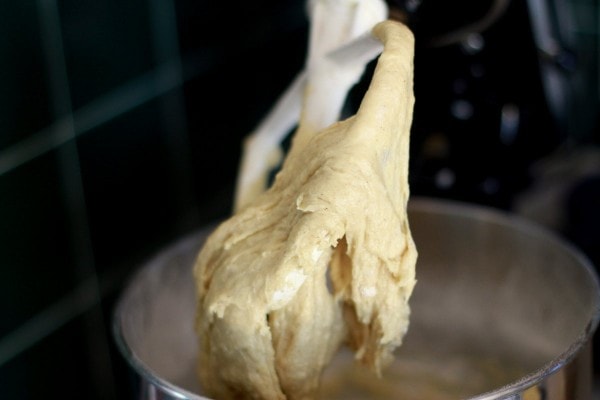 Stir in raisins and enough additional flour to make a soft, kneadable dough.
Incidentally, the recipe called for currants, but I had none and figured raisins would be an acceptable substitute.
(They were.)
Turn the dough out onto a floured counter and knead until smooth and elastic. The length of time this takes will depend on how much mixing you did previously.
Properly kneaded dough will bounce back when you poke it with your finger, though.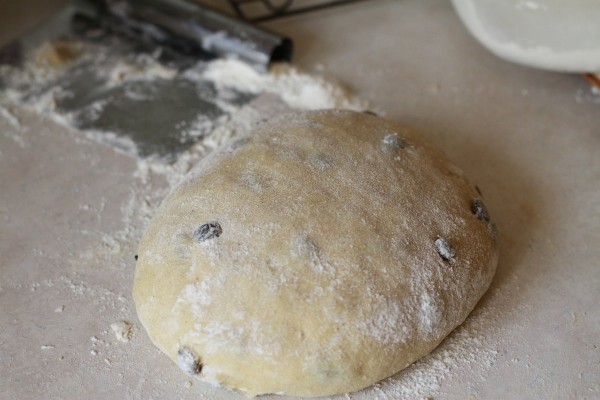 Place the dough back into the mixing bowl (I don't even bother to wash mine), cover with a wet tea towel, and let rise for an hour, or until doubled in size.
Punch the dough down and divide into 18 pieces. Form each into a ball, and place on greased baking sheets.
To make my dough into balls, I just kind of pull the edges inward until the ball is smooth and neat.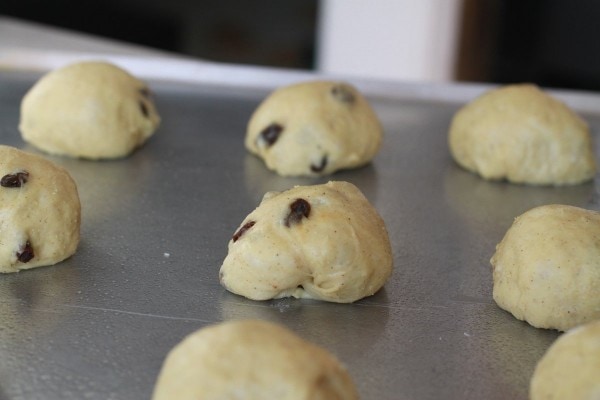 Cover the dough balls with a wet tea towel, and let them rise until they're doubled, about 35-45 minutes.
Or you can cover them with plastic wrap.
Or you can place them in your oven (turned off, of course!) with a pan of warm water on the bottom of the oven (that will keep the air warm and humid, which helps the rolls to rise.)
Once the rolls have risen, use a really sharp knife to cut a cross in the top of the rolls. I'm not gonna lie, this was a difficult task. I tried a lot of different knives and even a pair of kitchen scissors, and didn't manage to turn out super beautiful slashes.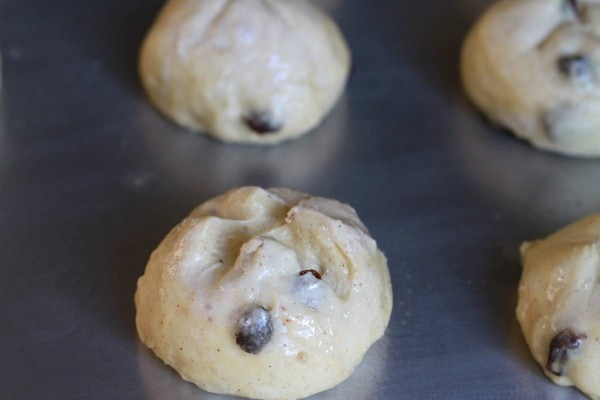 I had the best luck with a knife that had lots of shallow serrations on the blade.
Beat an egg white until it's a bit foamy, and then use a pastry brush to brush the egg white over the rolls. Save the extra egg white because it's going into the frosting later.
Bake in a preheated 400° F oven for 12 minutes, or until the rolls are nice and brown.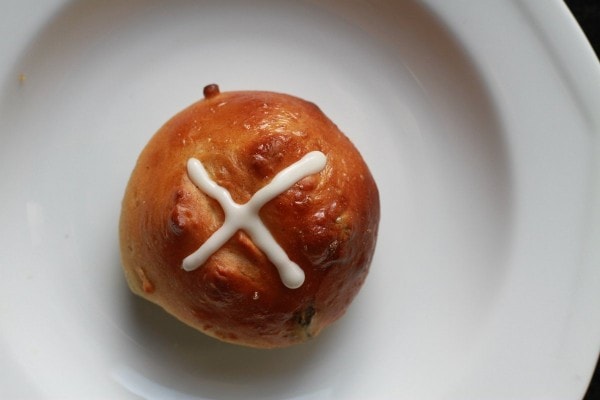 To make the frosting, add powdered sugar, vanilla, and milk to the reserved egg white.
Pipe an X on top of the rolls, using a pastry bag or a plastic bag with a corner snipped off.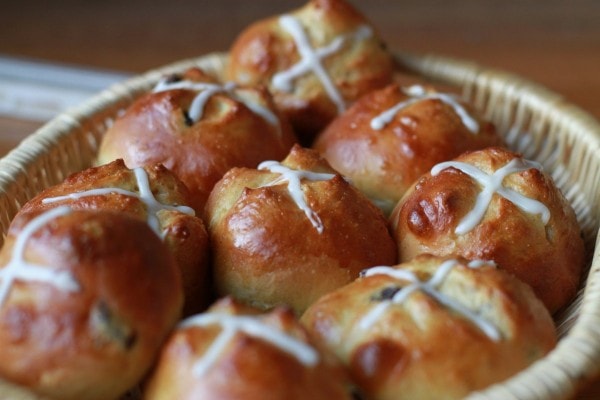 And then enjoy your soft, fluffy hot cross bun.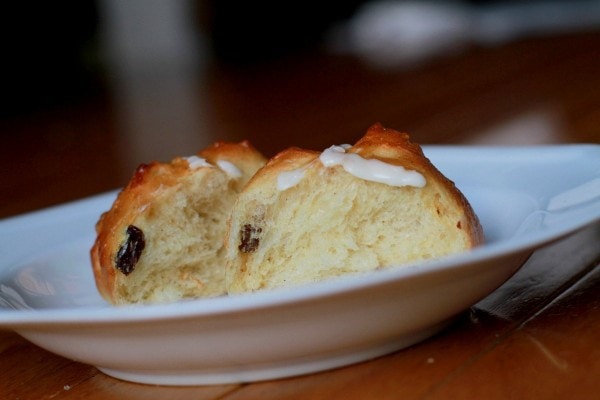 The printable recipe is at the end of this post; keep scrolling!
I'm curious…am I the only one here who'd never had a hot cross bun until recently?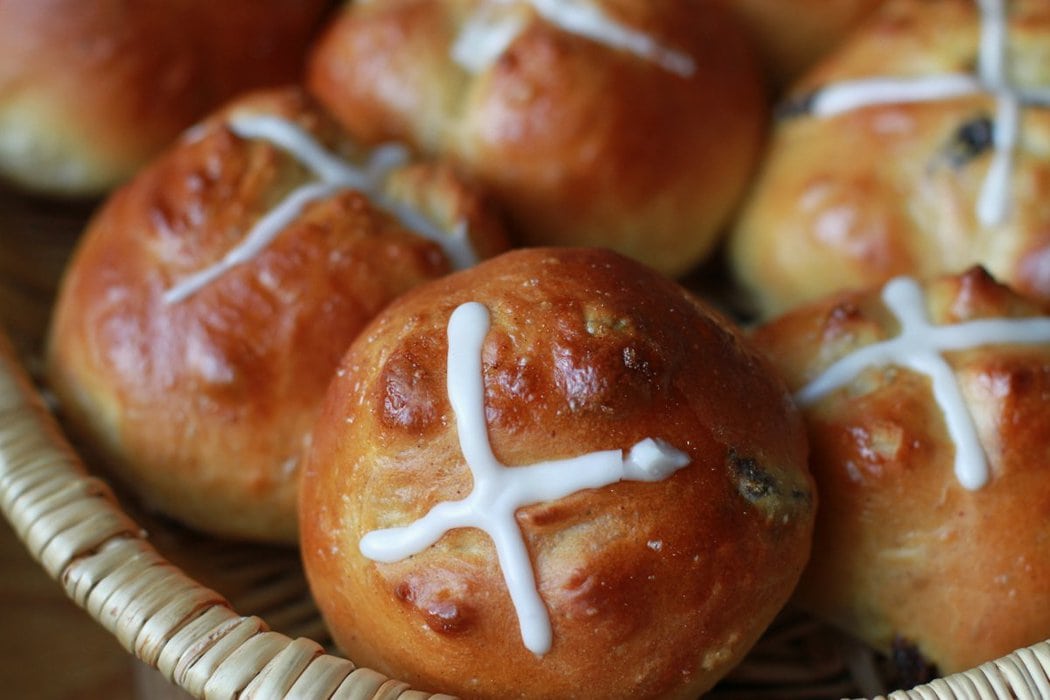 Homemade Hot Cross Buns
Hot cross buns are a fun baking project, and they're not any more complicated than regular yeast rolls. Plus, they're way cheaper than bakery buns!
Ingredients
3 1/2 cups all-purpose flour (possibly up to four)
2 packages active dry yeast (2 1/4 teaspoons each)
1/2 teaspoon ground cinnamon
1/2 teaspoon ground cardamom
3/4 cup milk
1/2 cup butter, melted
1/3 cup sugar
3/4 teaspoon salt
3 eggs
2/3 cup dried currants or raisins
1 slightly beaten egg white
Frosting
1 1/2 cups powdered sugar
reserved egg white
1/4 teaspoon vanilla
dash of salt
Instructions
In a mixer bowl, combine 2 cups of the flour, the yeast, cinnamon, and cardamom.

In a separate bowl, combine milk, butter, sugar, and salt, and heat to 120 ° F. Add to dry ingredients along with eggs, and beat at low speed until combined. Beat at medium speed for 3 minutes, then add raisins and enough remaining flour to make a soft dough.

Turn out onto a floured surface, and knead for 3-5 minutes, or until smooth and elastic. Cover and let rise 1 hour, or til doubled.

Punch dough down; divide into 18 pieces. Shape each piece into a ball; place on greased baking sheets. Cover and let rise till double (30-45 minutes).

Brush rolls with egg white (reserve extra for frosting), then bake in a preheated 400 ° oven for 12-15 minutes (12 was good for mine). Remove from baking sheet and cool completely on a wire rack.

When cool, pipe an X shape on top of each bun with frosting (see below).

Frosting

Combine 1 1/2 cups powdered sugar, reserved egg white, 1/4 teaspoon vanilla, and a dash of salt. Add enough milk to make of piping consistency.


Notes
You can use a non-dairy milk in this dough; I often use oat milk in my yeast breads. You can also sub oil or another non-dairy fat for the butter.
Nutrition Information
Yield

18
Serving Size

1
Amount Per Serving
Calories

227
Total Fat

6g
Saturated Fat

4g
Trans Fat

0g
Unsaturated Fat

2g
Cholesterol

45mg
Sodium

162mg
Carbohydrates

38g
Fiber

1g
Sugar

18g
Protein

5g