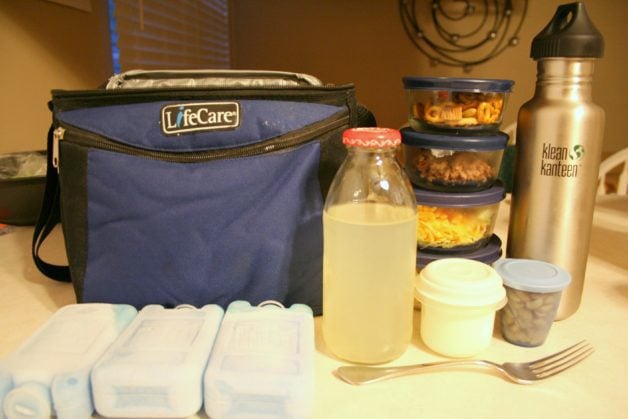 Except for the rarest of occasions, I pack my husband's lunch for him to take to work every day. This has saved us untold amounts of money over the 11 years we've been married, and it's also kept us from wasting leftovers.
When I pack his lunch, I try to minimize the amount of disposable items I use, both to save money and to reduce our trash output.
Starting from the top left, here's all the not-disposable stuff I use:
Insulated, reusable lunch tote. I've found that the flexible ones seem to be more durable than the ones that are rigid plastic.
Hard plastic reusable freezer packs. The softer packs tend to pop leaks in a short amount of time, whereas the hard ones last for a LONG time.
A glass Snapple bottle. As long as you keep the lids out of the dishwasher, these bottles will last indefinitely(and also as long as you manage to not drop them. duh.)
Real silverware. Since my husband is the responsible sort, I can safely send honest-to-goodness silverware with him to work and expect it to be returned. I'm happy because I don't have to buy plastic utensils, and he's happy because he doesn't have to eat with a flexible fork.
Two small plastic containers. I have about 10 of these tiny containers, and I find them to be SO useful for packing lunches. They're great for dressings, condiments, toppings for salads, shredded cheese for topping various dishes, and so on.
Klean Kanteen. This is for drinking water. A reusable plastic one would serve the same purpose, but we're trying to reduce the amount of plastic we use, and stainless steel will last forever(not to mention that its sleek looks are to die for. 😉 I love stainless steel.)
Glass containers. These are made by Pyrex or Anchor Hocking, and I LOVE them. They come in many sizes, but these two smallish sizes are the most handy for lunches. They're much nicer than plastic containers when it comes time to microwave leftovers. I do use plastic ones when none of my glass ones are clean, though, and if I was packing a lunch for a kid, I'd probably use all plastic.
So, there you have it. I do sometimes use plastic bags (some leftovers just don't work very well in rigid containers), and sometimes I put yogurt cups in there (however, the rest of use eat yogurt made in reusable canning jars), but packing a lunch this way does at least reduce the amount of plastic trash we produce.
In addition, faithfully packing leftovers greatly reduces the amount of food we waste, which in turn reduces the amount of trash we create.