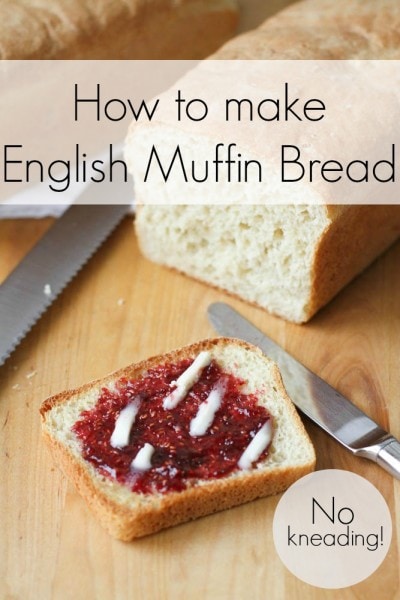 Kneading is probably the number one thing that discourages people from making bread.  I did write a "How to knead" post, but in case you are still terrified of kneading, I have a recipe that requires no such thing!
In addition, it only needs to rise one time, so it's a good first yeast bread recipe to try.
Totally not-scary.
You will need a stand mixer, though, because this recipe uses the mixer's strength in place of kneading.
(I have the KitchenAid Artisan Series 5-Quart Mixer
and it is marvelous.  Highly recommend it.)
Like English muffins, this bread has a somewhat hole-y texture, and it's at its best when toasted.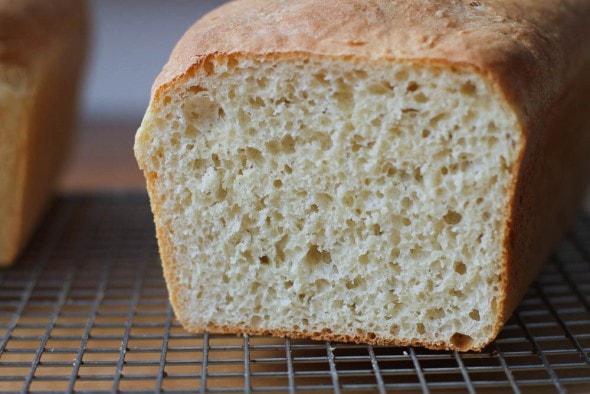 And of course, butter and jam elevate it to heavenly levels.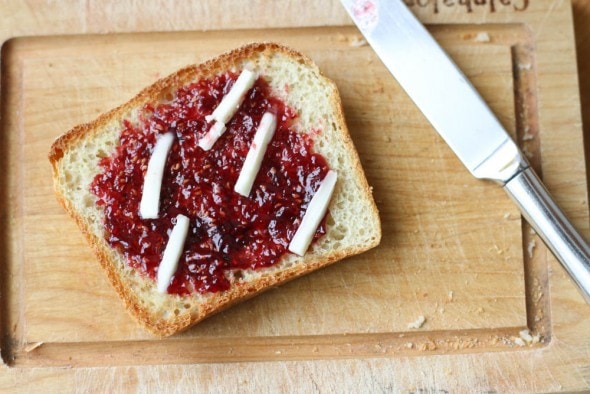 Here's how to make some for yourself.
English Muffin Bread
Printable English Muffin Bread Recipe
6 cups all-purpose flour (You can use half whole-wheat if you prefer.)
1 tablespoon sugar
2 teaspoons salt
1/4 teaspoon baking soda
2 packages (4.5 teaspoons) active dry yeast
2 cups milk
1/2 cup water
cornmeal for dusting pans
Combine 3 cups of all-purpose flour with the yeast, sugar, baking soda, and salt in a mixer bowl.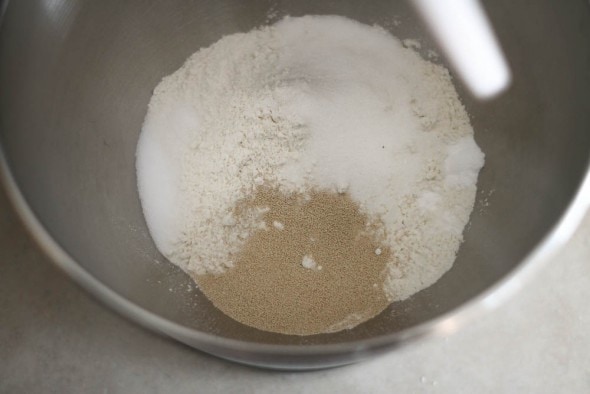 Heat liquids to 120-125 °F (I do this in the microwave).
Add warm liquids to dry ingredients in mixer bowl, and mix for 2 minutes.
It will be rather runny at this point.

Add remaining flour and beat for two minutes. The dough will be quite thick.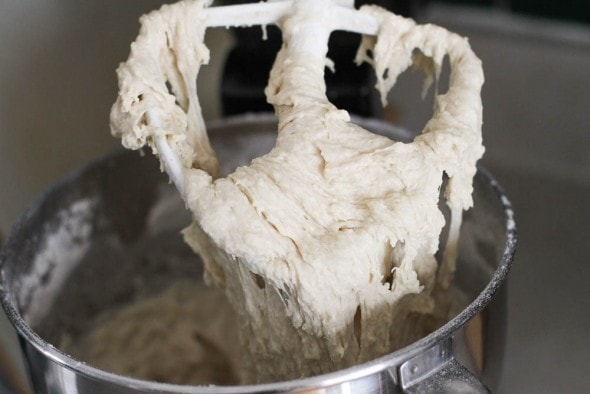 Spray two 8.5 x 4.5 inch loaf pans with nonstick spray and then sprinkle with cornmeal.
You can use 9×5 inch bread pans, but your loaves will be flatter and a little less attractive.  Still tasty, though!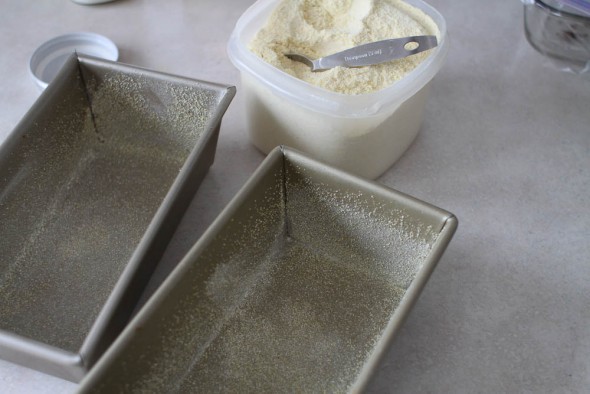 I do this the same way that I grease and flour a cake pan…I put the cornmeal in and tilt and shake the pan until it's evenly covered.
My recipe says to pour the dough into the pans, but this dough is so thick, pouring is an impossiblity!
I usually try to roughly divide it in two using a metal spoon, but I normally get it wrong and have to take some dough from one pan and put it in the other.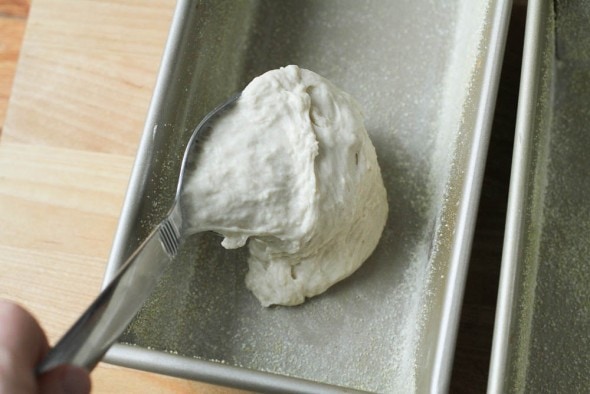 I smooth the dough out a bit with wet fingertips, but you don't have to worry about it being pristinely neat…the lumps and bumps will straighten themselves out as the dough rises.
You do want the pans to have relatively equal amounts of dough, though, or the loaves will need different baking times.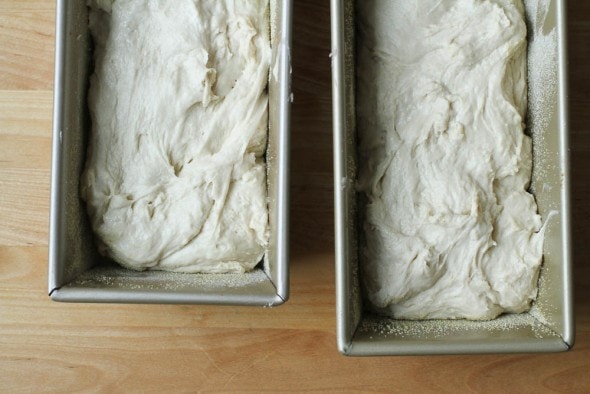 Cover with a wet tea towel (the type of towel that is not fluffy) and let it rise in a warm place for an hour.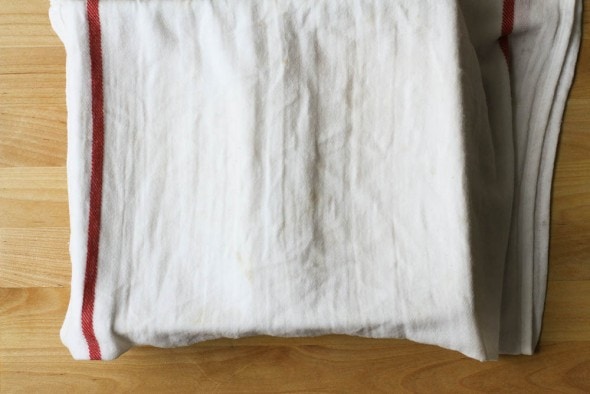 After rising for an hour, it should look like this.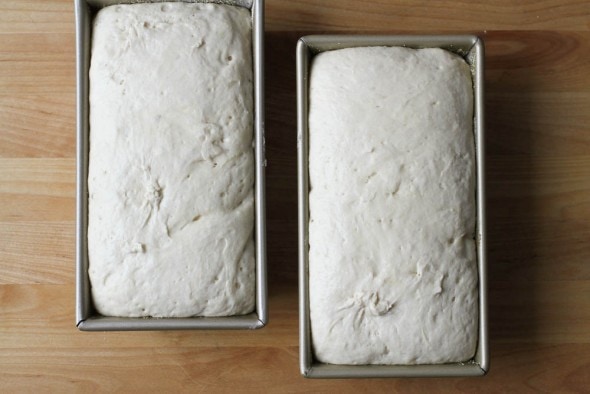 Bake the risen loaves in a preheated 350°F degree oven for 25-30 minutes.
Turn the loaves out of the pans and cool on a wire rack.
Here's what the finished product should look like.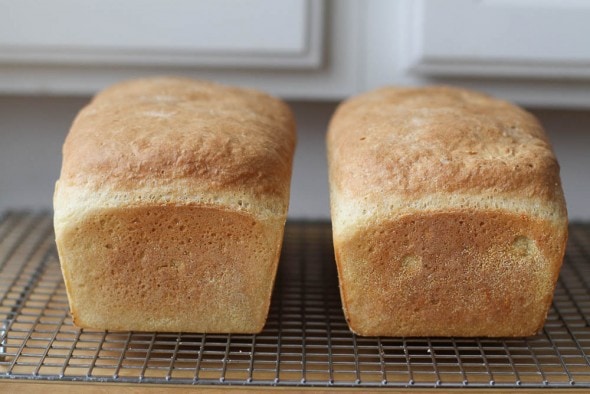 And here's the inside texture.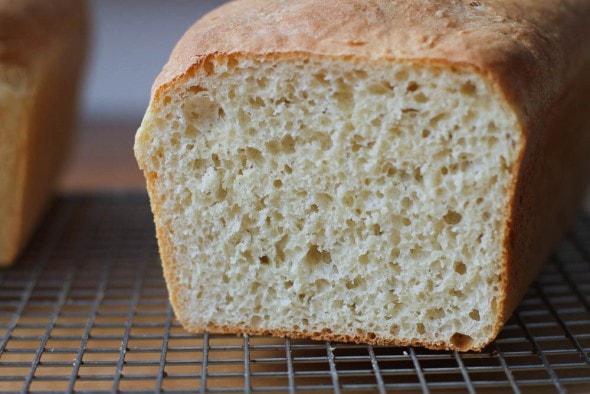 Because this dough has very little fat and sugar (which are preserving agents), it will only stay fresh for a day or two on the countertop.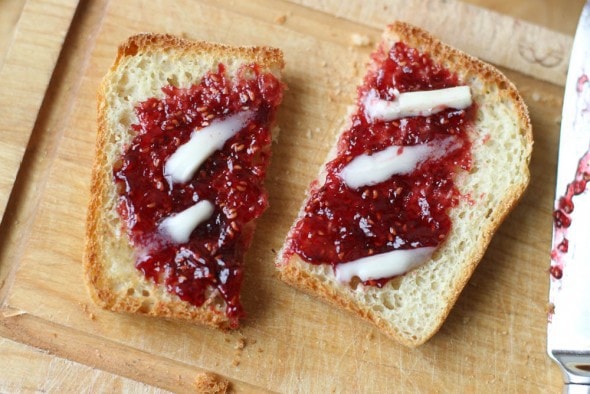 It freezes well, though, so eat one loaf and freeze the other, because if you need a little something to go with dinner on a busy night, it's awfully handy to have a loaf waiting for you in the freezer.
If you have a small household, another option is to cut the loaves in half and freeze each half individually. That way you only have a half loaf to contend with each time.
_____________________________
P.S. My favorite bread pans, cooling rack, and mixer are listed in this post.
P.P.S. In case you missed it, here's the Printable English Muffin Bread Recipe.
Amazon links are affiliate links.