I've been using this sauce every time I make pizza lately, but I haven't ever put the recipe in a blog post.
And I figured the recipe needed a place to live here on the blog so I can link to it from my pizza post.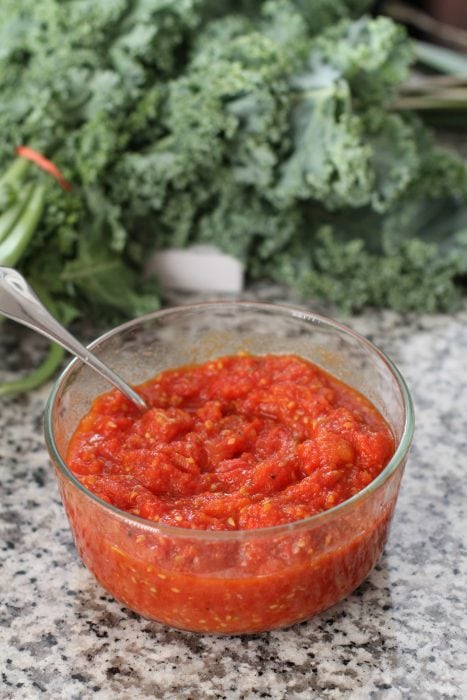 I like this sauce because
it gives the pizza a really fresh flavor
it takes about 5 minutes to make
costs almost nothing beyond the price of a can of tomatoes
it makes the right amount for two pizzas
And since I am not the type of person to write up a huge introduction to a recipe (unless it's necessary!), here's it is, with no further ado.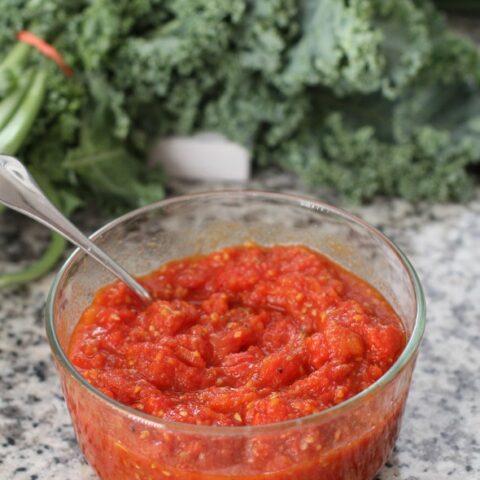 Super Simple No-Cook Pizza Sauce
Yield: 1 1/2 cups

Prep Time: 5 minutes

Total Time: 5 minutes

This fresh sauce comes together in just minutes, using pantry ingredients!
Ingredients
1 14-ounce can diced tomatoes, drained
1 teaspoon dried oregano
1/2 teaspoon sugar
1/4 teaspoon salt
1/4 teaspoon red pepper flakes
Instructions
1. In a food processor, pulse tomatoes until finely chopped.

2. Add oregano, sugar, salt, and red pepper flakes and pulse until mixed.
Notes
One batch of this is just about exactly the perfect amount to cover two regular pizzas.

This sauce gets kind of watery if you freeze it, so I recommend just making one batch when you need it rather than making large batches for freezing.

Recipe modified slightly from Cook's Country.