Apologies for the inadvertent radio silence here this week! I've been very very busy being very not-productive. 😉
You know how cooking at home is a super-duper important part of living a frugal life?
And you know how it's super easy to get into a recipe rut?
(I know it's not just me.)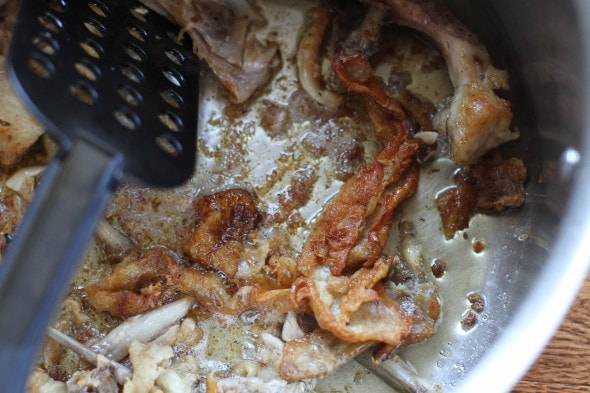 the beginnings of a pot of chicken broth
Well, I thought that in 2017, it would be fun to commit to trying new recipes together.
I'm going to be bravely optimistic and challenge myself to try one new recipe per week. And I plan to post about it every Thursday.
Each Thursday, I'll give a small report on the recipe I've tried and also share what my new recipe for the next week will be.
And you can do the same in the comments.
Now, one major obstacle for me when it comes to food blogging is the lack of decent light at dinnertime.
While this is surmountable with advance planning, I am not the sort of person who has time to make dishes and photograph them earlier in the day. If I'm going to photograph food, it needs to happen when I'm already making food for my family.
So, while I plan to share a photo of the dish I've made each week, it's just going to have to be a not-that-awesome photo for the 2/3 of the year that dinnertime happens post-sunset.
(I know most of you probably aren't that concerned about it. I'm mostly telling this to myself: Done is better than perfect, Kristen! Just take the photo.)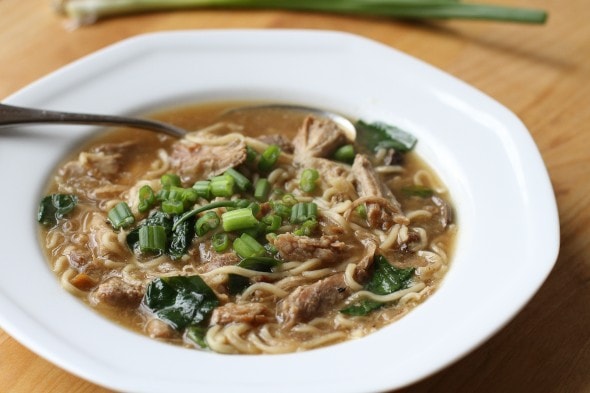 Crock-Pot Japanese Pork and Ramen soup
I'll try to stick mostly with new main dish recipes (because those are the most useful and also the most challenging to find, for me at least), but I'll probably throw some new side dish recipes in too.
You all are welcome to join in as frequently or as infrequently as you like…you do not have to be as crazy as me and do this every single week. 😉
For this week, I'm planning to make white chicken chili from my ATK Quick Family Cookbook.
(I don't think ATK publishes this book anymore, but there are lots of used copies available on Amazon.)
I've never made or eaten white chili before, but I've always been curious to try it.
And I just made a big pot of chicken broth from the bones of two organic chickens from Aldi, so I've got plenty of broth on hand to put into this soup.
Hopefully it'll be tasty.
_____________
If this idea sounds good to you and you've already got a recipe in mind to try, go ahead and share in the comments.
Let's do this thing! We are totally gonna get out of our cooking ruts in 2017. Woo!