This post is a bit off-topic and a little more serious than the usual Frugal Girl fare, but this stuff has been circulating around in my brain lately and I feel the need to put it all down into a post. 😉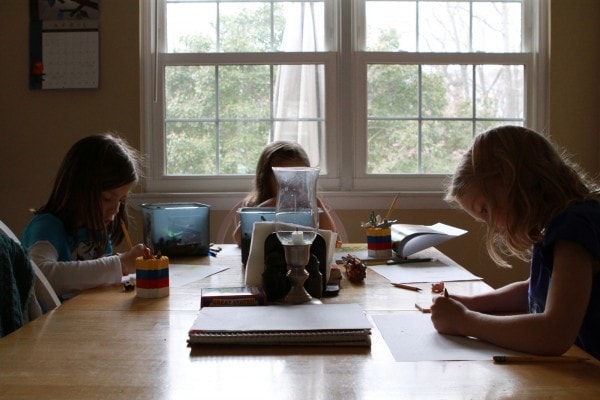 When a blog (which is public and out on the internet for anyone and everyone to read and comment on) is written by a Christian author, something sort of weird happens.
Fellow Christians who read the blog sometimes start to feel like the blog is like a kitchen-table gathering between church friends instead of a chat with the whole world. And when that happens, sometimes the Christians are not as mindful of their words as they ought to be.
Of course, this phenomenon is not limited to Christian blogs. I've seem the same thing happen on blogs written by feminists or atheists or fill-in-the-blank-s.
When a blog is written specifically about a belief system (like a blog about feminism or a blog about Christian faith), it is a little more fair to assume that the audience is mostly comprised of people who agree with the belief system (I wouldn't personally subscribe to a blog about atheism, and I assume most non-Christians wouldn't want to subscribe to a blog about Christianity).
However, a blog like mine is different. I am a Christian, my faith informs every aspect of my life, and I do think that Jesus is THE way, the truth and the life, and that He is the only way to the Father. I'm not at all wishy-washy about my faith, and I'm not shy about it. But my blog is not specifically about Christianity, and so my audience is not specifically Christian.
After all, you don't have to be a Christian to be interested in saving money.
For the record, I feel very blessed to have such a diverse audience…I don't think true Christianity dictates that I live in a bubble, surrounded only by believers. Quite the opposite, in fact, and I am delighted to have readers from all walks of life and of varying beliefs!
Anyhoo.
Sometimes, dear fellow Christians, you leave comments that are not as polite or humble or gracious as I'd prefer (and ultimately, as I believe Jesus would prefer), and in doing so, you alienate people who have different beliefs than you do.
I want to keep my blog a place where Christians and non-Christians alike can hang out, and to that end, here are a few thoughts/guidelines about commenting here for my fellow brothers and sisters in Christ.
Treat people like you want to be treated. Before you say something, imagine having the tables turned (for example, if you're about to offer up a negative generalization about environmentalists, remember how you feel when people offer up a negative generalization about Christians).
Remember the diverse audience. My readership contains atheists, Catholics, Protestants, Mormons, environmentalists, conservatives, liberals, straight people, gay people, and on and on. Don't assume that everyone has the same worldview you do.
Don't be condescending. Non-Christians aren't stupid or unintelligent (at least, not as a rule. You can find unintelligent non-Christians AND Christians!).
Be humble. When I first started chatting with non-Christians online, I was so anxious to be right and to win arguments and debates, and not so anxious to share the love of Christ with them. Don't be like I was!
Be kind. As the saying goes, you catch more flies with honey than with vinegar. Let your blog comments be full of grace.
Remember that the gospel is the main thing. It's easy for believers to get distracted by focusing on a multitude of other issues (we love to argue about gay marriage, the role of men and women, parenting issues, and so on), but all that stuff is really beside the main point. I don't think Jesus wanted us to go out into the world and make everyone live moral lives…he wanted us to spread the gospel. So, don't die on hills that don't need to be died upon, and don't make mountains out of molehills.
Remember that you represent Christ when you speak. Certainly some of our beliefs will be offensive to non-Christians, but our manner and tone should not be offensive. By the grace of God, behave in a way that brings honor and glory to Him.
In the future, if a comment doesn't follow these principles, I may need to delete or edit it in order to maintain a commenting space that is friendly to all of my readers.
Please know that this post was not inspired by any recent brouhahas in the comments (in case you're thinking, "What could possibly have been so controversial about yesterday's miscellany post???"), and that it was not inspired by any one commenter in particular (so don't feel like you have to go over your last 50 comments with a fine-toothed comb to see if you're the one I'm addressing! ).
And also please know that I'm writing to you guys as someone who has failed miserably at this in the past. God has graciously chipped away at more of my sinful tendencies over the years, and thanks to His grace, I think that I've been able to better learn how to relate to people of other faiths and belief. That said, I don't think that I've somehow "arrived", so to speak. I'm in the trenches along with you guys, fighting against my pride and self-righteousness and endeavoring to live in front of a watching world in a way that brings glory to God.
p.s. I would be remiss if I didn't add a word of thanks to all of my readers for being some of the lowest-maintenance commenters in all of the blogosphere! 99% of the time, you all are gracious and kind and I am so grateful for that. Mwah!
Today's 365 post: This is a happy picture.
Joshua's 365 post: Thank you!