This Dollar Shave Club review is not sponsored. I pay for my own subscription to Dollar Shave Club, and they have no idea I exist except as a paying customer. This post contains referral links, which earn credit for this site at no extra cost to you. See my disclosure policy here.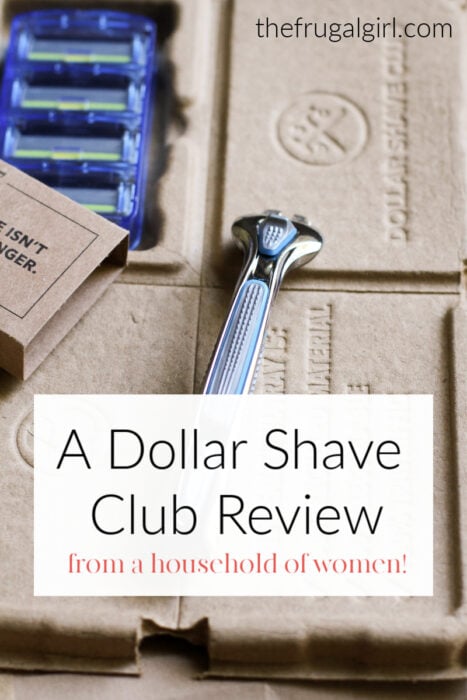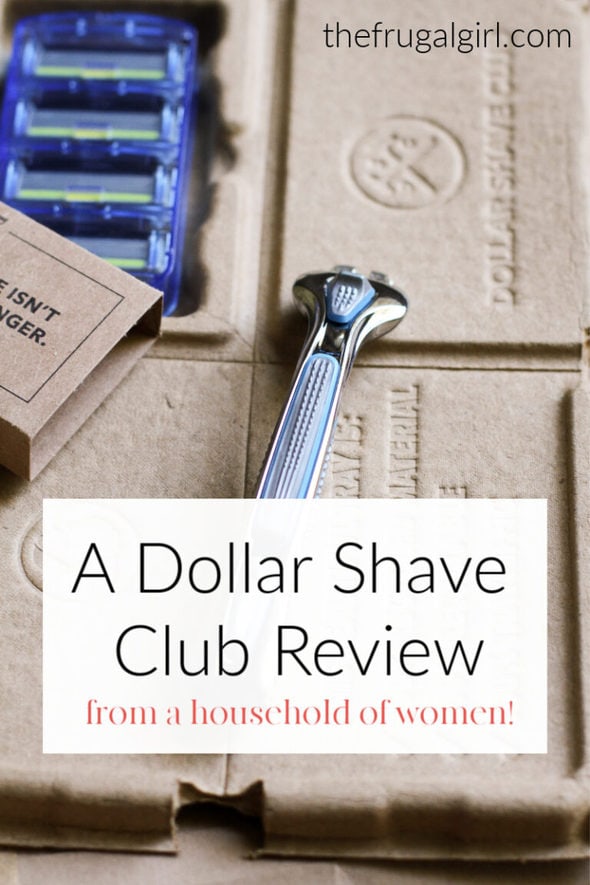 Some years ago, I blogged about how we really liked the company 99 Cent Razor.
They sold great razors at very affordable prices, and I was a fan.
However, that company has gotten sold at least once, and it was feeling sketchier and sketchier to me.
Customer service was hard to reach, I got signed up for a subscription I didn't want to be signed up for, and cancelling the subscription was difficult.
So, we decided to give Dollar Shave Club a try instead, since they're pretty reputable. We've been members for quite a while now, so I thought a post about our experience would be appropriate.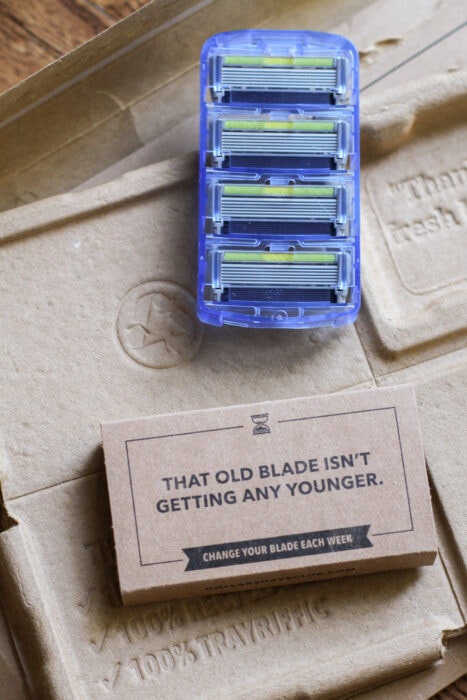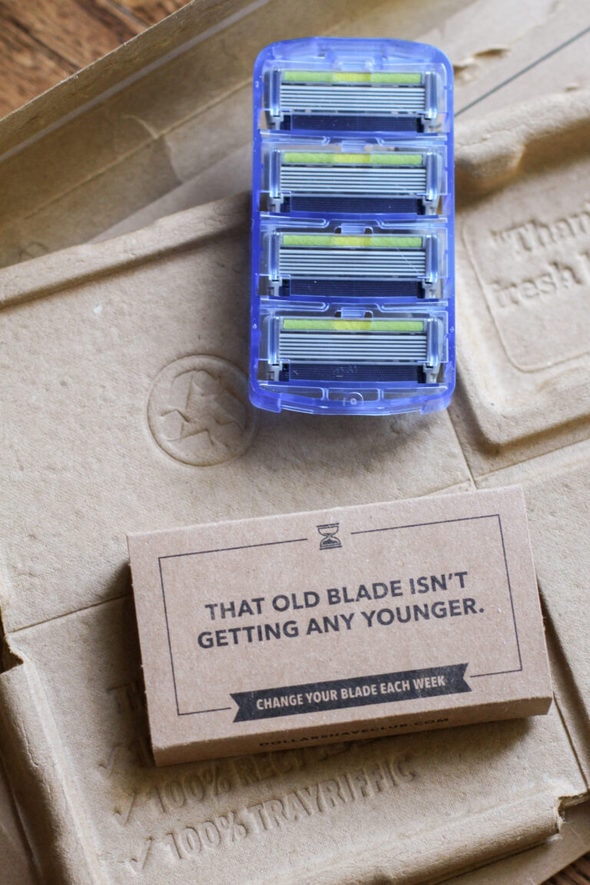 Who's using DSC at our house?
DSC is definitely marketed for men, but the man at our house is the one person who doesn't use their products!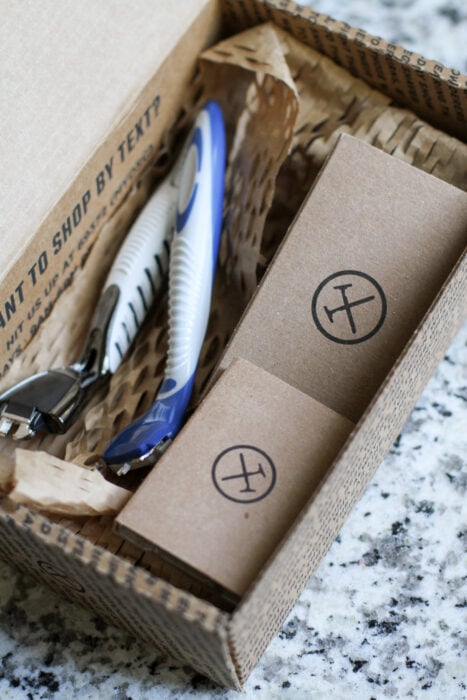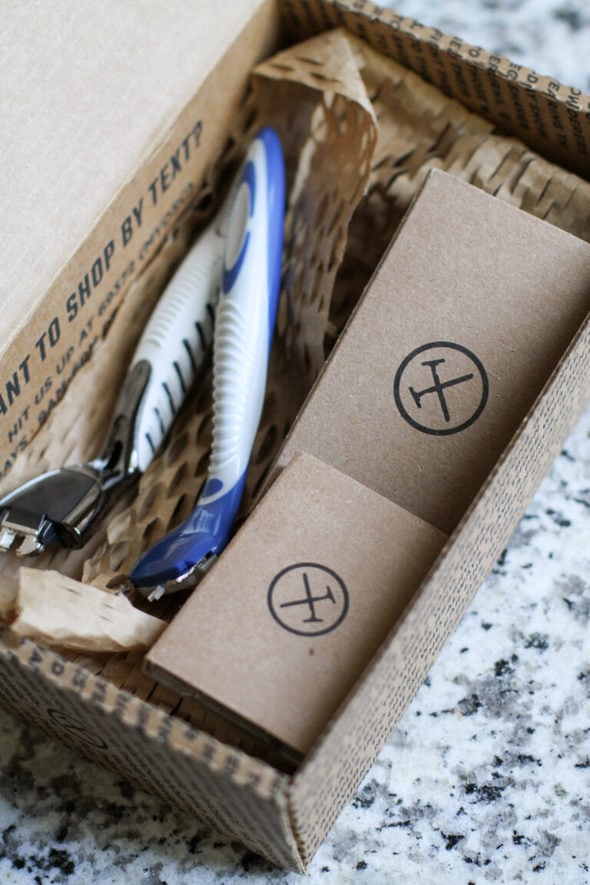 Mr. FG is partial to an electric razor, but the girls and I find manual razors to be more convenient.
And since razor blades do not need to be pink in order to be used by women, we are happy to use the neutral-colored razors from DSC.
How's the razor quality?
The Executive Blades, which are $10 for 4 ($2.50 apiece) are really, really nice. They've got five blades and are top of the line.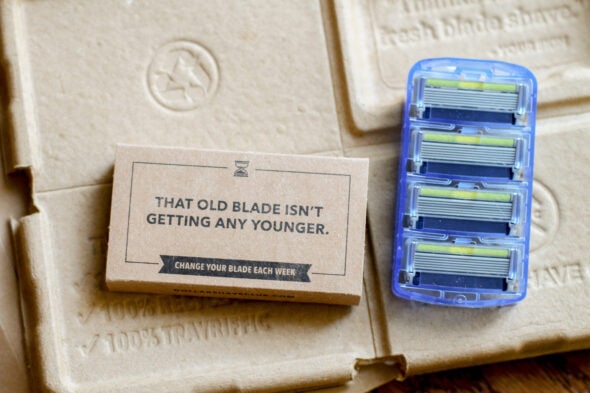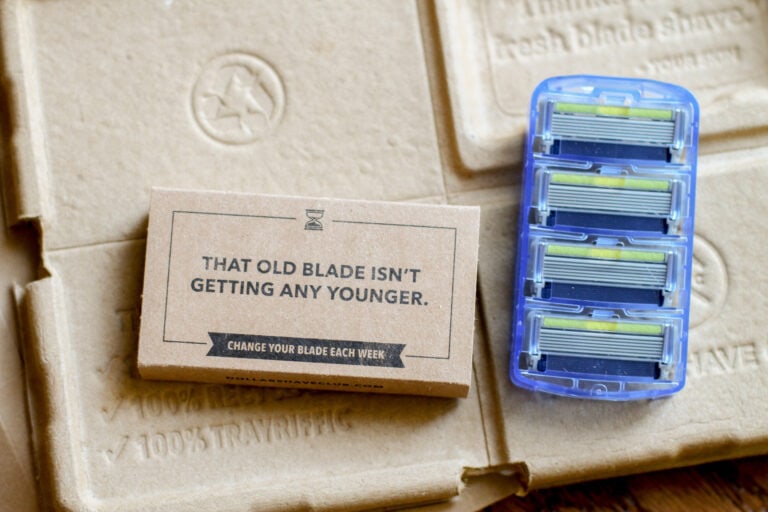 The 4X cartridges are cheaper at 4 for $7 ($1.75 apiece).
And the cheapest option they offer is the twin blade at 4 for $4 ($1 apiece).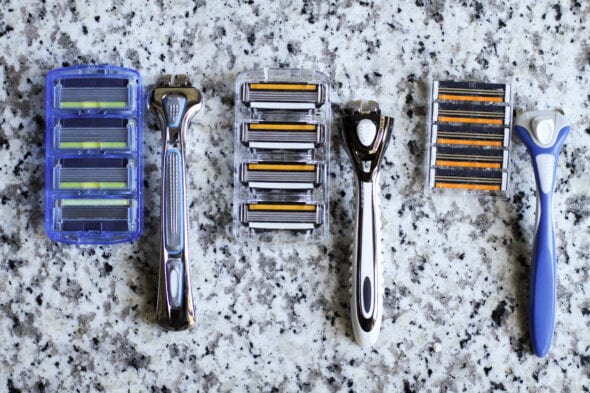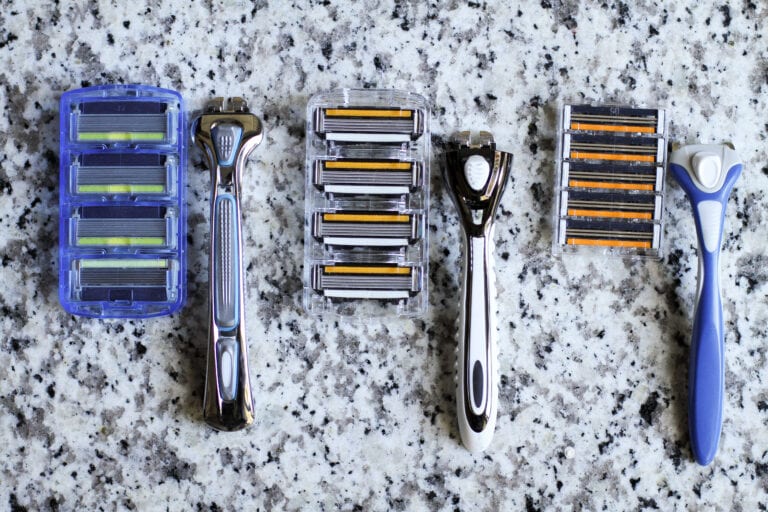 If you have sparse body hair like me, you can probably get away with the cheapest option. But for thicker hair, you probably will want to pay for more than two blades.
I personally opt for the more expensive blades, but I use them for ages. I'm not an especially hairy person, so they just don't get dull very quickly.
How's the packaging from DSC?
I'm pretty impressed with it. The outside package is just cardboard (which I reuse for shipping eBay sales), and the inside is also plain brown cardboard (which I tear up and add to my compost).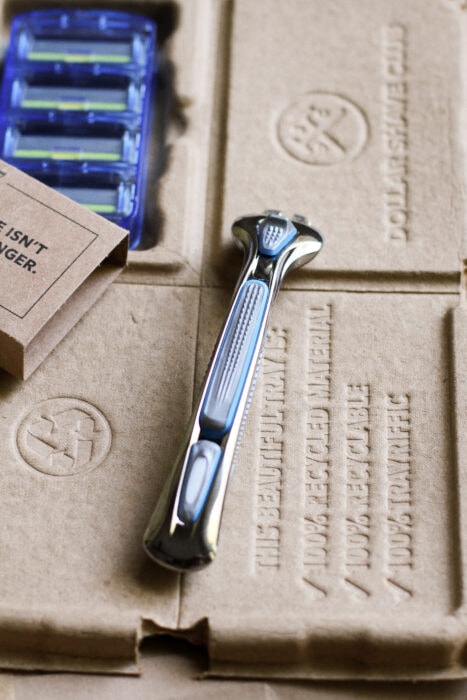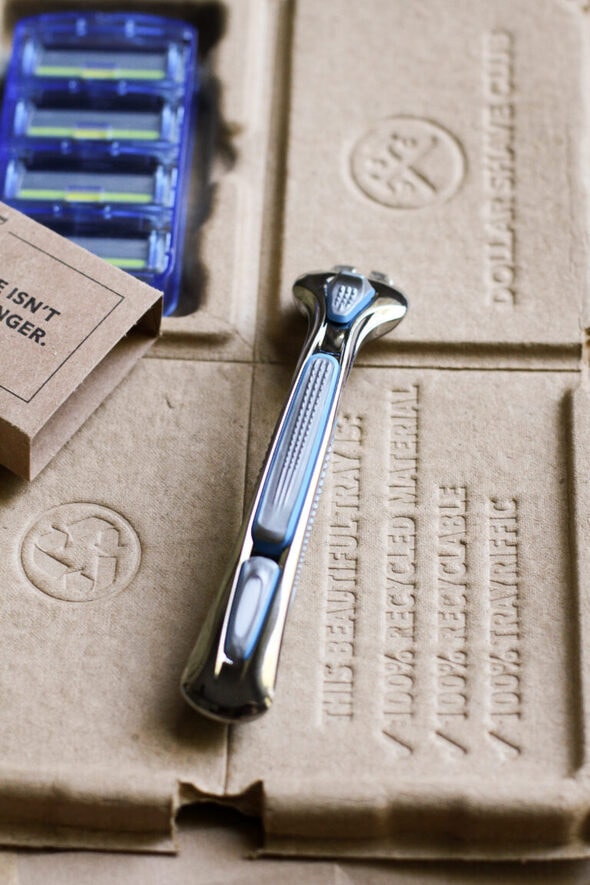 The blades do come in an open plastic storage case, and of course, the blades themselves are disposable (the handle is not).
There's definitely less plastic packaging than you'd get from grocery store razors, though.
Is it easy to customize shipments?
Yep! You can change/cancel at any time, and you can choose exactly how often you get shipments.
Is there a shipping charge?
As long as your restock box contains razor blades, the shipping is FREE.
Why don't you just shave with a safety razor?
I know that would be even cheaper and even more environmentally friendly.
Maybe I'll try that one day, but for now, DSC feels like a good enough option to me.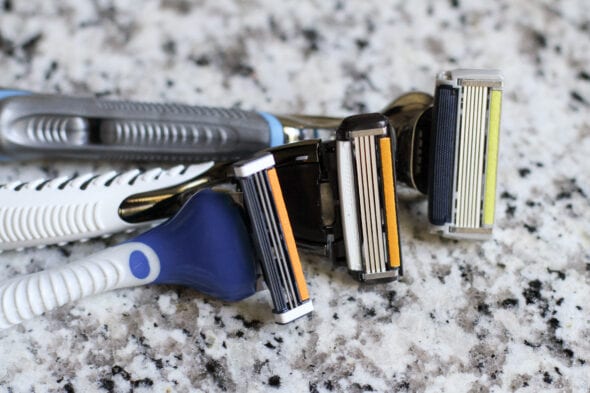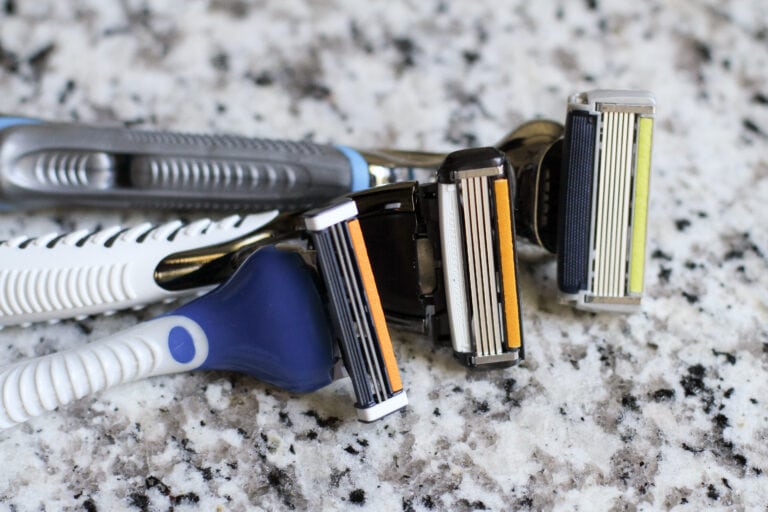 It's better than completely disposable razors, the packaging is fairly minimal, and it's affordable. And since my hair is pretty lightweight, it takes me eons to wear out even one razor head.
I'm not gonna overthink it beyond that. 😉
How do you sample DSC?
A starter kit is exactly what you need. For only $5, you get:
a 3 ounce travel size Shave Butter (worth $5.70)
an Executive handle
a four-pack of Executive blades (worth $10)
This is a really good deal, since the blades themselves are worth twice as much as you pay for the starter kit!
Also, shipping is free, so you are really truly only going to spend $5.
Just make sure to edit your restock box so that you are getting only what you need at the time you need it.
And if you try the blades and you decide they're not for you, you can cancel and get no more shipments after your trial box.
Have you tried Dollar Shave Club? I'd love to hear what you think of it.
P.S. Dry your blades, people!
No matter where you get your razors, it's really important to keep them dry. If you let them sit in a puddle in your shower, they're going to rust and dull in a hurry.
Some people dip theirs in alcohol to make sure they dry quickly, but I just put mine up on top of the shower door rail, and it dries just fine.