Normally when I share DIY projects, they're my own…but today I have two reader projects to show you!
The first is from Sandra, who gave her counters a faux granite finish. Here's what she said:
Hi Kristen,

You might remember me from my floor tile grout painting pictures a couple of years ago. That had held up very well, I'm about to do some touch ups to the high traffic areas soon, but other than that, it's still looking great.

The reason I'm emailing you is to show you another comparatively frugal fix with paint! I have detested my plain white laminate countertops for years, but they are in perfect shape (wouldn't you know) and after pricing replacement counters, I just couldn't justify the expense. So after stewing about it for years, I did some research and found a product called Giani Granite Countertop paint.

So this past weekend I gave it a go. It involves a black primer coat, then three different colors of paint sponged on with the included sponge, then a clear topcoat after that dries.

Everything is included in this kit, which cost about $80 on Amazon. This covers 16 running feet of countertop.

I am not particularly an accomplished do-it-yourselfer, my only attribute is that I brashly jump in and try things, figuring hey, if others can do it, so can I!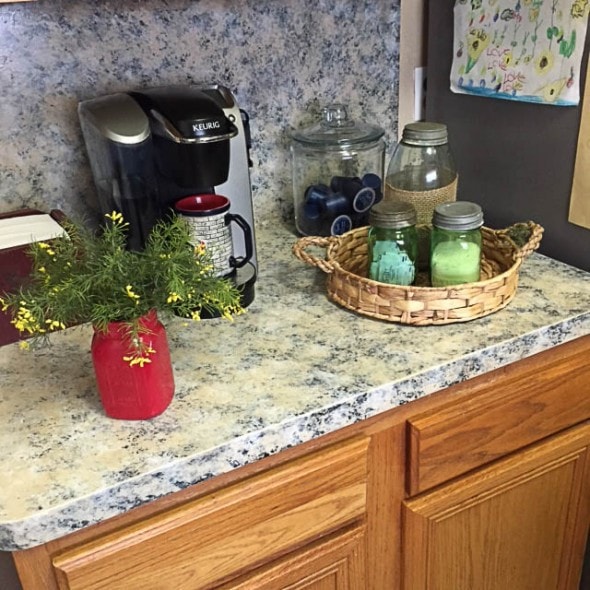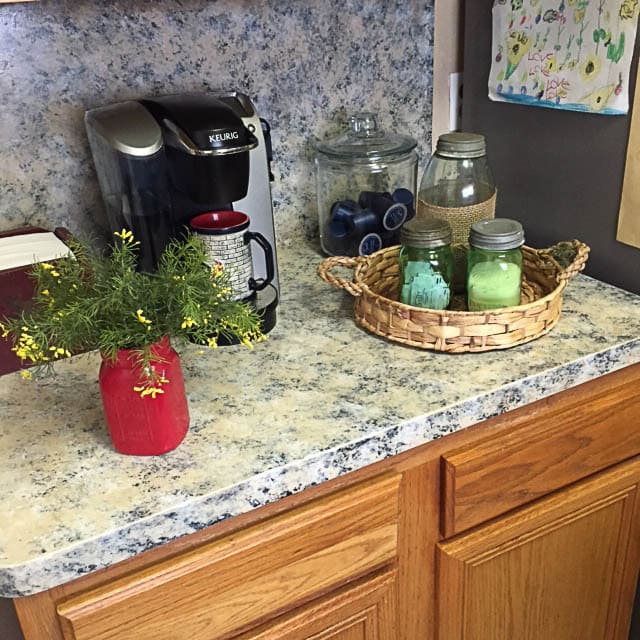 Sandra, way to go to just bravely jump into a project like this! Your island especially looks great.
Sandra chose the "Sicilian Sand" color, by the way, but the Giani paint also comes in some other colors.
_______________________________
For our second DIY project, here's reader Lisa, who tackled the job of painting her kitchen cabinets.
Hi, Kristen! I'm sure you wonder sometimes who is out there reading your posts…well, I am!

I read your posts from last summer(?) when you took on the job of repainting your kitchen cabinets and I was empowered!

(Frugal Girl cabinets)

Following are my before and after pictures–I didn't think of taking a good before picture, but you can get the idea while you enjoy my country apple stencil from 1996 and peruse my cookbook collection.

I printed out, studied and followed your posted directions and jumped right in.

I used 2 coats of Benjamin Moore Stix water-based primer (the absolutely best primer out there!) and 3 coats of Benjamin Moore Cabinet Coat in Simply White. I splurged a little on the cup drawer pulls, but everything else came from Home Depot.

We also replaced our 20-year-old refrigerator and ancient microwave–also from Home Depot and both for less than $1300! The counter top is walnut butcher block we bought at a wholesale design center and had installed by our contractor.

The next step is to get the hardwoods under the carpet repaired and refinished, but that envelope's not quite full yet!

Thank you so much for the advice, motivation and sharing your experience. I'm really proud of myself–I did 95% of the work myself, including installing new hardware and hanging the doors. DH bought me my own smaller-sized drill, held doors while I drilled holes, ran to the paint store and was my loudest cheerleader. He also ripped up the carpet, which is the worst job ever!

I hope you enjoyed this–I was SO excited to finally be able to show you!
_____________________
Lisa, your kitchen looks like an entirely different space now! You did such a great job…big fist bump to you because I KNOW just how much work a project like this is.
(Also, um, it looks like your kitchen had carpet in it before. Is that true? If so, just a big, "Oh dear." to that! I had carpet in my apartment kitchen and it was so difficult to keep clean. And once I spilled an entire pitcher of lemonade on it. Ahem.)
_____________________
If you're feeling motivated to give cabinet painting a try, click on the photo below to see my tutorial.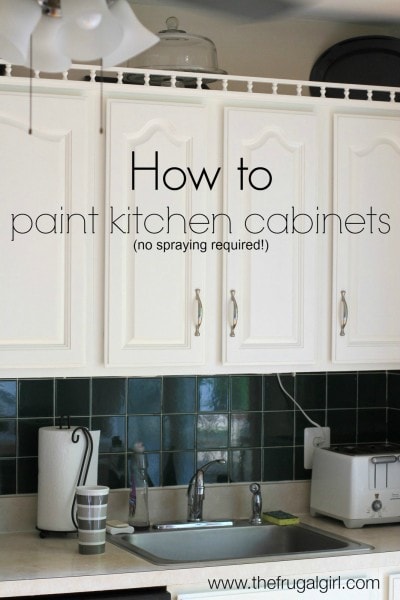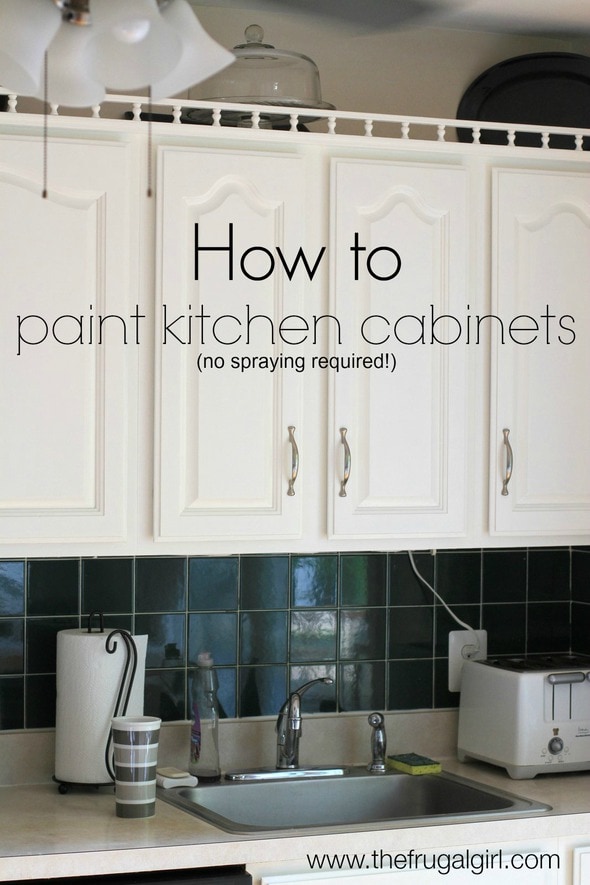 And if this post hasn't had enough before and after for you, here are the before and after photos of my kitchen cabinets.
______________________
Sandra and Lisa, thank you SO much for sharing your projects with us! It's always super inspiring to see other people's DIY projects.
Have any of you ever tried the faux granite treatment? Or painted your cabinets? I'd love to hear about your experiences in the comments.