In my efforts to beautify my rental home, I've done a bunch of small white painting projects, but none of them really warranted their own post.
So you get a round-up today!
Two plant pots
This small one is from Goodwill, I think, and the original spray paint coat had chipped off pretty badly.
Maybe I didn't use a primer? I'm not sure.
I also had two of these very worn plastic pots, which I think might be from Aldi, that I purchased years ago.
I scrubbed them down, but they still looked terribly faded and stained. That's a sign to paint. 😉
I had a stash of white spray paint at my house, and I grabbed it when I moved out (no one there would want it. I'm the most frequent painter in the family!).
So that made my color choice easy; might as well use what I have.
I was a little iffy about the idea of white outdoor pots, but I googled some images and it seemed like it might be ok.
I primed and painted these, curious to see how they'd turn out.
Here are the bigger ones:
And here's the little one.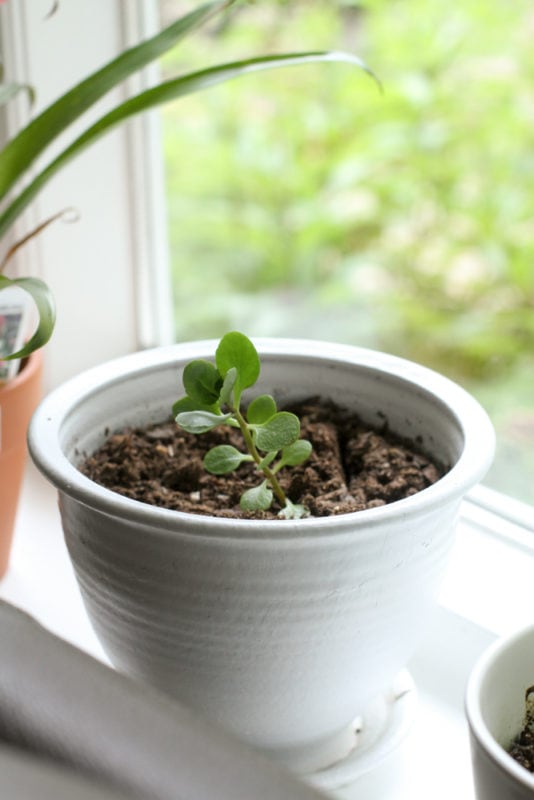 I'm pretty pleased!
Lisey's bedroom furniture
Lisey's bedroom at the other house was filled with furniture that I'd rehabbed; a freecycle dresser, a freecycle chest, and a twin bed that I'd bought on craigslist.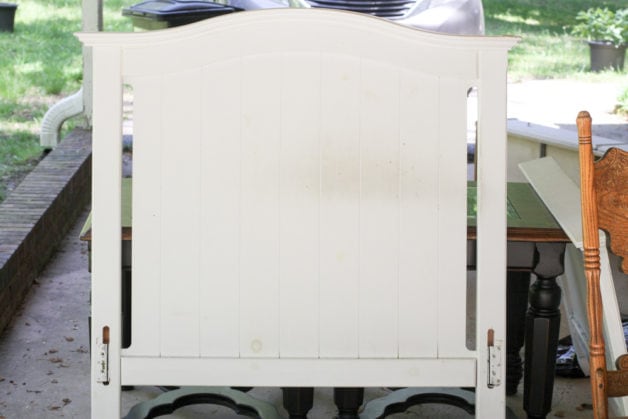 (That dates these projects for sure! Freecycle and craigslist are not the powerhouses they used to be back in the day! Now we're all getting/giving stuff on Facebook groups instead.)
I picked it all up from the house and brought it over to the rental house. The bed in particular was pretty worn, so I gave it a fresh coat of paint and did the same for the little chest.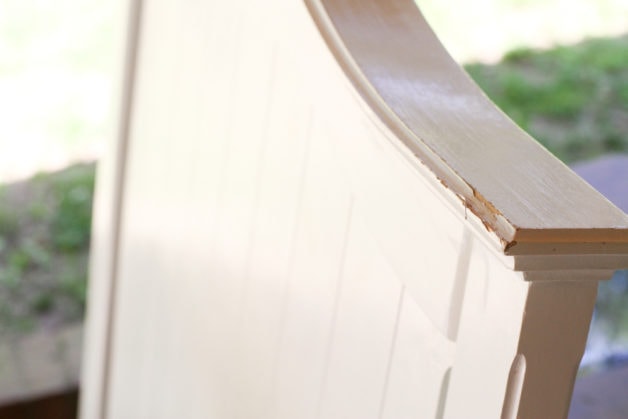 I'd done these items with Painter's Touch paint, before Benjamin Moore Advance existed.
I now massively prefer that paint, but a) Advance is hard to get right now and b) it would be more work to start over with a new shade of white. So, I stuck with the Painter's Touch.
Good enough is good enough.
An old frame
I've had an old 8×10 frame since my kids were pretty little; I think it was either a freebie or a Goodwill find.
(Here's the first time it appeared on my blog, 10 years ago.)
It was a little worse for the wear by this point, but I thought if I freshened it up, it might work to hang in my bathroom.
So, I spray-painted it.
And then I asked Sonia to come over and help me make a little watercolor painting to put in the frame.
I'm not much of an artist, and I've never used watercolors before, so this is not a perfect painting (I see many things that could be better!), but it was very cheap art.
And I can always try again.
A trash can
Trash cans aren't any fun to spend money on. B-O-R-I-N-G.
But I did need some for my rental.
Luckily, someone on my Buy Nothing group was getting rid of a bunch of small trash cans, so I picked them up.
I initially put this little blue one in my laundry room, but then I realized I should put one of the bigger, more oddly shaped trash cans in there. The laundry room is just an unfinished area; it doesn't matter what the trash can looks like.
That left this one available for my bedroom. However, light blue did not match a single thing in that room.
Of course, I painted it.
At first, I used spray paint, but that white was a little too cool for my room. So then I used some of the Cloud White Benjamin Moore paint and just rolled it on.
I'd never tried it before, but it seemed to work just fine.
Shelf brackets
I got a tall bookshelf free from Facebook, for Sonia to use (it has a built-in light, so she can use it for plants!)
I'm painting it (of course) and I realized the brown plastic shelf brackets were going to be eyesores once the bookshelf was white.
So I painted them and now they will blend in way better.

And that's it for now.
(Emphasis on "for now". We all know I will be painting more things white in the future. 😉 )