Hi everyone-
As far as I know, we still have no power. I don't know for sure, because we stayed at a hotel last night.
My brother works for a hotel chain, and we get to use his family and friends discount…and given how cold we were yesterday, $39 seemed like a total bargain to us!
We're heading back home to check out the power situation shortly, so for today I'm going to share this post that I had written earlier.
____________________________________________
Back in the spring of 2008, I started a blog about food waste. I was recently looking at that blog and cringed at all the blogging crimes I committed on that blog.
So, I thought it might be fun/entertaining to point all of those out to you, and if you're thinking about blogging, this might help you avoid the mistakes I made.
1. I used Blogger instead of WordPress.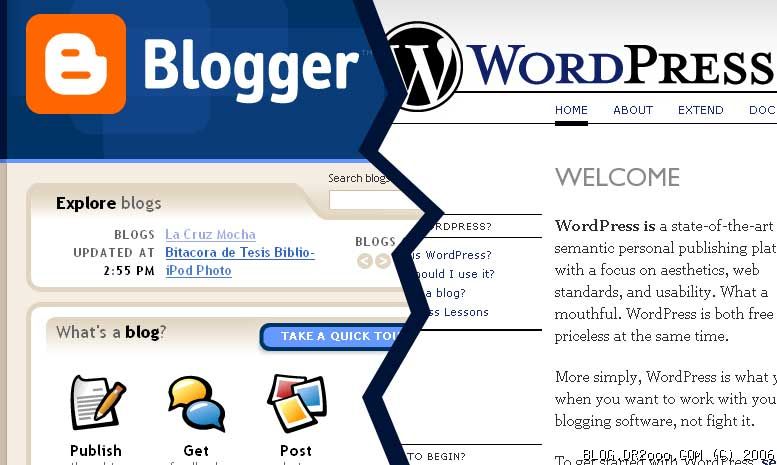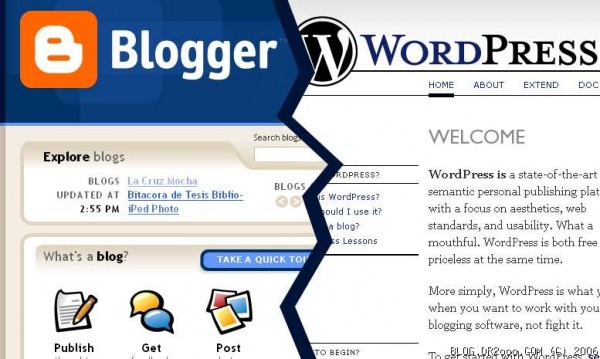 I know I say this all the time but hear me again: If you want to blog at all seriously, do yourself a favor and use WordPress. Almost every successful blog I read has made the migration to WordPress, and you'll save yourself much trouble and headache if you just start out there (importing a Blogger blog to WordPress is a pain in the patootie, and I don't think you can import comments, which stinks).
WordPress looks sleeker (even right out of the box!), has more themes available, has a much more lovely commenting system, and a fabulous spam catcher (no word verification necessary for comments…yay!). Plus much, much more.
Even if you don't want to buy your own hosting for your blog yet, go to WordPress.com and sign up for a free blog. You won't be able to run ads on it, but at least your blog will be in WordPress format and it'll be very simple to move it to a self-hosted WordPress blog in the future.
I started out blogging at WordPress.com and then bought my own hosting and moved to a WordPress.org blog, which is what I have now.
(If you do want to go the WordPress.org route, I must give props to Dreamhost, my hosting service, and to Thesis , the theme I run this blog on. I am affiliated with both of them, but only became affiliated after I gave them my hard-earned money and was sold on their products. Love them!)
2. My domain name was too long.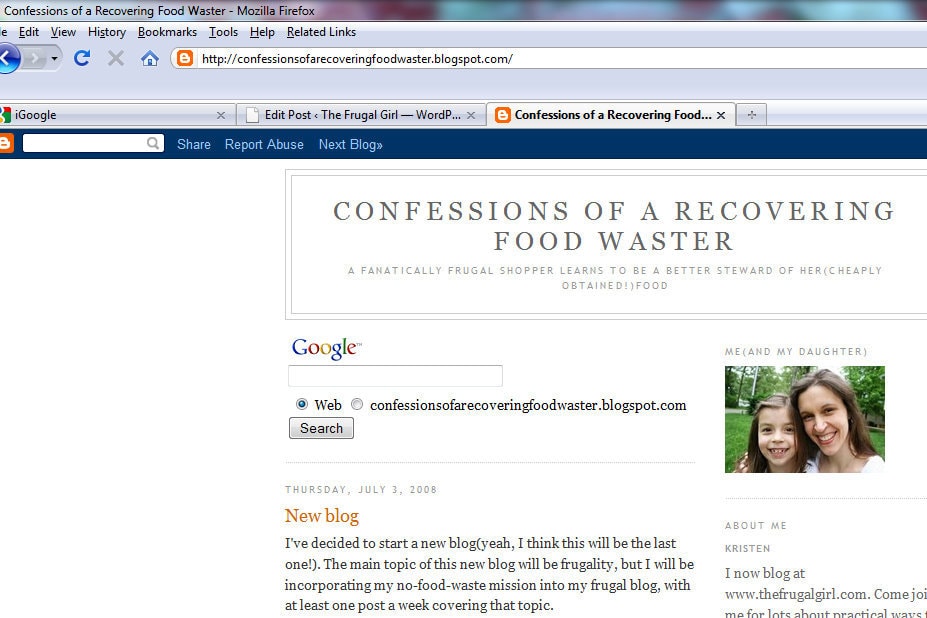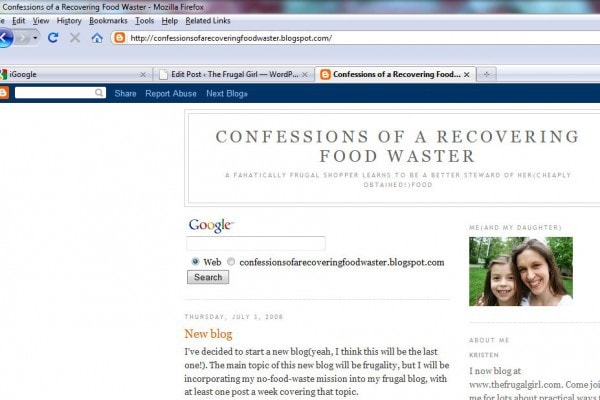 www.confessionsofarecoveringfoodwaster.blogspot.com?? Yeah. That was waaaaay too long. www.thefrugalgirl.com is much, much more manageable and memorable.
Take some care when you choose your blog name…make sure it's easy to spell, not too long, and don't put dashes in the address (I know that's good for SEO, but I think SEO is way overrated and no good if people can't easily type your blog name!).
It's so much hard to type www. the-frugal-girl.com than it is to type www.thefrugalgirl.com.
3. My design was cold and boring.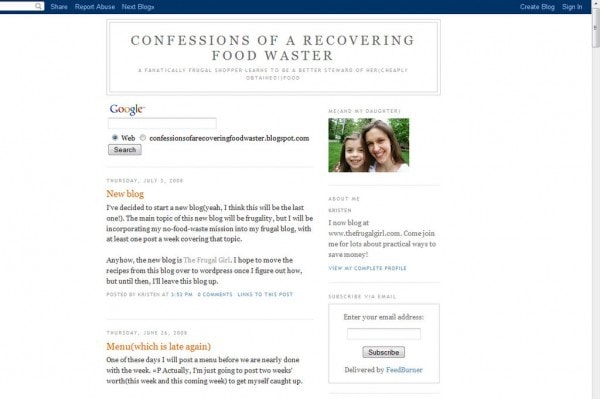 Part of this is because I was on Blogger (see #1). My no-editing-required WordPress.com site looked much better right out of the box than my blogger site did.
When you design your blog, pick something that looks warm and welcoming…if you've got nothing but blue and white and green and other cold colors, your blog won't feel inviting. My WordPress.com blog was mostly black and white, but it had some pink text and plenty of warm-colored pictures to help it feel cozy.
4. I had no About page.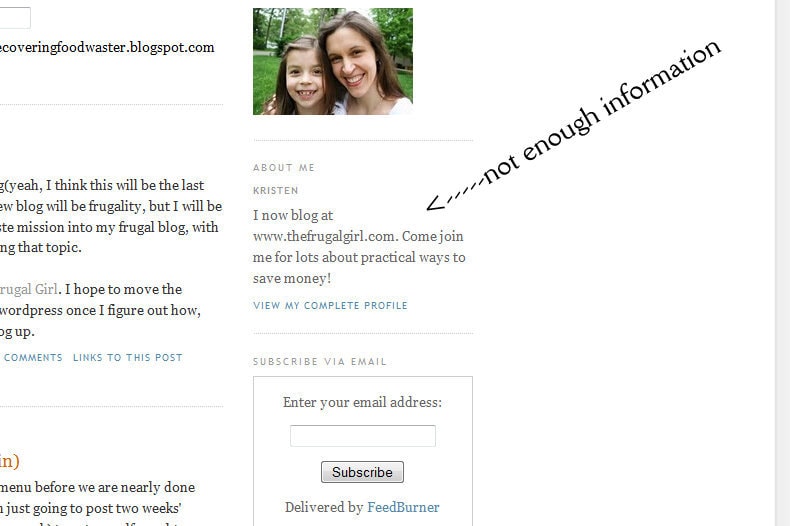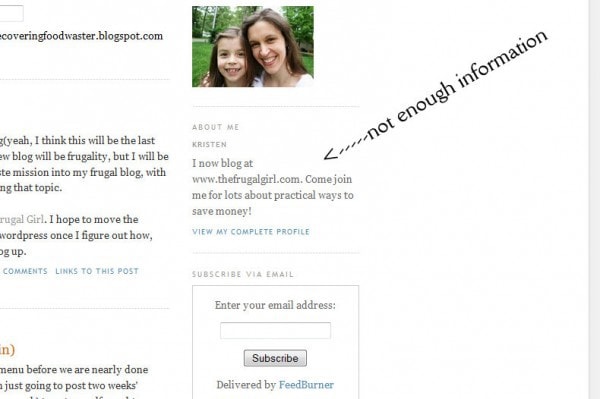 "About" pages are so, so, so important! And that little "about" paragraph that Blogger offers is not sufficient (mine wasn't even before I edited it to point to my new blog).
When I visit a blog, I want to know who's writing it, what their story is, and what the blog is all about. Without an about page, this information is really hard and time-consuming to get, and blog readers are notoriously impatient.
Make it easy for readers (especially new readers) to find that information quickly and put together an about page. SO important.
5. I had too much boring text.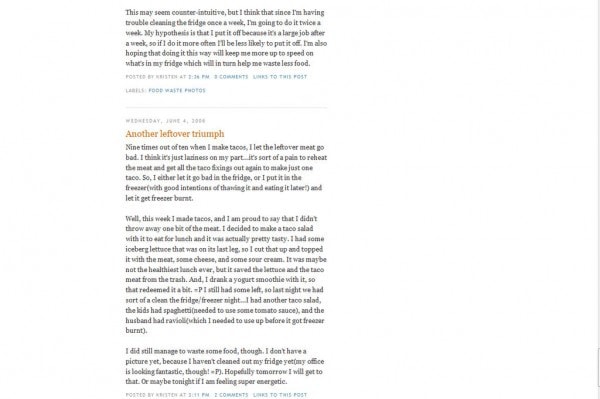 When I read things on the internet, I want short, manageable chunks of text and I want pictures or visuals. I can read long paragraphs in magazines or books with nary a problem, but the internet is a whole different monster. My brain goes into freeze mode when I see large blocks of text.
I still accidentally write long paragraphs now, but I'm better about chopping my thoughts into smaller chunks and better about using bullets and headings and other such tools to make my writing easier to read quickly.
I'm also better about using more pictures to spice things up a bit and make my text more readable.
6. My pictures were too small.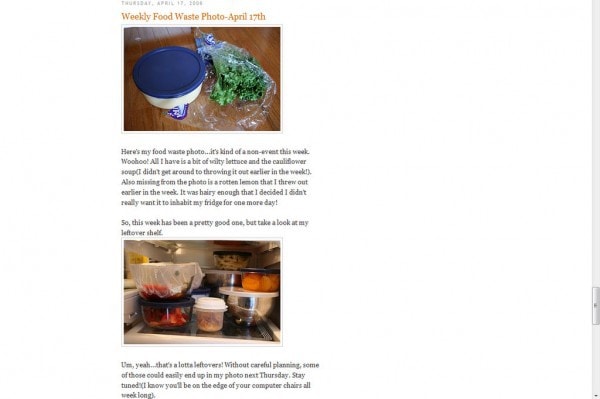 We can blame this partly on Blogger (can you tell I don't like Blogger??), but Blogger themes can be modified to allow for larger pictures.
My WordPress.com blog (the free one!) allowed larger pictures sizes without me having to tweak anything, and my blog looked so much better as a result.
________________________________________
So, there are my main mistakes. I didn't fall into ALL of the usual blogging traps…my design wasn't cluttered, I didn't play music, I didn't have an entirely picture-less blog, and I didn't have ads plastered all over my sidebars and content (I hate it when there are more ads than content). Still, though, I made my fair share of mistakes, and hopefully you can learn from them.