A reader recently wrote in to ask how to find recipes here on The Frugal Girl.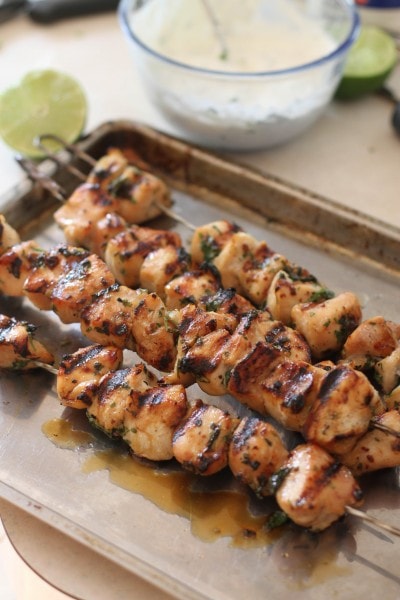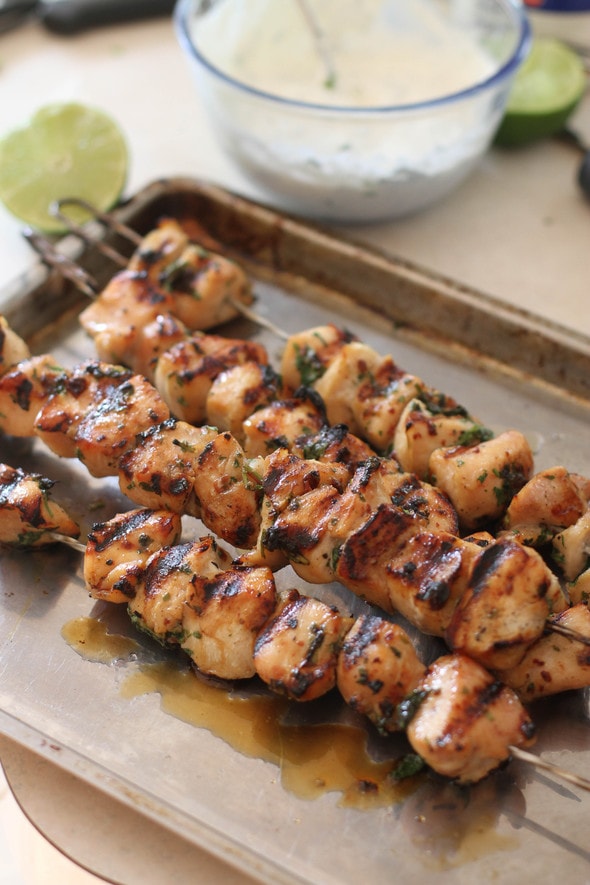 Chipotle Chicken Kebabs, in case you were wondering. And here's a tip on storing chipotle chilies.
So, I'm here to help!
I do often link to recipes in my What I Spent, What We Ate posts, but there are three other ways to easily access the recipes I've posted here.
1. Use the sidebar indexes.
On a desktop or laptop, there are two sidebar graphics that take you to an index of either yeast recipes or main dish recipes.
On your mobile device, these graphics will be at the very bottom of the blog.
Click on either one of those, and you'll be taken to a page that looks like this!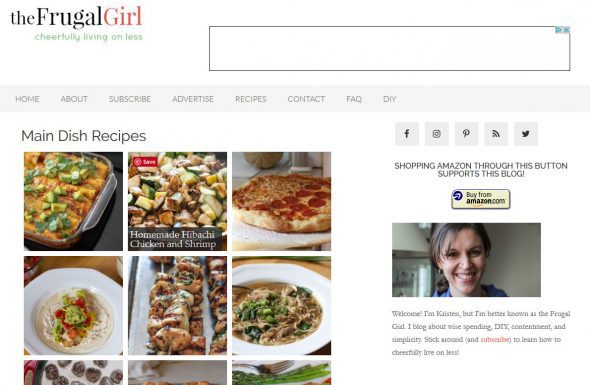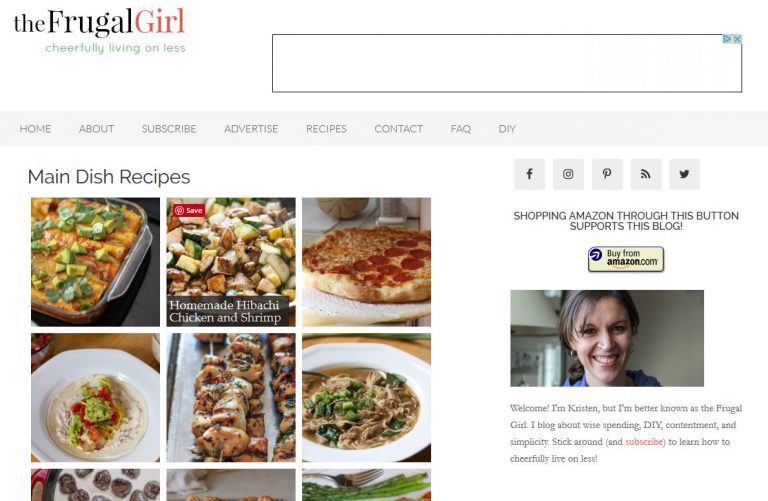 There's a small photo of each recipe, and you can click on the photo to be taken straight to the recipe.
The yeast bread index works exactly the same way.
And to make it super easy for you today, here's the:
And here's the:
2. Use the category drop-down
In the sidebar (again, for mobile, scroll all the way down), there's a categories drop-down menu.
Click on the blue arrow on the right side, like so: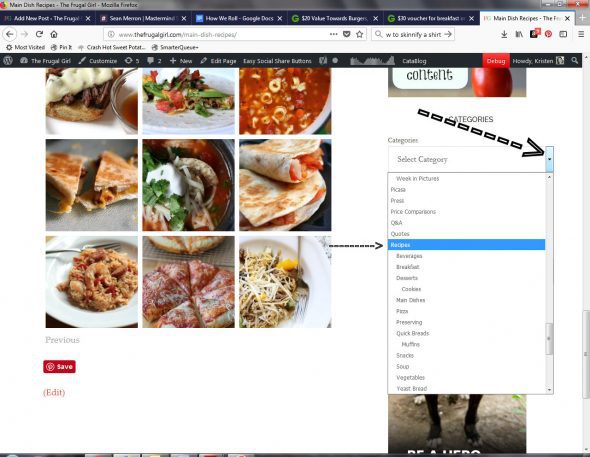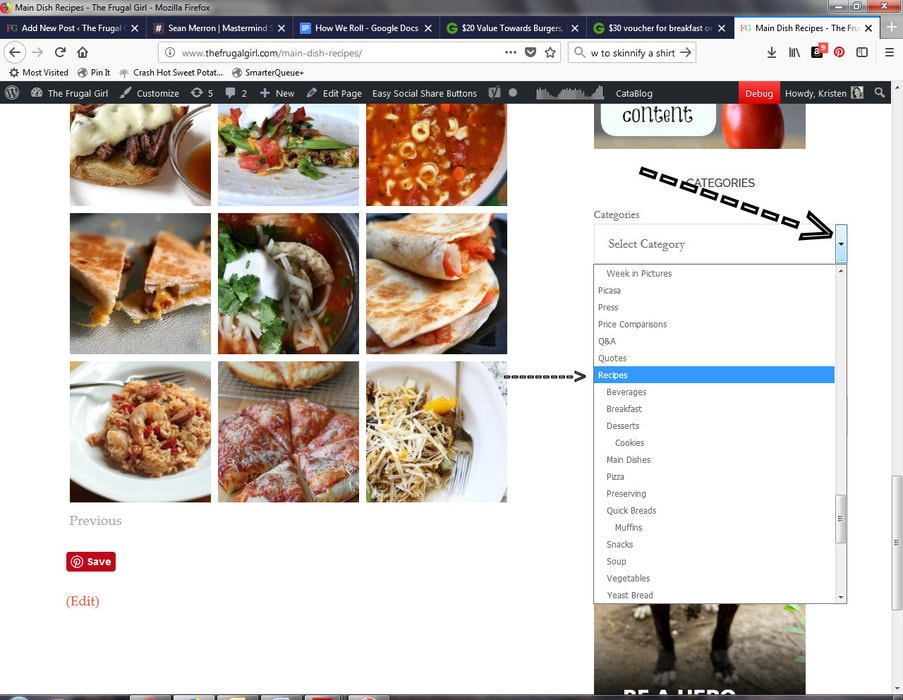 And then a big ol' list of categories will show up. Scroll down in that menu and you'll get to the Recipes section, which has the recipes broken down into categories.
Click on any of those, and you'll be taken to the appropriate posts!
3. Use the link in the header section
Up in the row of links below the top of my blog, there's a link titled "Recipes".
That will take you to the Recipes category, where you can scroll through all of the recipes I've ever posted, whether they're main dishes, side dishes, or desserts.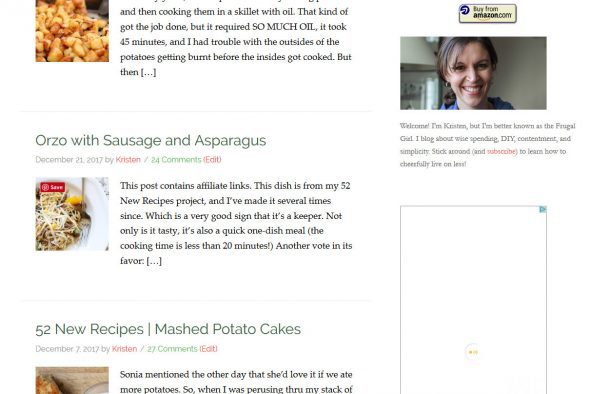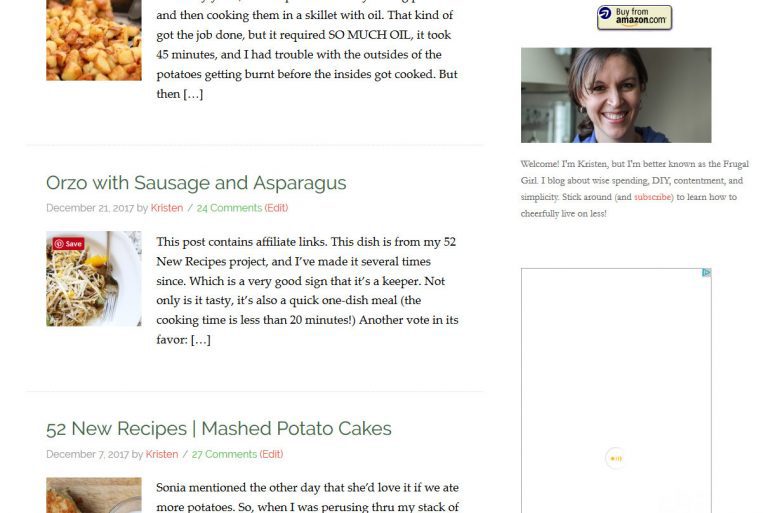 (On mobile, click on the three black lines next to my blog logo, and you'll see the Recipes link there.)
I hope this helps you add more good meal ideas into your recipe rotation. And do let me know if you have any trouble after following these directions.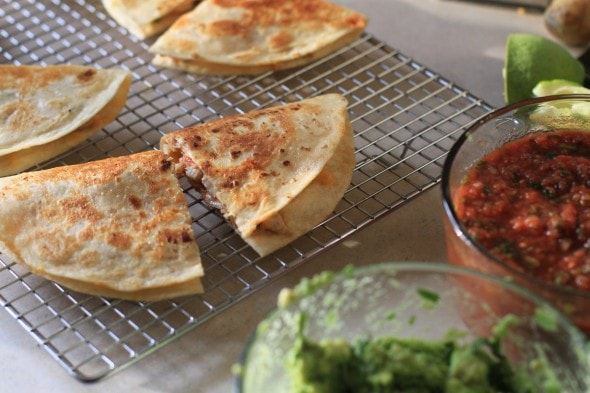 P.S. While I'm pointing out stuff in my sidebar, I wanted to say something about the Amazon link up there. Not everyone has been pleased ("Why do you have an Amazon link on a blog about saving money?"), and I just wanted you to know that I added it because multiple people asked me to.
They were wanting to support my blogging efforts when making their Amazon purchases, and they said it would be easier if there was a static button available for them to do so. Of course, no one is obligated to use it, and I would never encourage you to buy things on Amazon that you can't afford. But shopping on Amazon is not at odds with a frugal lifestyle, in my opinion.
(Amazon gives me a small commission on anything people purchase after clicking on my affiliate links or buttons, at no extra cost to you.)