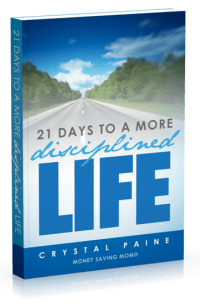 Tuesday is usually a quiet day here, but I wanted to pop in really quickly to tell you that Money Saving Mom's new ebook is out today, and for a limited time, you can download it for only $0.99!
As you know if you read her blog, Crystal is pretty darn good at getting things done, so if you want to know her secrets, you'll want to read this book.
The book is laid out in 21 sections so that you can take on this getting-disciplined task in manageable chunks. Each chapter is an easy read and at the end, there are some simple tasks. Nothing is terribly time-consuming, so don't be skeered.
One thing I especially liked as I read through this book is that Crystal encourages slow change. All too often we go way overboard when we try to develop new habits, deciding to rid our lives of every single bad habit at once! But as you probably know from experience, implementing a ton of changes all at once isn't sustainable in the long term.
This book's tone is encouraging without being annoyingly perky. And though some ebooks out there are formatted pretty poorly, don't fit on my screen properly, and could sorely use some graphics, this is not one of those…it's sleek-looking, the type is very easy to read, the pages are formatted perfectly, and the graphics provide just enough visual interest without being distracting.
(I apologize if that was more detail than you wanted…those visual things are just really important to me in an ebook!)
I'm fairly disciplined about a number of things in my life, but of course, there are some areas that could use some shaping up. So, although I've quickly read through this ebook in a sitting, I'm going to start at the beginning, take it a day at a time and actually do the daily recommended tasks.
(Having already read the book, I know this means I'm going to have to go out and buy a portable timer, which is something I've been thinking about buying for a while.)
You can buy 21 Days to a More Disciplined Life for just $0.99 through Thursday, October 26th. After that, the price will go up to $4.99, so go get your copy now! You can get yourself all disciplined-up right along with me. 😉
You do NOT need an e-reader for this book…you can read the PDF file right on your regular computer, so all of you that don't own Kindles or Nooks should be in good shape. 😉
Joshua's 365 post: The Geekiest Pumpkin Ever!