What I Spent
Four days this week involved chicken thighs, and I didn't even realize it until I typed this post up!
I spent:
$7 at Safeway
$11 at Chick-Fil-A
$31 on a Hungry Harvest box
$99 at Aldi
So, $148 for me this week; a little on the high side compared to the usual.
What We Ate
Saturday
I had three chicken thighs in the freezer, so I thawed them and made bourbon chicken and broccoli over rice.
Sunday
I pan-sauteed some chicken thighs, shredded them, and we ate the meat on buns, with barbecue sauce. Fruit salad and chips on the side.
Chiquita joined us because she always wants to be where the people are.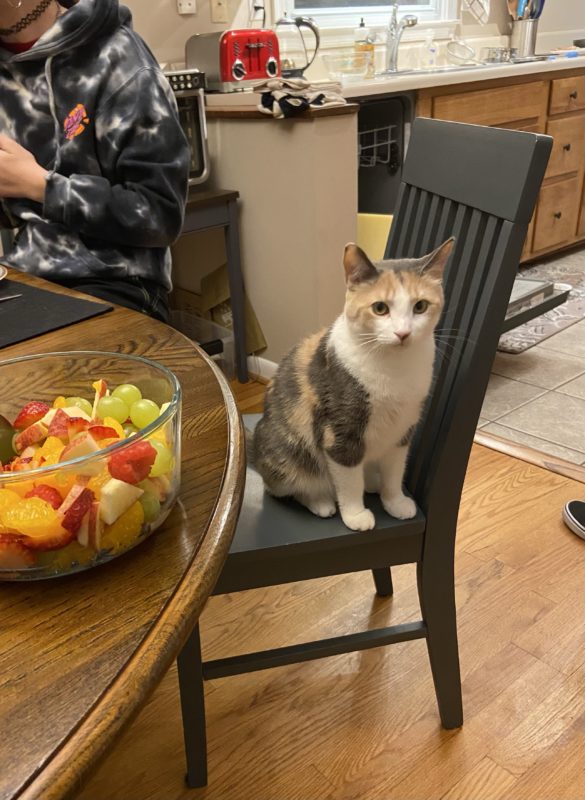 Monday
A longggg lecture day for me, and I had leftover chicken.
Zoe had a quesadilla when she got home from a shift that ended at 9:30 pm.
Chiquita had kibble, and also some salmon pate.
Tuesday
I pulled out a frozen pizza and that was our dinner.
I did not even serve any produce with it (though obviously I ate produce at other times that day. I often start my day with scrambled eggs and a side of greens!)
Wednesday
We both got home at 9:30 pm (Zoe from work, me from lab) so I picked up some Chick-Fil-A for us. I had an offer for a free chicken sandwich and a free brownie in my app, so my total was only $11. 🙂
Thursday
I made butter chicken with some chicken thighs (because it's the week of chicken thighs!), and we ate that with some naan from Aldi.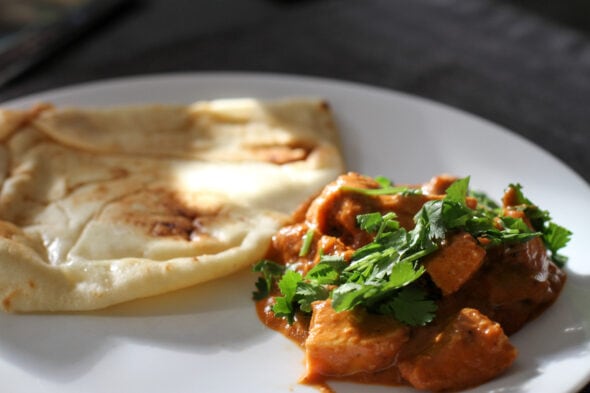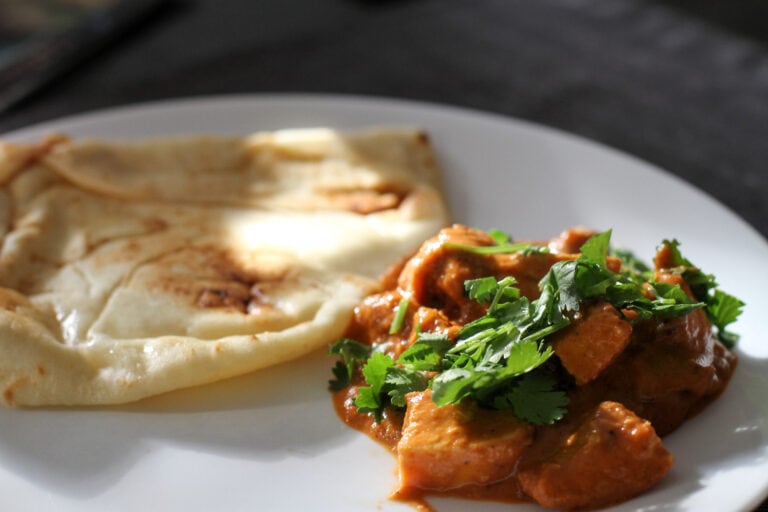 Friday
I've got an evening lab that ends at 9:00 (we party hard in nursing school!), so Zoe's gonna bake some ham and Swiss sandwiches for herself, and I don't know what I'm going to eat.
Peanut butter and honey on a quick break at lab?
I do eat a lot of peanut butter and honey sandwiches when I'm in school, but honestly, there are worse meals to eat. Peanut butter has protein, I don't use a lot of honey, and I use either 100% whole wheat bread, or Dave's Killer Bread.
This habit is gonna continue. 😉
What did you have for dinner this week?