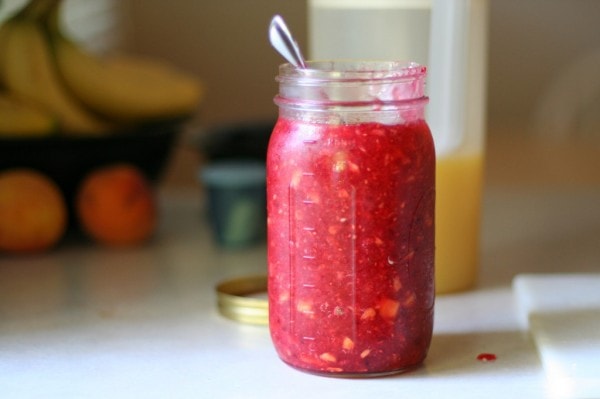 What is freezer jam? Well, it's similar to cooked jam, except that instead of being cooked and processed to a shelf-stable state, freezer jam is raw and is simply stored in the freezer. It's super-duper easy, and I think that the resulting product is something like 1000 times tastier than the canned counterpart. The fruit flavor is so much more authentic.
The downside is that the jam needs to be stored in the fridge or freezer until it's eaten, so if you are short on freezer space, this may not be a good option for you. But, if you've got a nice big freezer, or if you just want to make a few jars of jam, you should definitely give this method a try. I'm almost positive that you'll end up preferring freezer jam to canned jam.
Freezer jam is not quite as firm as canned jam, but since I usually think canned jam (especially commercial jam) is a little too resistant to spreading, I don't consider this to be a downside.
Homemade jam may or may not be cheaper than commercial jam…it all depends upon how much you pay for your fruit (I had a 20 pound box of blueberries that cost me $34). Regardless, I consider homemade jam to be more about eating better jam, eating local food, and reducing trash output than about saving money.
I really ought to sit down and consider the cost, though, because I'm pretty sure that my homemade jam is cheaper than what I can buy even at Aldi. I'll keep you posted on that!
I usually just use the recipes that come in the pamphlet inside the box of pectin (which is the stuff that thickens jam), but in case you'd like some step-by-step instructions, here's how to make blueberry jam.
First, process the blueberries in a food process until they're finely chopped. Alternatively, you can use a potato masher to crush the berries. You don't want the berries crushed into oblivion, though, so exercise some restraint. It's good to have some chunks of fruit in your jam.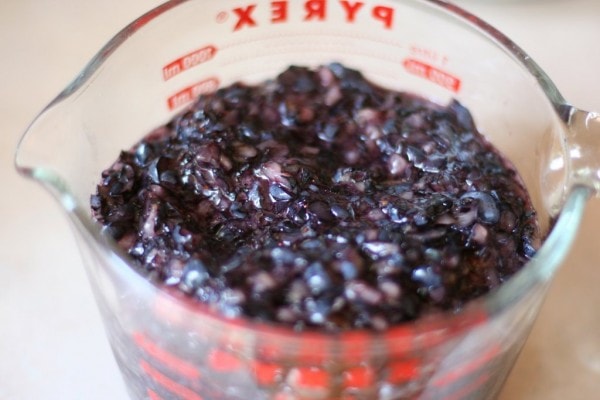 Add the sugar. Jams require a lot of sugar, so you may be vaguely horrified at this step. However, commercial jams contain at LEAST as much sugar…you just don't see it going in. 😉 So, homemade jam will be no more deleterious to your health than the commercial stuff you've been eating.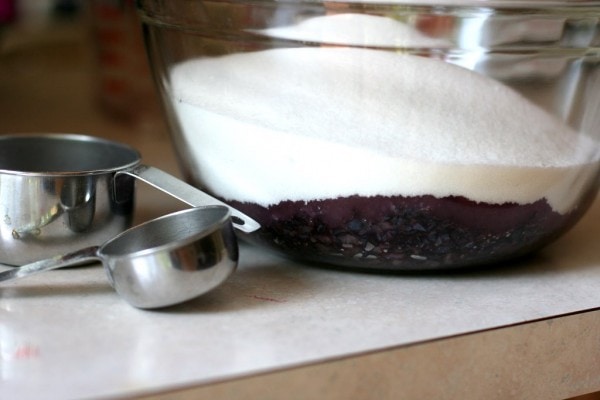 Mix thoroughly, and let stand for 10 minutes.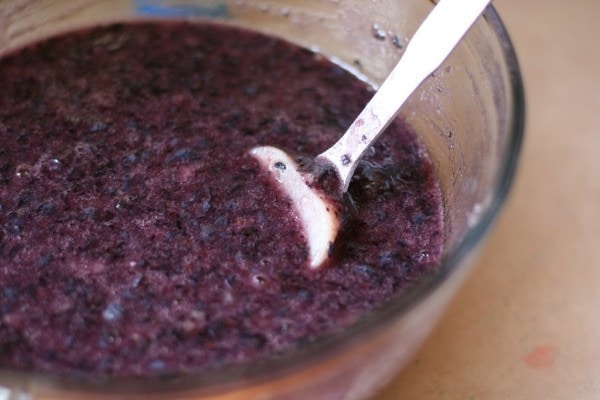 Now you'll need a package of pectin. I use Sure-Jell or Ball, depending on what's available in the store. I don't think the brand matters much. The ball packages usually have a $.50/1 coupon, though, so I try to get those if possible. My store doubles those, which means I can get $1 off the next package of pectin. Love that.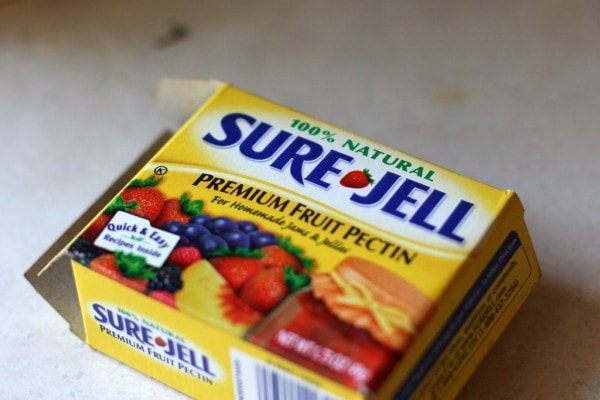 In a saucepan, combine the pectin with 3/4 cup water, and cook it over medium heat until it boils (it'll be fairly thick). Boil it for 1 minute, stirring constantly.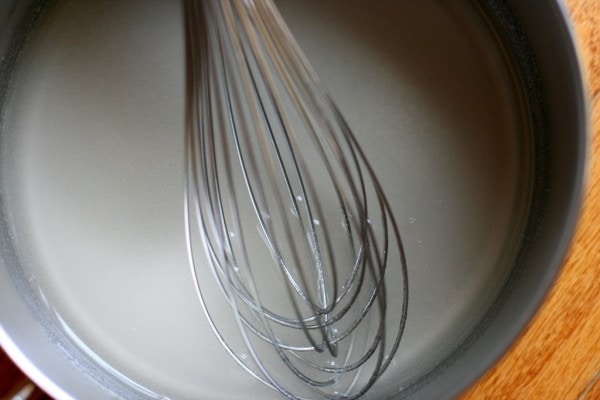 Add the pectin mixture to the fruit and stir for 3 minutes.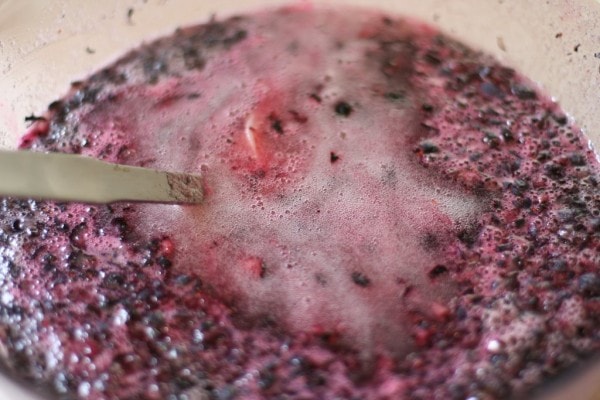 Ladle the jelly into whatever container you're going to use. Straight sided containers work best for freezer jam, as they allow for upward expansion.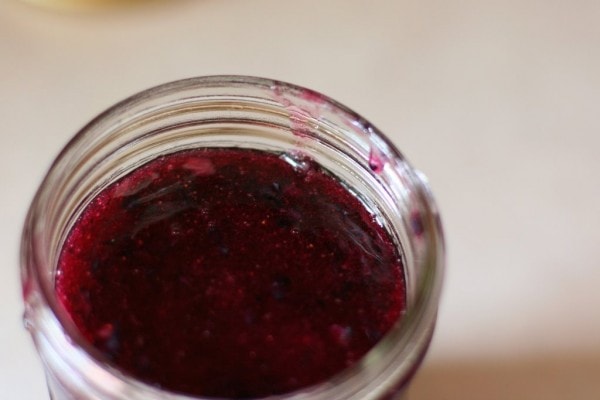 Place the lids on your containers and let them stand at room temperature for 24 hours. Then store them either in the fridge or in the freezer.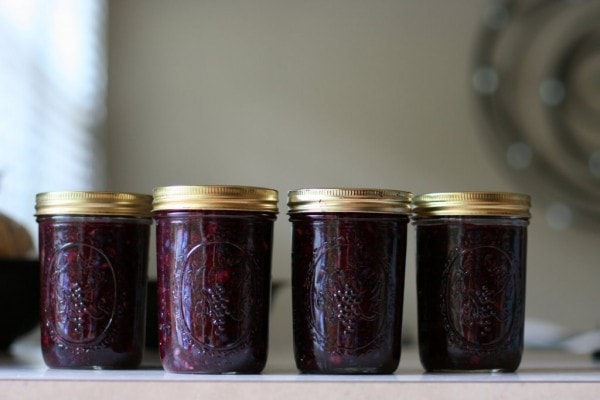 And that's it! Easy peasy. The process for other flavors is exactly the same, though the proportions of sugar and fruit do change somewhat.
Do give this a try before all the good summer fruit is out of season…I think you'll be glad you did.
Blueberry Freezer Jam-makes 7 cups

2 1/2 pints blueberries, crushed to make 3 cups
5 1/4 cups sugar
1 package pectin
3/4 cup water
Combine blueberries and sugar; stir well. Let stand 10 minutes.
Combine pectin and water in a saucepan. Bring to boil over high heat, stirring constantly. Boil 1 minute, stirring constantly.
Add pectin to blueberry mixture and stir for 3 minutes, or until the sugar is completely dissolved and is no longer grainy.
Pour or ladle jam into containers, leaving 1/2 space at top for expansion during freezer. Place lids on containers, and let stand at room temperature 24 hours until set. Refrigerate up to 3 weeks, or store in the freezer for 1 year.
Raspberry Peach Jam: The directions are the same, but use 2 cups crushed raspberries, 1 1/2 cups finely chopped peaches, and 7 cups of sugar. This makes 7 cups of jam.