Generally speaking, when you're grocery shopping it's a good idea to look at the unit price (price per ounce, piece, or pound) of the food you're buying to determine what is a good deal and what is not. But sometimes, I think you have to look beyond that and take some other factors into consideration.
Consider this lone potato and these two mushrooms, which I bought for making Deep Dish Pizza.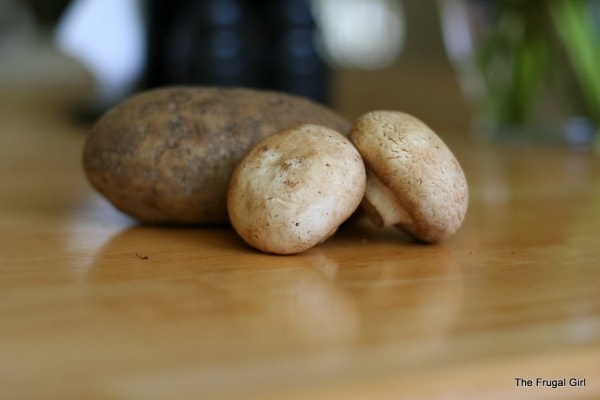 The potato was $.99/lb and the mushrooms were $2.99/lb. This cost per pound is definitely higher than what I'd pay by buying a large bag of potatoes or a larger package of mushrooms, especially if I did so at Aldi.
But, we don't eat a lot of potatoes, and my husband is the only one in our family that relishes mushrooms. We could debate the merits of these eating habits in our home, of course, but the fact remains that we simply don't go through a lot of potatoes and mushrooms at this point in time.
So, odds are good that if I bought the big bag of potatoes and the larger container of mushrooms, we'd end up letting some go to waste, which means that some of the money I spent would also go to waste. That, or I'd be scrambling to find ways to use up the potatoes and mushrooms, and I prefer to avoid that as much as possible. I end up doing enough food-waste-related scrambling as it is!
I spent $.74 on my potato and $.45 on my mushrooms, which adds up to $1.19. For me, that was a better option than spending $4 ($3 for potatoes and $1 for mushrooms) on larger quantities of potatoes and mushrooms that we didn't really need.
This sort of thing doesn't happen all that often in our family, but I can imagine that for smaller families or for single people this principle holds true much more often, especially when it comes to perishable foods. Yes, a large container of strawberries from Costco costs less per pound than a small container from the grocery story, but the larger container isn't a good deal if the berries go bad before they get eaten. Even something relatively shelf-stable like a large container of oatmeal might go rancid before a small family or single person can use it up.
So, what do you think? Are there things that you purposely buy in smaller quantities so that you can avoid wasting food (and money!)?