Every Wednesday (ok, most Wednesdays!) I share a baking recipe. And lots of pictures of said baking recipe. I don't call this Wednesday Baking because I bake solely on Wednesdays…no, my oven gets a workout much more frequently than once a week! Wednesday just happens to be the day I share baking recipes with you. All the past baking posts are archived in the Wednesday Baking category, which can also be found in a tab underneath my blog header.
I recently got this recipe from a friend at church (Hi Cate!) but we've enjoyed these muffins so much, I've already made them a whole bunch of times.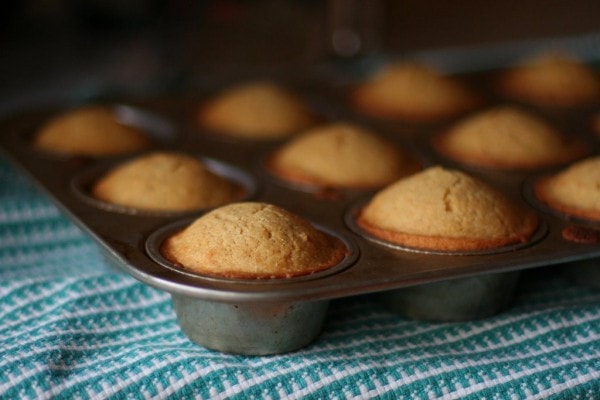 And so I thought I should share the recipe with you.
If you think "sweet" and "cornbread" should never meet, you will hate this recipe because it is pretty darn sweet. But if you, like me, are never opposed to sweet things, I think you'll like these quite well. 😉
These are super-duper easy to make, so if you've only ever tried making corn muffins from a mix, you should give this a try! I promise it will only take maybe 2 minutes longer than the mix.
First, combine the dry ingredients in a bowl. You can include the brown sugar here but I think it works better to wait and mix it in with the wet ingredients. I can never seem to get the brown sugar mixed up very well with the dry ingredients and then there are always brown sugar lumps in the batter.
And I hate to mix the batter much because that can result in tough muffins, so I find it to be easier to just mix the brown sugar in with the wet ingredients.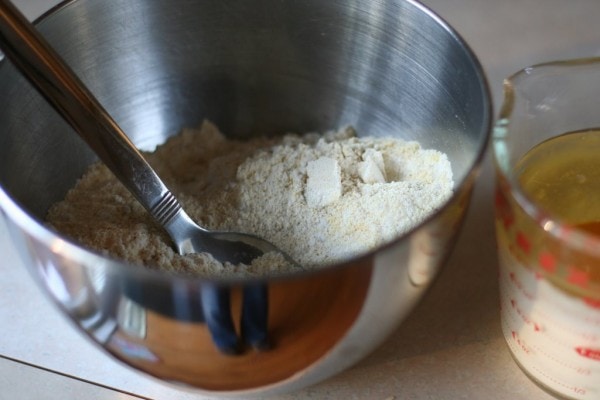 (I might not make it into photos here very often, but my legs certainly do!)
Next, mix the wet ingredients together.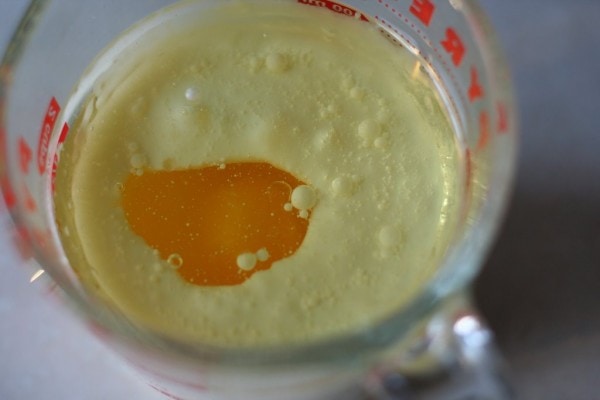 Gently stir the wet ingredients into the dry ingredients, mixing just until the dry ingredients are moistened.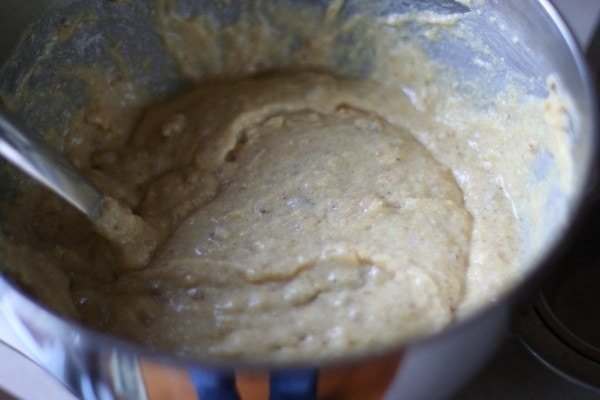 You can use muffin liners for this recipe, but part of what makes these so yummy is the crispy outside, and to get that, you'll need to grease your muffin cups.
I grease mine with butter. Because butter tastes good.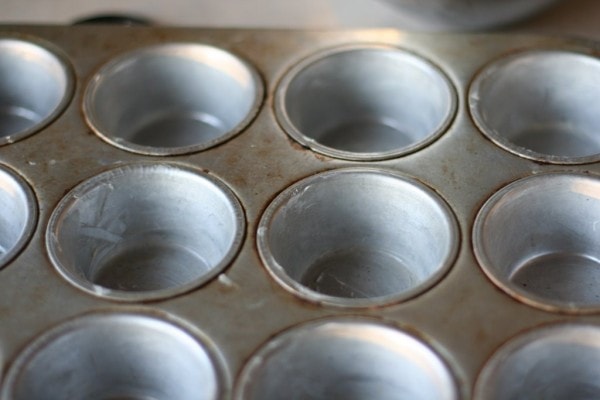 Spoon the batter into 12 muffin cups.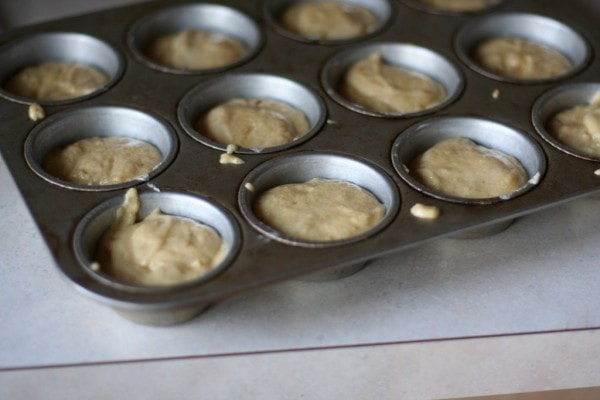 Bake for 12-15 minutes or until a toothpick inserted into the center comes out clean.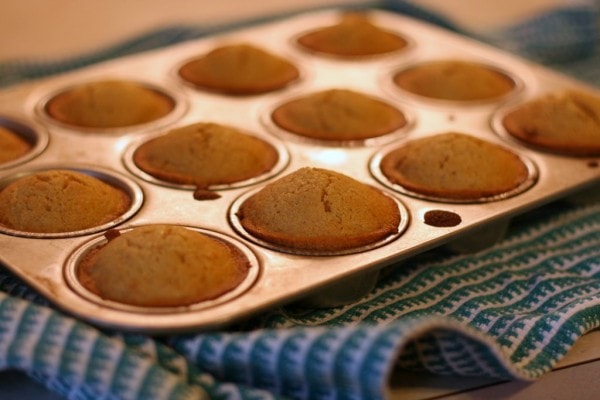 (can you tell the sun went down while these were baking?)
I did march myself out onto the cold deck to try to catch the last bit of natural lighting, though. It looks cold in the picture, doesn't it? I do miss warmer days if only for the nice light they provide!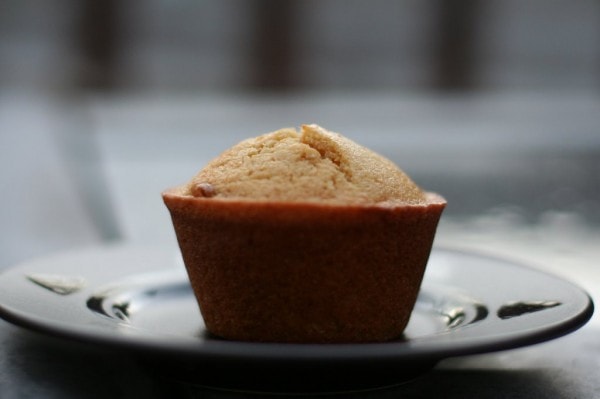 Mostly I went outside because I wanted to show you the yummy, crispy outside of these muffins.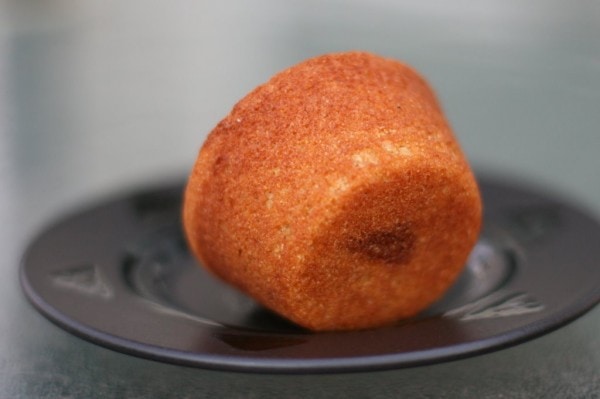 The recipe I have says to wait 10 minutes before removing the muffins from the pans, but I've had no difficulty in removing them right away.
Now, here are a couple of health notes. If you want the most delicious version of this recipe, follow it with no modifications. The muffins won't be especially healthy, but they will be really tasty!
If you want to reduce the sugar, know that I've made them with 1/4 cup of white sugar and brown sugar instead of 1/3 cup, and they do taste fine that way (just not quite AS good!). I imagine you could cut the sugar further if you wanted.
You could also feel free to reduce the amount of oil in the recipe. I've subbed 1/4 cup of buttermilk for 1/4 cup of the oil with good results, and you could certainly experiment with the applesauce for oil substitution, especially because these are sweet muffins to begin with (the applesauce probably wouldn't make them taste odd).
Sweet Corn Muffins-makes 12
Printable Sweet Corn Muffin Recipe
1 1/4 cups cornmeal (I use whole grain cornmeal)
1 cup all-purpose flour
1/3 cup sugar
1 teaspoon baking soda
1/2 teaspoon salt
1 egg
1 cup buttermilk
1/3 cup packed brown sugar
3/4 cup vegetable oil
Heat oven to 425 ° F. In a large bowl, combine cornmeal, flour, sugar, baking soda, and salt.
In a separate bowl, combine egg, buttermilk, brown sugar, and oil.
Gently stir wet ingredients into the dry ingredients just until moistened. Fill 12 greased muffin cups 3/4 full. Bake for 12-15 minutes or until a toothpick inserted into the center of a muffin comes out clean.
Today's 365 post: This is for later