Every Wednesday (ok, most Wednesdays!) I share a baking recipe. And lots of pictures of said baking recipe. I don't call this Wednesday Baking because I bake solely on Wednesdays…no, my oven gets a workout much more frequently than once a week! Wednesday just happens to be the day I share baking recipes with you. All the past baking posts are archived in the Wednesday Baking category, which can also be found in a tab underneath my blog header.
I've been wanting to share this recipe with you for a while now…I made these in December, took pictures, and just haven't gotten around to posting the recipe!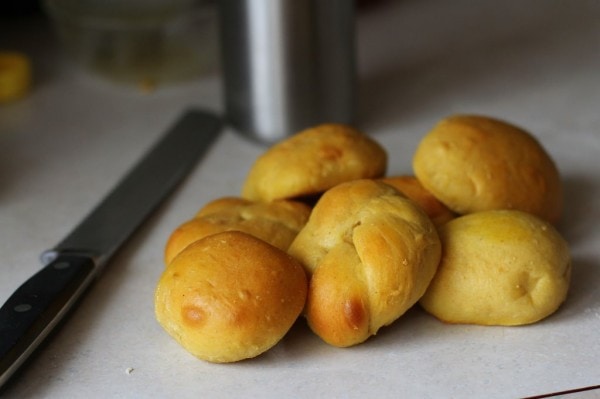 I don't know if any of you happen to have winter squash around at the moment (if you garden, you probably had more of an excess a few months ago!), but around here, winter squash is still available in stores, and I believe frozen, cooked winter squash inhabits the freezer section of the grocery store year round.
My children think that winter squash is far from a delicacy, but they all love these rolls, especially if they're split, toasted, butter, and sprinkled with cinnamon sugar.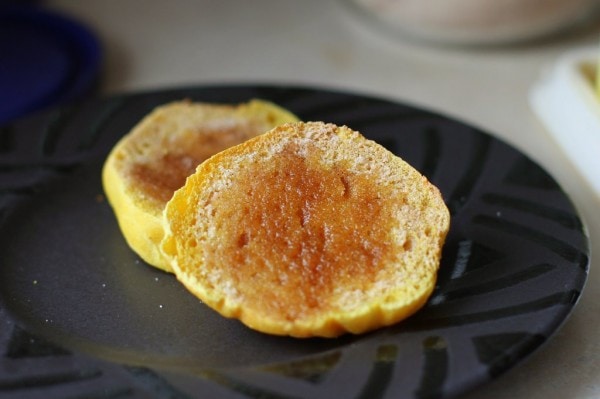 This recipe is a pretty heavily modified version of a recipe I got from one of my aunts. The original recipe calls for 1 cup of sugar (which is a pretty hefty amount for a roll), but I've often used 1/2 cup with good results, so feel free to play around with that. Also, if you prefer to use butter or coconut oil instead of the vegetable oil, just melt and cool it before adding it to the batter.
To start, dissolve the yeast in warm water.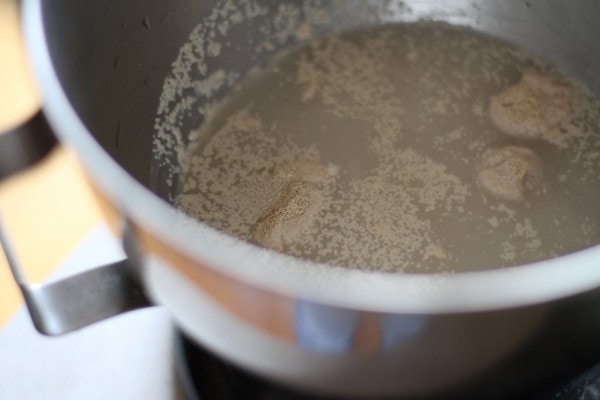 Stir in the oil, salt, squash, and dry milk. Add 2 cups of flour and beat for 3 minutes.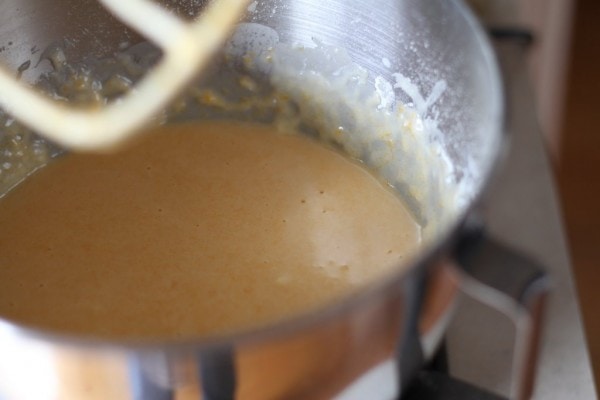 Add only enough of the remaining flour to make a soft dough,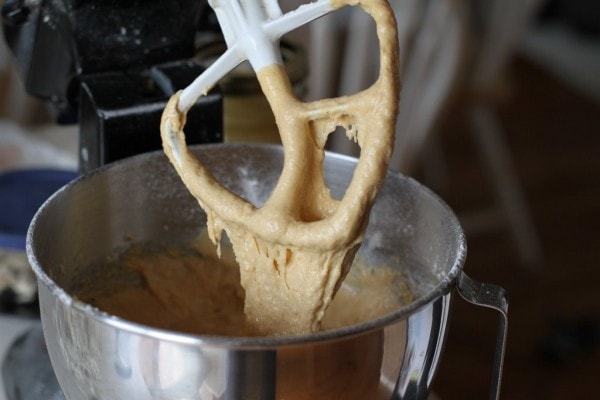 and turn it out onto a floured surface.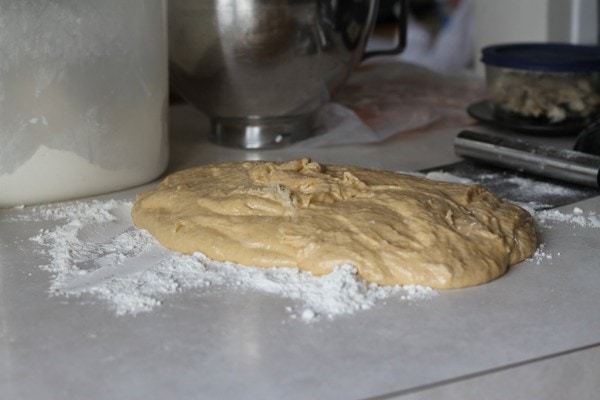 That dough is pretty goopy…it's not necessary to leave it QUITE that soft. If you're new to kneading, I'd recommend making your dough a bit stiffer before turning it out.
Knead the dough for 3-5 minutes, or until it's smooth and elastic. After kneading, the dough should look something like this.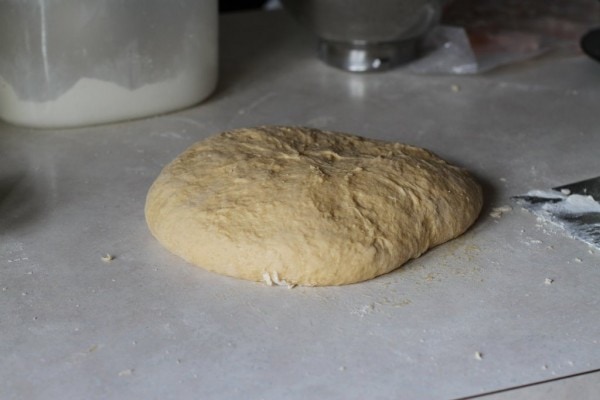 Place the dough into a bowl (I just use the messy mixing bowl), cover, and let rise for an hour.
Punch the dough down, divide into 36 pieces (48 if you want smaller rolls), and shape into rolls. You can do bowknots (the process is outline in the basic roll pictures) or simple dough rounds, and you can place them on baking sheets,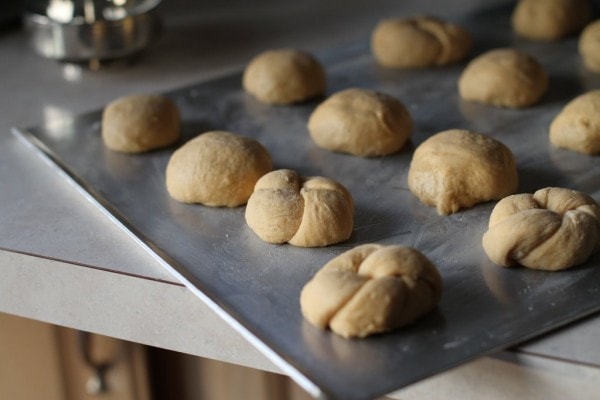 or in a greased round cake pan.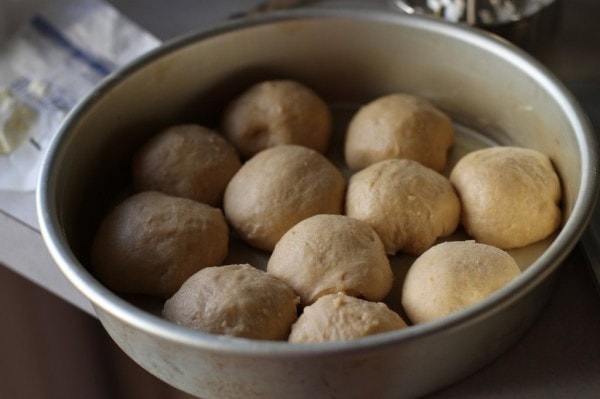 Cover the rolls and let them rise about 30 minutes.
(cue loss of natural light)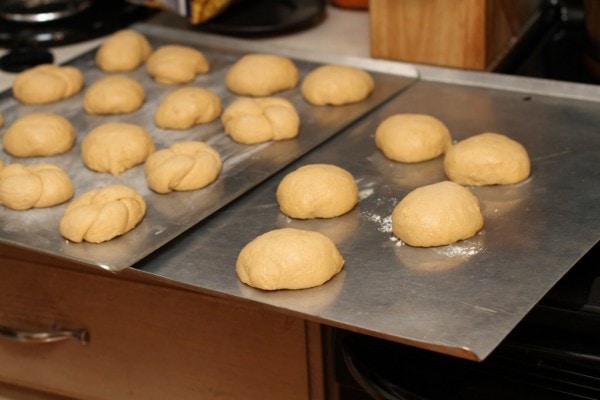 If you'd like, beat an egg white with 1 tablespoon of water until frothy and brush the mixture on top of the rolls. This will give them a shiny appearance.
Bake in a preheated 350 ° F oven for 12-15 minutes, or until browned.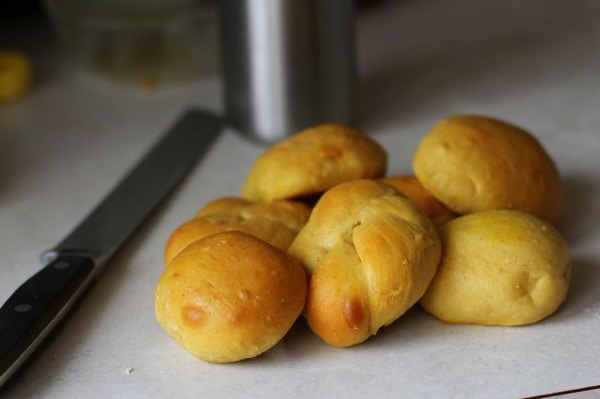 These are good fresh from the oven, and if you've got any leftover, they're delicious toasted for breakfast.
Squash Rolls-makes 36-48

1 1/2 cups warm water
2 pkg. (4 1/2 teaspoons) active dry yeast
1 cup sugar (can use less if you prefer)
4 tablespoons oil
2 teaspoons salt
3/4 cup powdered milk
1 1/2 cups cooked winter squash
7 1/2 cups flour
In a mixer bowl, combine water and yeast. Let stand for a few minutes. Stir in sugar, oil, salt, powdered milk, and squash. Add 2 cups flour, and beat for 3 minutes. Add enough of the remaining flour to make a soft dough.
Turn out onto a floured surface, and knead until smooth and elastic, about 3 minutes. Place dough in bowl; cover and let rise 1 hour.
Punch dough down. Cut dough into 36 pieces (48 if you want smaller rolls), and shape each into a roll. Place on greased baking sheets or in greased cake pans. Cover and let rise 30 minutes. Bake in a preheated 350 ° F oven for 12-15 minutes.
Today's 365 post: I love that man of mine.