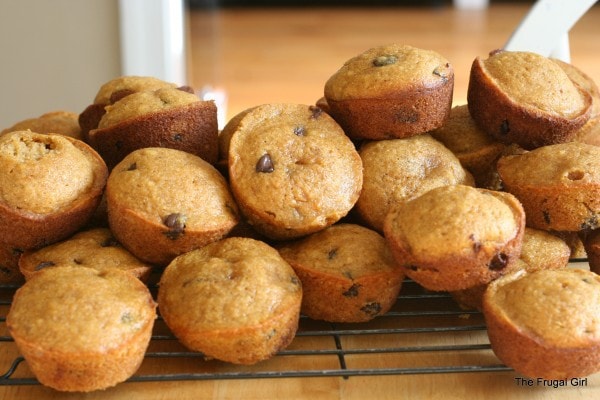 The other day on my Facebook page, I related a funny story about Zoe and some muffins that I made, and a reader asked if I could share the recipe. This works out perfectly, because my well-laid plans to write up the recipe for these cinnamon rolls sort of got derailed!
The muffins I made that particular day were based on a Pumpkin Chocolate Chip Muffin recipe from Crystal Paine's blog, MoneySavingMom. I don't know if it's just the case in my area, but pumpkin has been completely unavailable for months now, which means that this recipe has been collecting dust. The other day, though, I noticed that a couple of my sweet potatoes were getting rather wrinkled and dry, so I boiled them, peeled them, and ran them through the food processor. I ended up with about 1 pound of mashed sweet potato, and since mashed sweet potato is awfully similar to canned pumpkin, I just substituted it for the pound of pumpkin called for in the recipe.
I'm pleased to report that this was a complete success and that the results were virtually indistinguishable from muffins made with pumpkin.
Crystal's recipe is available on her blog, of course, but the recipe I'm sharing here is my modified version. In addition to my sweet potato change, I also subbed milk for half of the oil, and a cup of whole wheat flour for a cup of white flour. Another idea is to substitute applesauce for some of the oil. I didn't have any applesauce on hand, though, and I was not about to cook down some apples into sauce only to use them in muffins. Homemade applesauce is so good that it must be eaten on its own, in my opinion!
Even with the modifications, I will offer the same disclaimer as Crystal, which is that these muffins are not the pinnacle of nutrition, but that they are tasty (and if you make them to use up some wrinkly sweet potatoes, that should absolve you of some of your guilt.). 😉
This makes 36 smallish muffins, which is not an inordinate number for our family. If you have a smaller family, though, you can cut the recipe in half or simply freeze any extra muffins.
Pumpkin/Sweet Potato Chocolate Chip Muffins-makes 36
Printable Pumpkin Muffin Recipe
4 eggs
2 cups sugar
1 (16 oz.) can pureed pumpkin or 16 oz. mashed sweet potato (without butter, salt, or milk)
3/4 cup milk
3/4 cup oil
2 cups all-purpose flour
1 cup whole wheat flour
2 teaspoons baking soda
2 teaspoons baking powder
1 teaspoon ground cinnamon
1 teaspoon salt
1 package chocolate chips (I often use less when I happen to have only a partial bag)
In a large mixing bowl, beat eggs, sugar, pumpkin, milk, and oil until smooth. In a separate bowl, whisk dry ingredients together. Add dry ingredients to liquid ingredients, and stir just until combined. Fold in chocolate chips. Fill greased or paper-lined muffin cups 3/4 full. Bake 16-20 minutes at 350 degrees.