Every Wednesday (ok, most Wednesdays!) I share a baking recipe. And lots of pictures of said baking recipe. I don't call this Wednesday Baking because I bake solely on Wednesdays…no, my oven gets a workout much more frequently than once a week! Wednesday just happens to be the day I share baking recipes with you. All the past baking posts are archived in the Wednesday Baking category, which can also be found in a tab underneath my blog header.
The cherry danishes I showed you in a recent 365 post were made from a Taste of Home recipe that's been in my to-try pile for a while. I have a ridiculously large pile of yeast-dough recipes that I want to try because every time I flip through a magazine, all of the yeast recipes look delicious!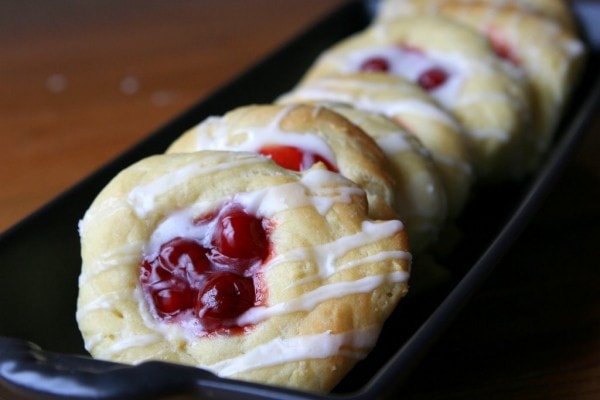 If only it were that easy to find such inspiring main dish recipes. Somehow, meat and vegetables just aren't as exciting as flour, sugar, butter, and yeast.
At least, not to me.
I don't usually take photos and plan on posting a recipe the first time I try it, but for some reason, I did when I was making these, and I'm glad, because all of us thought these were ridiculously good.
A lot of the sweet yeast recipes I post here are moderately unhealthy, but this particular recipe may very well take the cake, if only because the dough requires 6 egg yolks.
Dear me.
If you're a little concerned about that, you can do like I did and make them when you've got company who can help you eat them. 😉
Two handy things about this recipe:
the dough is made ahead of time and rests in the fridge overnight. You do have to shape the rolls and let them rise in the morning, but that doesn't take tons of time, and it's certainly faster than starting from scratch in the morning.
no kneading is required. This is happy news for those of you who are terrified of the kneading process.
To start, dissolve the yeast in 1/2 cup of warm milk.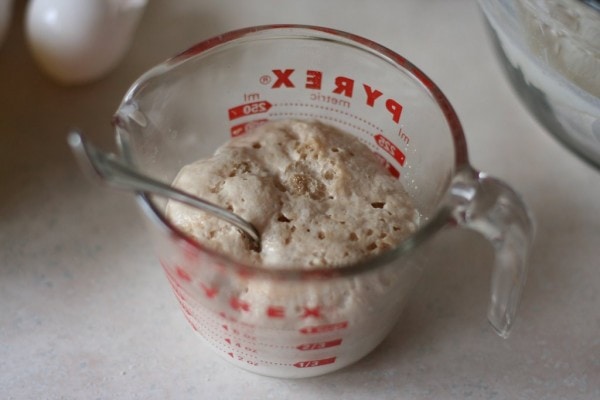 While the yeast is percolating away, combine the flour, sugar, and salt in a large bowl. Cut the butter into chunks and then use a pastry blender to cut the butter into the dry ingredients.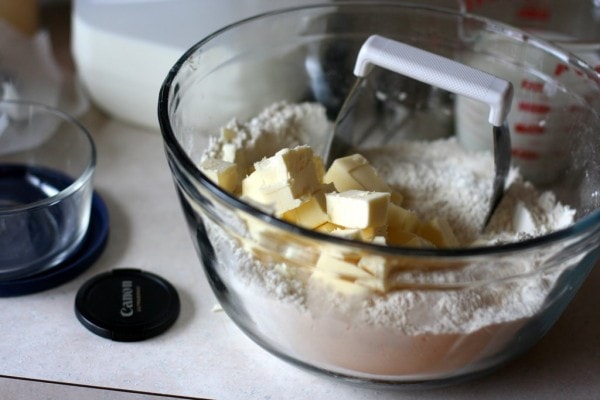 If you have a really big food processor, you could use that to cut the butter in, I suppose. I thought I did a pretty thorough job of cutting the butter in, but later on I noticed some large-ish chunks of butter in the dough. So, I suggest being more thorough than you think you need to be.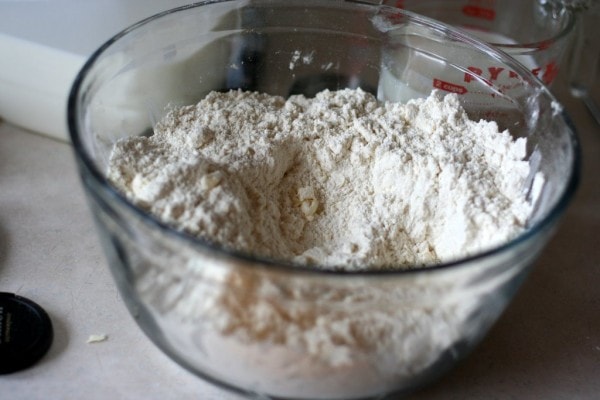 Next, stir in the yeast mixture, 6 egg yolks (!) and the warm milk. The recipe called for half-and-half, but I substituted milk because that's what I had on hand.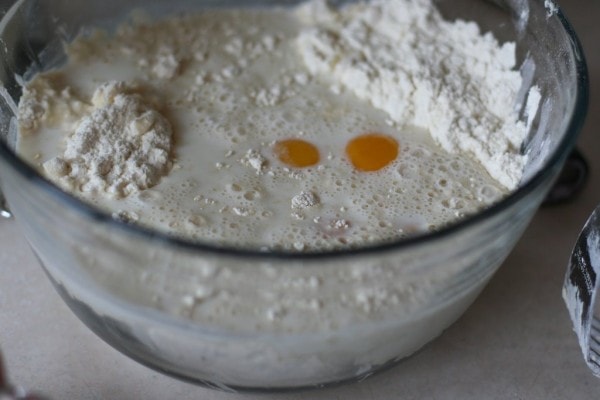 It's not like the dough was lacking in fat, after all.
Stir it all together until you have a sticky, kind of shaggy dough.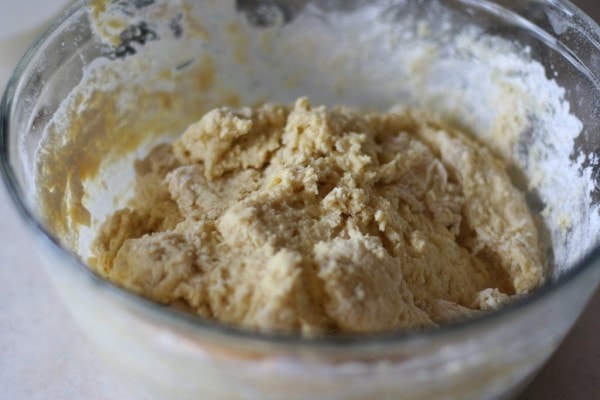 Oh, I should tell you that I did not put the full amount of flour into the bowl initially. I was worried that it might end up being too much and I wanted some control. I think I put 5 cups into the bowl and set the remaining cup aside. I ended up only adding about 1/2 of that remaining cup.
Next time, I'll try using the full six cups and see how that works out.
Cover the dough, and put it in the fridge to sit overnight.
In the morning, divide the dough into quarters and roll each quarter out into a rectangle that's about 18×4 inches.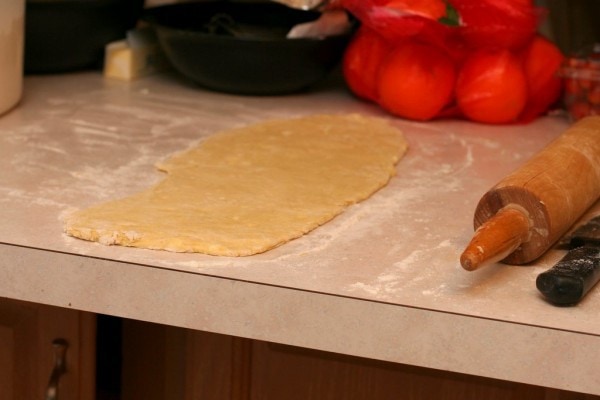 Use a pizza wheel to cut the dough into 18 strips.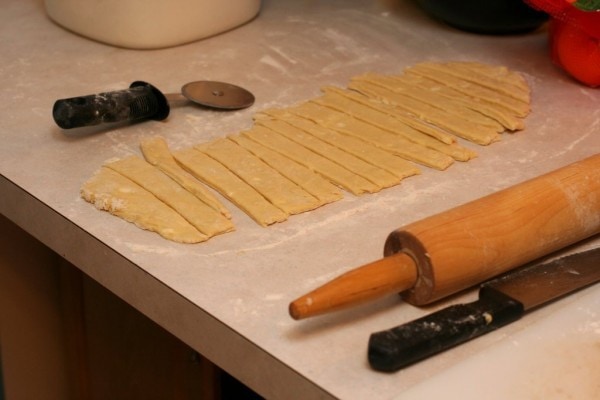 Twist two strips together, and then coil the twisted strips into a roll shape, like so: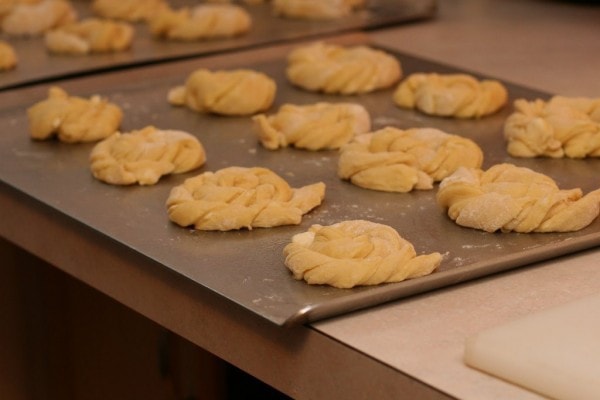 Repeat with the remaining strips and remaining portions of dough. Cover the rolls with a damp tea towel and let them rise for 30-45 minutes.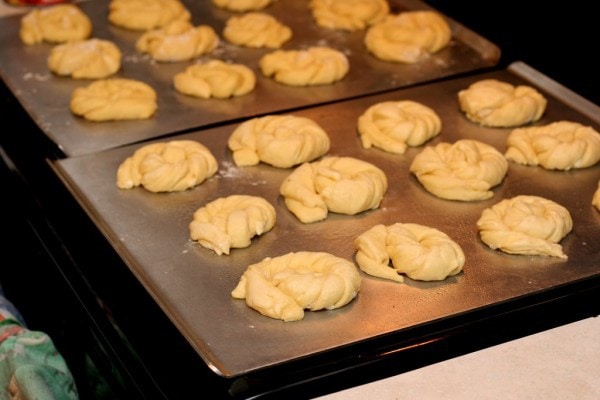 When they've risen, make a little indentation in the middle and spoon about a tablespoon of cherry pie filling into the center. You could use any filling you wanted, I'm sure, but cherry is what I used this time.
Bake the danishes for 14-16 minutes, or until they're lightly browned.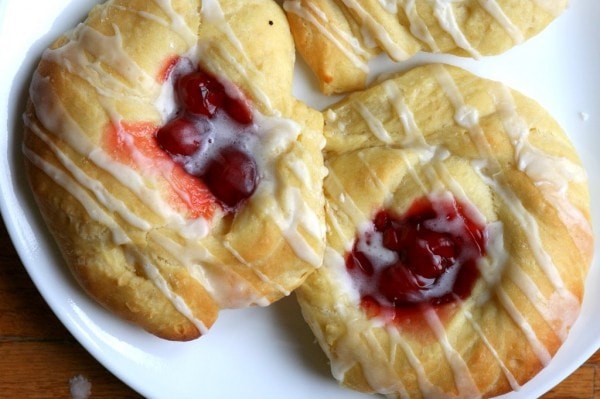 Remove them from the baking sheet, and let them cool on a wire rack.
The icing is very simple to make, but I didn't happen to take any photos of the process. Basically, you beat the butter until it's fluffy and then mix in powdered sugar, vanilla, and milk/half-and-half/cream (I used milk).
Drizzle the icing over top of the rolls (if it won't drizzle neatly, add more milk). I like to place my wire rack on top of a baking sheet so that the extra icing lands on the sheet instead of on my counter.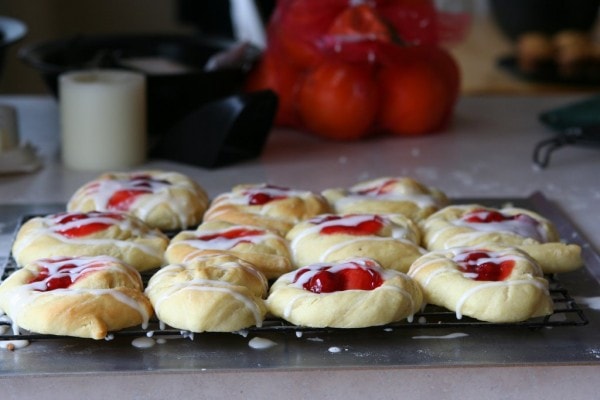 The original recipe says that these freeze well, un-iced, but I didn't get to try that out because all of mine were gone within 24 hours. 😉
I should have taken a photo of the inside of the danishes, but the photo below is the only one that comes close to showing that.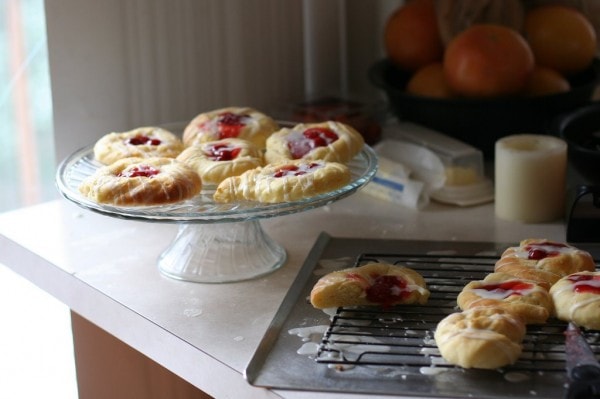 These aren't flaky like croissants or phyllo…they're more like a very soft, very fluffy sweet roll dough. And they are very delicious.
Since you can print this recipe out from Taste of Home's site, I won't bother making and uploading a PDF for you this time.
Overnight Cherry Danishes-makes 36
2 packages (1/4 ounce each) active dry yeast
1/2 cup warm milk (110 ° to 115 °)
6 cups all-purpose flour
1/3 cup sugar
2 teaspoons salt
1 cup cold butter, cubed
1-1/2 cups warm half-and-half cream or milk (110 ° to 115 °)
6 egg yolks, lightly beaten
1 can (21 ounces) cherry pie filling
ICING:
2 tablespoons butter, softened
3 cups confectioners' sugar
1/4 teaspoon vanilla extract
Dash salt
4 to 5 tablespoons half-and-half cream (or milk)
In a small bowl, dissolve yeast in milk.
In a large bowl, combine flour, sugar, and salt. Cut in butter, using a pastry blender. Stir in cream (or milk) and egg yolks to form a sticky dough. Cover dough and refrigerate overnight.
The next day, divide the dough into quarters. Roll each quarter to an 18×4 inch rectangle and cut into 18 1-inch-wide strips. Twist two strips together and coil into a roll shape. Place on a greased baking sheet. Repeat with remaining strips.
Cover and let rise for 30-45 minutes.
Using the end of a wooden spoon handle, make a 1/2-in.-deep indentation in the center of each roll. Fill each with about 1 tablespoon pie filling.
Bake in a preheated 350 degree oven for 14-16 minutes, or until lightly browned.
For icing, beat butter until fluffy and stir in sugar, vanilla, salt, and cream. Drizzle over top of danishes.
Today's 365 post: Note to self: Next time, check the lid BEFORE you turn the switch