Every Wednesday (ok, most Wednesdays!) I share a baking recipe. And lots of pictures of said baking recipe. I don't call this Wednesday Baking because I bake solely on Wednesdays…no, my oven gets a workout much more frequently than once a week! Wednesday just happens to be the day I share baking recipes with you. All the past baking posts are archived in the Wednesday Baking category, which can also be found in a tab underneath my blog header.
This is pretty amazing…I've baked cookies twice in the last two weeks.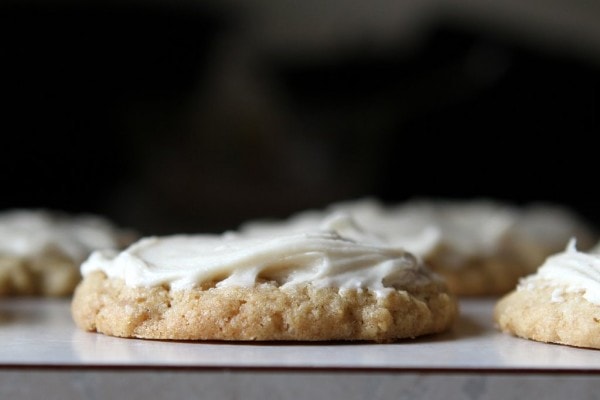 The Frugal Girl family is a happy bunch indeed.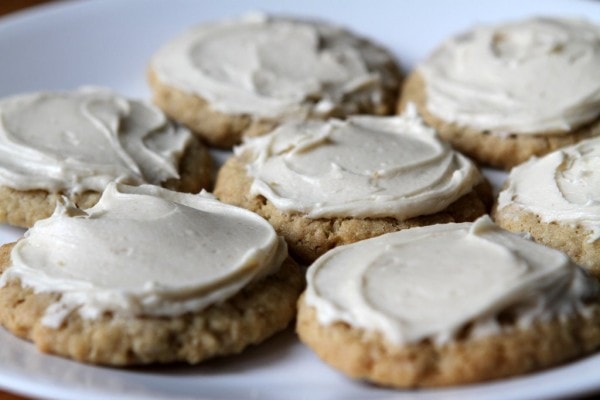 This recipe is another from my childhood, and I think it originally came from my maternal grandmother. The cookies themselves are yummy, but what really makes these special is the frosting, which contains browned butter. Browning the butter before adding it to the frosting adds a special depth of flavor, much in the same way that toasting nuts brings out more of their flavor.
These cookies are super-easy, so if you're the sort of person who quails in fear when I post yeast bread recipes, today's post is for you! You can totally make these. 😉
Those of you who have smallish households will be pleased to know that this recipe makes a much more manageable number of cookies than last week's Monster Cookie recipe. I didn't count them, but I'd say the output here is probably only a 1/3 of the Monster Cookie output. If this is still too many cookies for you, though, you can definitely freeze some to eat later.
I used my Kitchen-Aid mixer to put the dough together, but you can easily do this by hand as well.
First, you'll need to cream the butter, brown sugar, and white sugar together.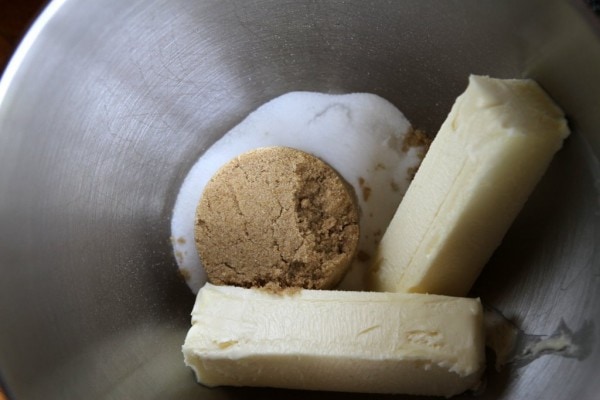 This is much easier when you let your butter soften first, and this is especially true if you're mixing the dough by hand.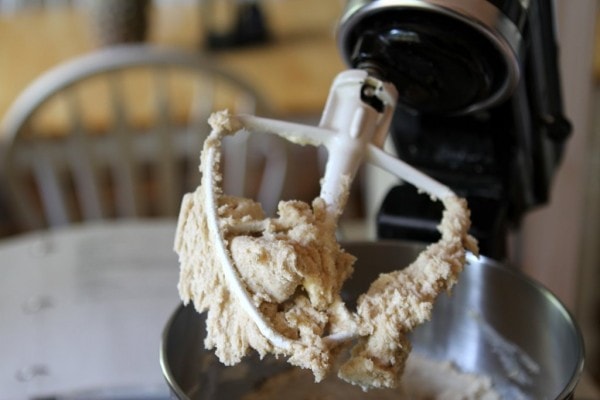 Add an egg, and blend it in thoroughly.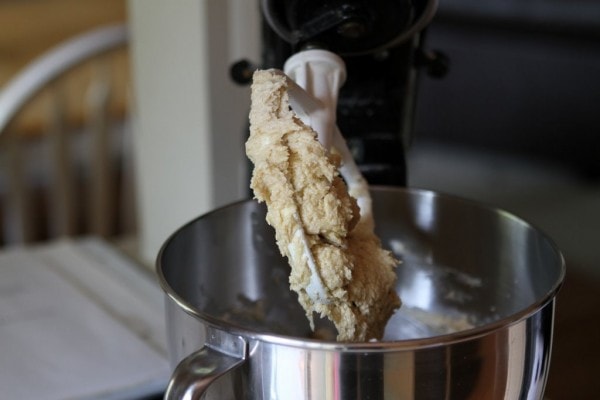 Hmm. That looks a lot like the dough without an egg, doesn't it? I really did add one, though!
Next you'll need to combine the flour, baking soda, and salt together in a separate bowl. This helps to ensure even distribution of the baking soda and salt. Add the flour mixture to the dough, and mix it until the flour is blended in. Then add the oatmeal. You'll think that there is no way in the world that the dough will be able to handle 1.5 cups of oats, but it will.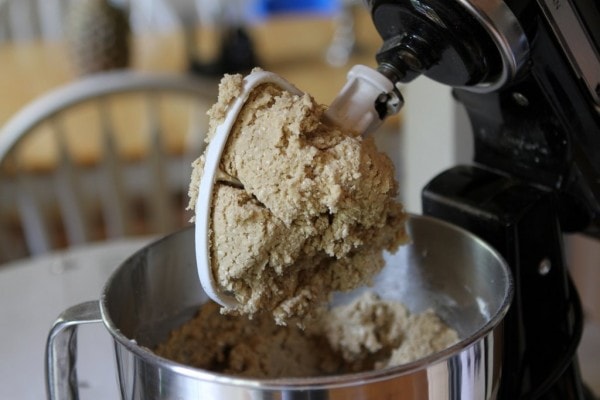 The dough is pretty stiff after the oatmeal addition, though, so if you're mixing by hand, this step will require some exertion.
To shape the cookies, roll the dough into balls. I didn't measure mine, but they're maybe an inch across.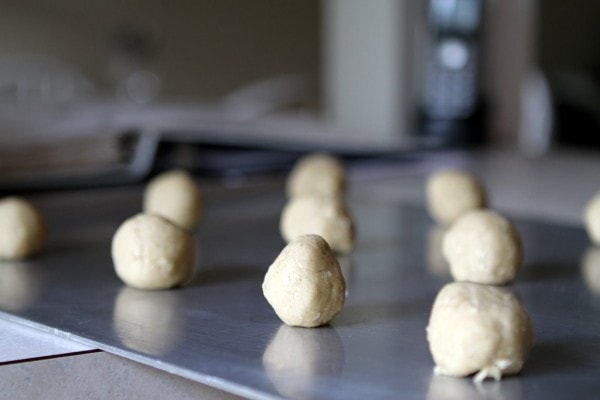 Since this dough is so thick, it won't flatten on its own in the oven, so you'll need to take care of that prior to baking. You'll need a flat-bottomed drinking glass and a small bowl of sugar to do this.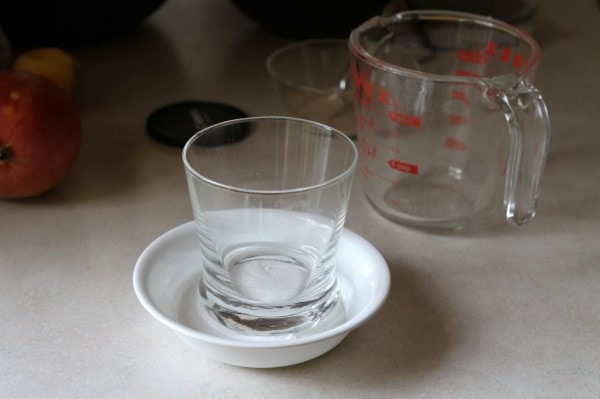 To flatten the cookies, just press them down with the glass, dipping it into the sugar between cookies (the sugar helps keep the glass from sticking to the cookies).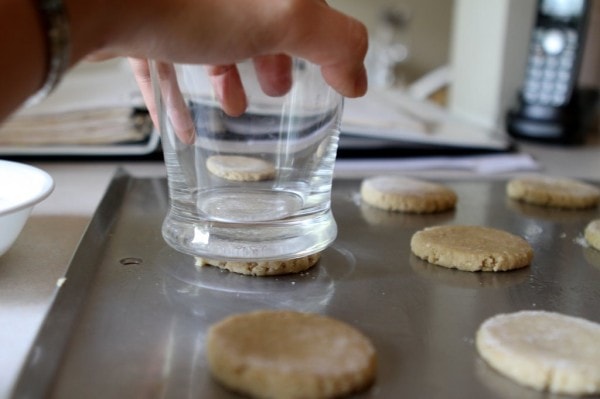 You'll want to keep the glass as level as possible so that your cookies aren't lopsided, but as you can see, mine aren't perfect and they still turned out fine.
Bake the cookies for 10 minutes, or until they look almost done (taking them out slightly before they look done will help to make them chewier).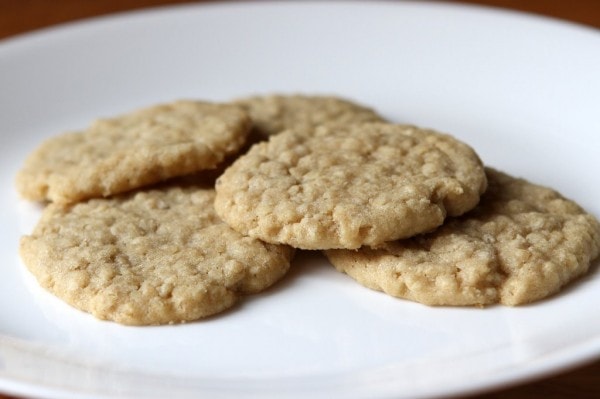 Now, these are pretty tasty as-is, but frosting makes them better.
I grew up eating homemade frosting and was unaware until recently that some people think making frosting is hard or tricky. If you're one of those people, let me assure you that that is not the case. Homemade frosting is not difficult, it tastes way, way, way, waaaaay better than the stuff in the cans, and it doesn't have weird stabilizers and preservatives.
I personally think that butter is the best fat to use in most any frosting, but if you can't eat butter, you can certainly make substitutions. However, I don't know that you can brown vegetable-based fats, so if you're using something other than butter, just soften it, skip the browning, and proceed with the recipe.
If you're one of the happy people who can eat butter, though, read on.
To brown the butter, place it in a saucepan over medium heat, and cook it until it starts to turn brown. You should see little brown bits on the bottom of the pan. Do be careful not to burn the butter…the line between browned and burnt is a fine one, so I highly recommend staying in the kitchen and near the stove while you do this.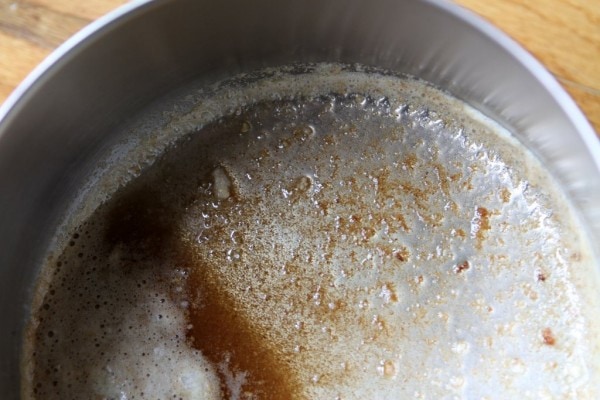 Cool the butter to lukewarm, pour it into a mixing bowl, and beat in the rest of the frosting ingredients (evaporated milk, sugar, corn syrup, and vanilla). I happened not to have evaporated milk in the house, so I substituted heavy cream.
Heavy cream definitely didn't ruin the frosting.
(Does heavy cream ruin anything?)
I think the corn syrup is added to make the frosting glossier, but it's only a tablespoon so I imagine you could leave it out by just adding a bit more milk. The corn syrup is not the high fructose kind, though, so I don't stress about it.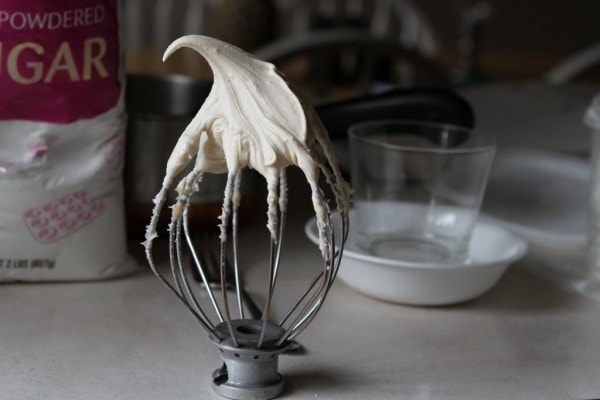 Frost the now-cooled cookies and let the frosting harden for several hours before you store the cookies in an airtight container. Otherwise, the frosting will make your cookie piles a big mess. Putting waxed paper between the layers of cookies is also a good idea.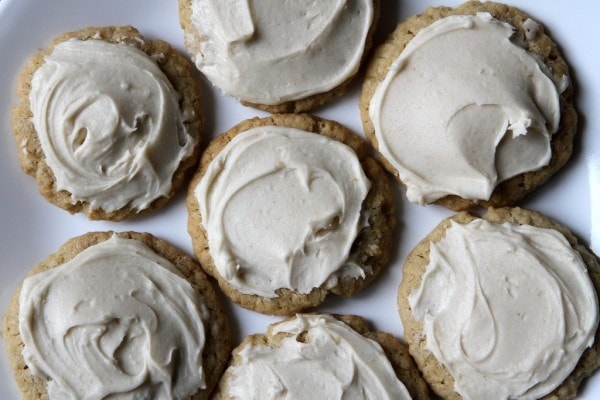 The frosting recipe makes a relatively generous amount, in my opinion. You can solve this by making two batches of cookies per batch of frosting, or you can just use more on each cookie (you wouldn't want to waste frosting, now would you??).
Frosted Oatmeal Cookies
Printable Frosted Oatmeal Cookie Recipe

1 cup butter (2 sticks, or 16 tablespoons)
1/2 cup sugar
1/2 cup packed brown sugar
1 egg
2 cups flour
1/2 teaspoon baking soda
1/4 teaspoon salt
1 1/2 cups uncooked quick oatmeal
Cream butter and sugars; blend in egg. Mix flour, baking soda, and salt; add to cream mixture, blending well. Stir in oats.
Shape dough into balls, place on cookie sheet, and flatten with the bottom of a drinking glass dipped in sugar. Bake 10-12 minutes in a preheated 350 ° oven. Frost when cooled.
Browned Butter Frosting
1/3 cup (5 1/3 tablespoons) butter
3 cups powdered sugar
1/3 cup evaporated milk (or cream. Ahem.)
1 tablespoon corn syrup
1 teaspoon vanilla
Brown butter in saucepan over medium heat. Cool to lukewarm. Beat in remaining ingredients until smooth.
Today's 365 post: Post-Haircut
New $100 Visa Gift Card Giveaway: Meal in a Bowl