Every Wednesday (ok, most Wednesdays!) I share a baking recipe. And lots of pictures of said baking recipe. I don't call this Wednesday Baking because I bake solely on Wednesdays…no, my oven gets a workout much more frequently than once a week! Wednesday just happens to be the day I share baking recipes with you. All the past baking posts are archived in the Wednesday Baking category, which can also be found in a tab underneath my blog header.
Today's recipe comes from an old 90s Pillsbury cookbook, titled Healthy Baking. Personally, I think a more appropriate title for the book would have been "Low-Fat Baking" because Chocolate Cheesecake is never really healthy. Broccoli can be healthy, oatmeal can be healthy, oranges can be healthy, but cheesecake? Not so much.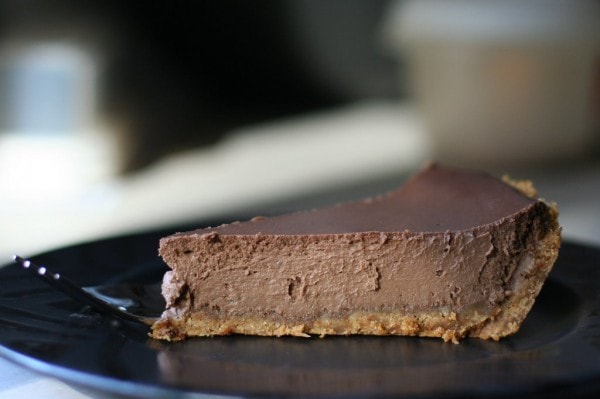 It is yummy, though, and if you want cheesecake that comes with a slightly lower calorie bill, this one can work for you. It can also be made in a higher-calorie version, of course, as substituting full-fat products is rarely disastrous.
Now, the original recipe had a very pathetic crust which basically involved putting dry crumbs into a pie plate and then spraying them with non-stick cooking spray to hold them together.
In my die-hard low-fat days, I actually did that, but I have since decided a cheesecake deserves a more proper crust. So, I now mix butter into my crumbs before patting them into the pie plate.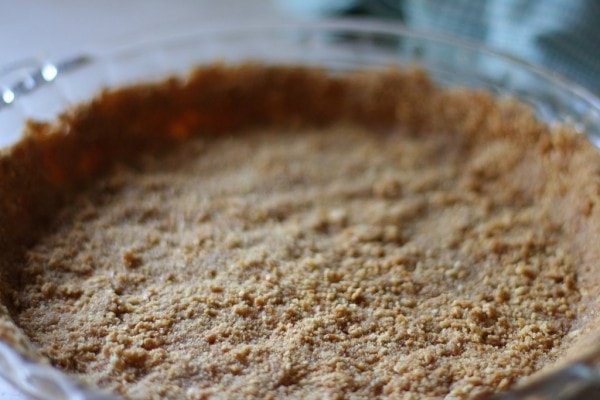 The filling has an unusual ingredient…ricotta cheese. I've used fat-free (which might not actually be food!), part-skim, and whole milk ricotta, and I can't say there was a vast difference in the end product.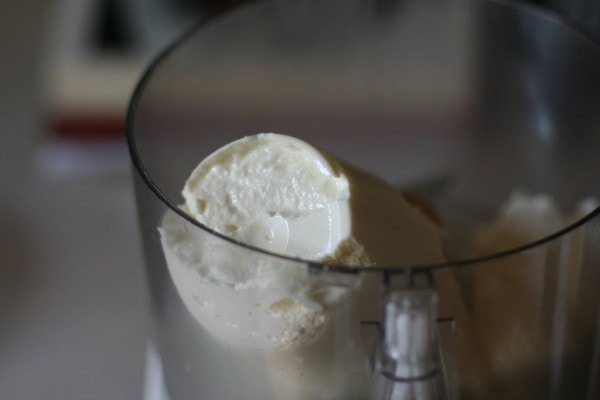 Undoctored ricotta isn't nearly creamy enough for a cheesecake, though, so you'll need to run it through a food processor. If you don't have a food processor, never fear…I'm including blender directions at the bottom of this post. If you don't have a food processor OR a blender, though, this is probably not the recipe for you.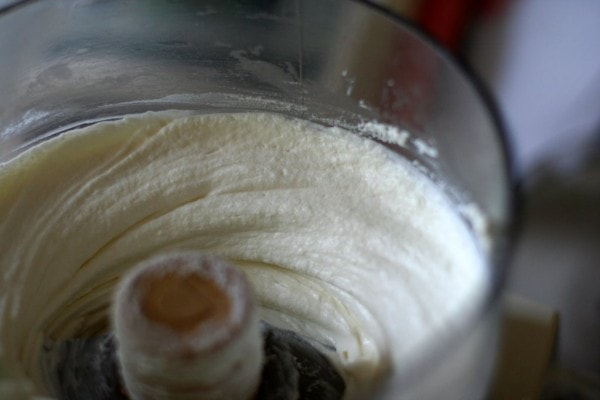 Don't skimp on this step…the ricotta needs to be quite smooth so that the cheesecake has the proper texture.
Next, add cream cheese (softened), cocoa powder, and sugar to the food processor bowl.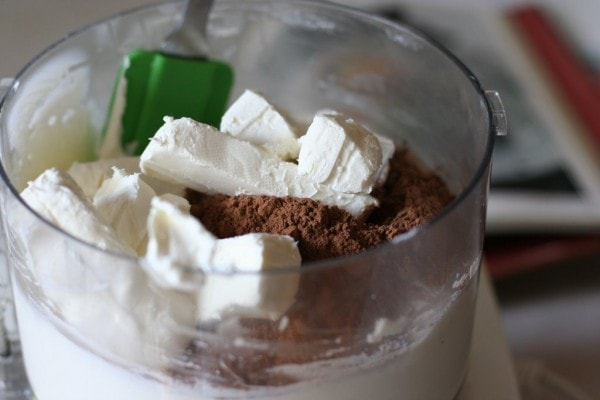 Process this mixture until it's smooth.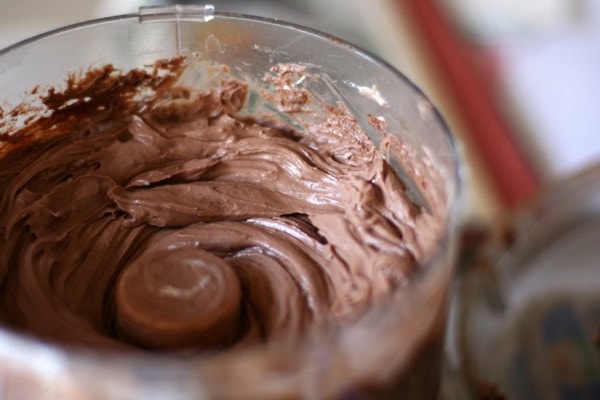 Once you add the egg, you have to be careful not to overmix, so make sure the cream cheese is nicely incorporated before proceeding.
Add the milk, vanilla, and egg (s). I've made this with two egg whites, one egg, and two eggs so far, and I think that the single egg works the best, with the 2 egg white option coming in at a close second. 2 eggs works, but the resulting cheesecake is a little bit softer.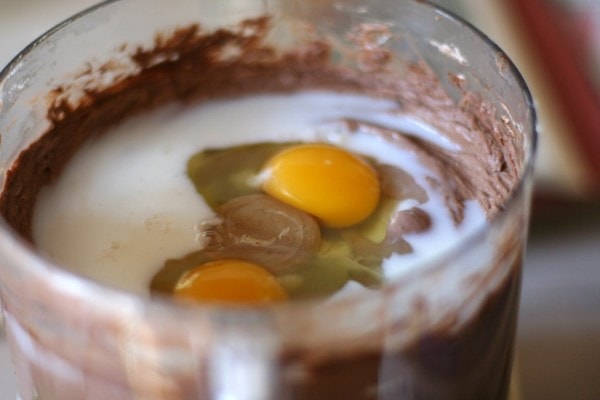 Process this mixture until it's smooth.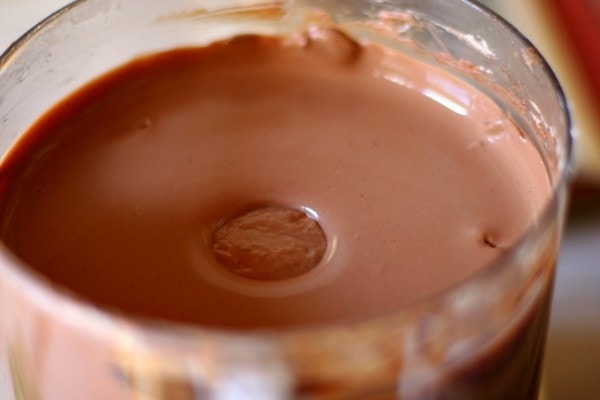 Pour it into the prepared crust.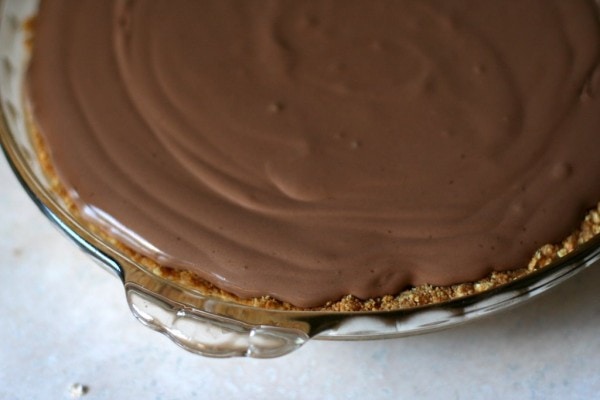 And bake in a preheated 325 ° F oven for 45-55 minutes, or until the edges are firm.
Turn the oven off and let the cheesecake stand in the oven for 30 minutes with the door cracked at least 4 inches open. I think this step is to help prevent cracking…I completely forgot about it when I made this particular cheesecake, and as you can see, it did indeed crack.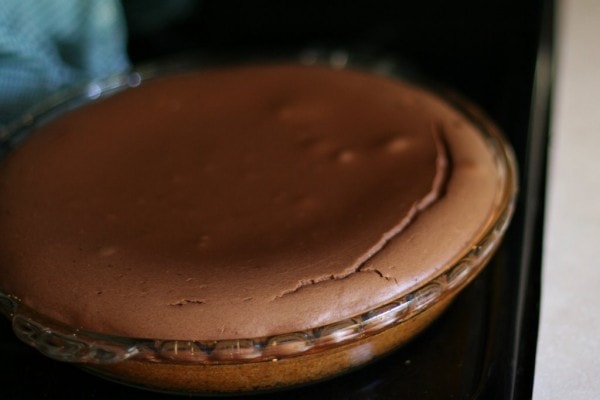 Cracks are only a visual concern, though, so don't feel blue if yours happens to crack.
When the cheesecake finishes baking, it'll be puffy, but as it cools, it'll flatten out a lot, which is good…you want your cheesecake to be dense (at least, I do! Fluffy cheesecake is just not my thing.).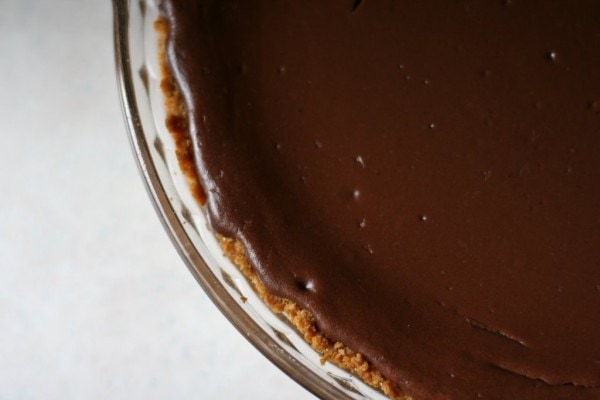 Let the cheesecake cool completely on the counter and then refrigerate it for several hours before serving.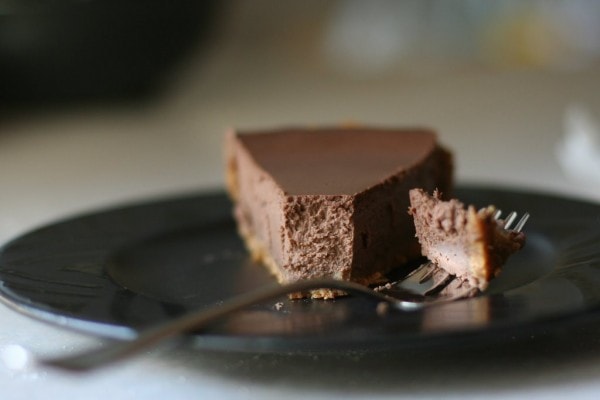 The recipe suggests topping this with fruit, but I'm not a huge fan of a fruit and chocolate combo, so we usually enjoy our cheesecake unadorned. You can certainly dress it up with fruit or whipped cream if you'd like, though.
Chocolate Cheesecake Pie
Printable Chocolate Cheesecake Recipe
Crust
1 1/2 cups graham cracker crumbs
6 tablespoons melted butter
Filling
1 15 oz container ricotta cheese (fat-free, light, or regular)
1 cup sugar
1/2 cup unsweetened cocoa powder
1 8 oz. package cream cheese (fat-free, light, or regular)
1 egg or 2 egg whites
1/3 cup milk
2 teaspoons vanilla
Combine graham cracker crumbs and butter, and press into a 9-inch pie pan. Set aside.
In a food processor, blend ricotta cheese until smooth. Add sugar, cocoa powder, and cream cheese; process until smooth. Add egg, milk, and vanilla, and process just until blended.
Pour filling mixture into crust and bake in a preheated 350 F oven for 45-55 minutes, or until the edges are firm (center will be soft). Turn oven off and let cheesecake stand in oven for 30 minutes with the oven door cracked open at least 4 inches.
Remove cheesecake from oven; cool to room temperature on wire rack. Cover and refrigerate for at least 4 hours before serving.
Blender directions: Puree ricotta in a blender in two batches, adding half of the milk with each batch. Transfer the smooth ricotta to a mixer bowl and proceed with the recipe, using a standard mixer.