I'm delighted to be writing this sponsored post as part of Glad's #SAVEITSUNDAY campaign.
Since we're on the cusp of vacation season, for this month's #SAVEITSUNDAY post, I thought it would be helpful to talk about vacation-related food waste.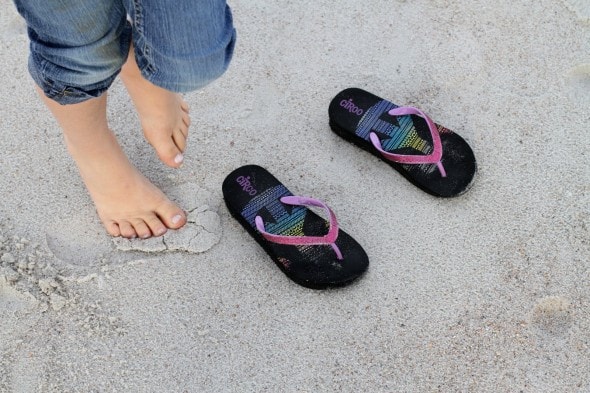 I know food waste might not be at the forefront of your mind when you think about vacation, but traveling is fraught with new possibilities for waste, from the food that needs to be used before you leave, to the food you take home from restaurants, to the food you buy while you're away.
I almost always waste more than normal around vacation time, but I have found a few ways to help reduce my vacation-related food waste.
Before We Leave
The week prior to our departure, I make a menu based on what I already have in the fridge so that I can use it up before we leave.
Then I do a very light grocery trip, buying only what we really need to get through the week. This means I have less food in my fridge, and that always forces me to use up what's there.
(If there are no fresh new strawberries, I'm more likely to use up the last few oranges, and if there's no new lettuce for a salad, I might get around to steaming that broccoli.)
I never manage to completely use up every bit of perishable food before we leave, so I freeze food.
The half loaf of bread, the partial gallon of milk, the leftover beef, and many other food go into the freezer to be used when we return. When we went to Disney, I had a whole container of organic spinach that we hadn't used, so I even threw that into the freezer to go into smoothies later.
My last pre-trip strategy is to pack some food to bring on our trip.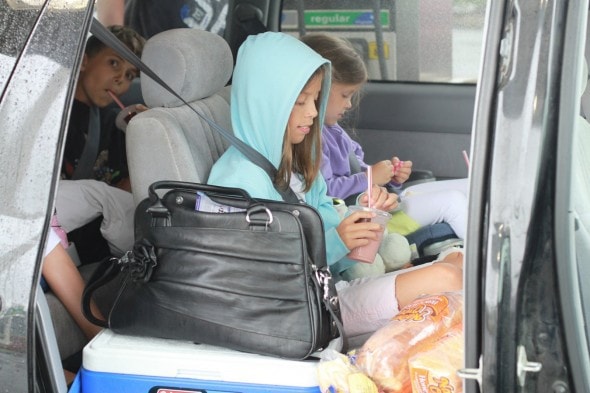 We always travel by car (airfare for six is a little out of our budget!), and we've always got at least a small cooler in the van. If I have a small amount of milk left, I bring it for someone to drink with lunch. If I have some leftover grilled chicken and veggies, I pack them up,* put them into the cooler and eat them cold for lunch on the way.
*Glad offers packing-friendly reusable containers in many sizes. Also, I find that their heavy-duty freezer bags are also great for coolers because they take less space than hard containers.  Since they're heavy duty, you can wash and reuse them for other food storage needs on your trip.
While We're Away
When we travel, we always try to stay somewhere that has a kitchen. This allows us to limit our eating out to only a few meals, which saves us SO much money. It also gives us a place to store and reheat any doggie bag food from our meals out.
Eating in means we have to go grocery shopping, and when we do, I try to stick with what allows me to live a low-waste life at home: I always have a plan for what we'll eat during the week and I always have a grocery list to follow.
When I make my plan, I try to build in a little wiggle room for unexpected changes.
For instance, one of the last dinner meals I planned on our Disney trip was breakfast for dinner (French toast and bacon). I knew if we ended up eating out an extra night or had leftovers, I could easily scrap the French toast meal with very little waste (we could eat the bacon at breakfast and bring the eggs, milk, and bread home.)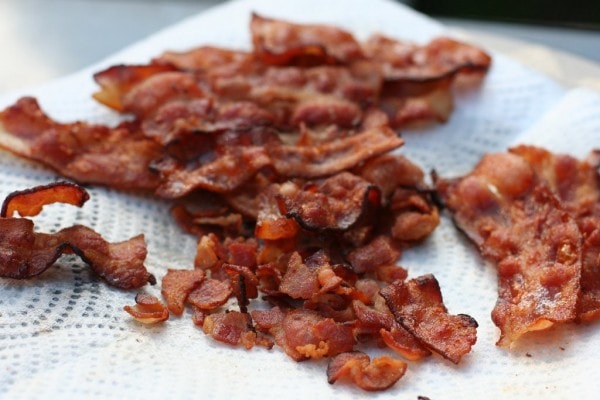 This would not be nearly so easy with a chicken or ground beef-based meal.
Also, we usually have some lunch meat sandwiches, but I don't buy enough deli meat to last the entire week. That way we have more than enough time to use up what we bought, and if we finish it early, we can eat PBJ sandwiches, which are mostly made from shelf-stable ingredients.
Of course, being away for only a week means I have to be extra careful not to overbuy perishables (you can't bring ice cream home in a cooler!), so this means I do things like buying the tiniest mayonnaise jar available.
I also err slightly on the side of under-buying in general. We can always pop in to the store to pick up more milk or more eggs, but it's hard to bring home a bunch of perishable food.
When We're Coming Home
Even though I carefully plan and grocery shop, we never finish up a week of vacation with zero food left. This means I have to choose between throwing it out or packing it up to take home.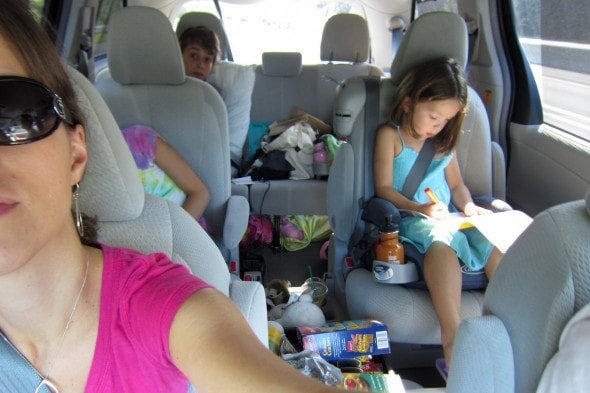 The night before we leave, I go through the fridge and freeze everything possible. For instance, I freeze butter sticks and shredded cheese and I pour milk into bottles and freeze it. Starting the food off frozen means I don't have to make room in the cooler for a bunch of ice and it also increases the food's chances of staying cold all day.
The morning we leave, I offer any leftover food to the family ("Anyone want some OJ? How about a bowl of yogurt? Or maybe an ice cream sandwich??") so that I don't have to pack it up.
I also bring home whatever nonrefrigerated items I can. When we drove home from Disney, we had a loaf of sandwich bread and some sub rolls that had gotten a little dry, so I just packed them and turned them into bread crumbs at home.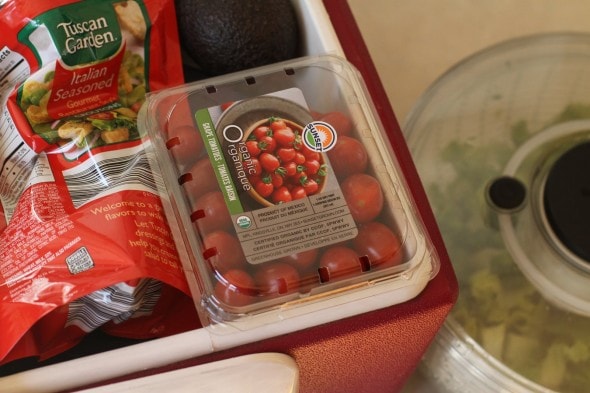 One caveat: What you do every day matters more than what you do once in a while, so don't drive yourself completely nuts trying to avoid waste on vacation. Just do the best you can, give yourself a little grace, and then get back into your no-food-waste habits once you get back home.
___________________________
Do you have a good tip for avoiding waste while traveling? Share in the comments!
___________________________
If you haven't yet, join me and 55,000 (!!!!) others in taking the #SAVEITSUNDAY pledge.
When you prep and store your food properly, you'll reduce your trash output and keep more money in your pocket!
Other perks: After you sign up, you'll get a $1 coupon for Glad products and there's always a #SAVEITSUNDAY giveaway going on as well.
Disclosure: I'm so happy to be part of the #SAVEITSUNDAY blogger team. #SAVEITSUNDAY posts are sponsored, but all content, opinions, and photos are mine. And I'm sure I don't need to tell you that my enthusiasm for preventing food waste predates this program by years.