On last week's Food Waste Friday post, a reader (Hi, Laura!) left the following comment:
I like the idea of the Food Waste pictures. But I worry sometimes about the incentive it creates for myself when I view food going bad as a really awful thing. For one, I buy fewer groceries, so they won't rot in the fridge or cupboard. But a year or two ago I realized I had a pretty bad habit of ordering pizza on the nights there were no good groceries in the house. That wasn't a win from a financial or health standpoint. I also made a conscious decision about a year ago to overbuy produce, even though we do see some of it go bad. This is because I want us to eat more fruits and vegetables. I'd rather have us all eating an extra serving because there's so much of it, even if some goes bad, then have the kids wander by the counter, feel a vague urge for a banana or apple, and then not have one there.
I actually agree with Laura, and this is such a good reminder, I thought we were maybe due to discuss this again.
Being mindful of food waste certainly doesn't mean that we ought to quit buying fruits and vegetables, and it doesn't mean that we should cut back on buying fruits and vegetables.
In fact, that hasn't been my main strategy at all. Oddly enough, since I started blogging (almost 4 years ago now!), we've begun to eat more produce than we did before, mostly because I started shopping at Aldi, which meant I could suddenly afford more produce.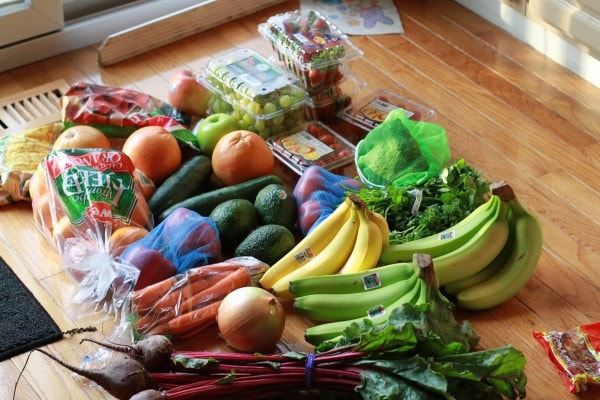 So, I buy more produce now, and yet waste far less than I did before.
How?
Well, for one thing, knowing that I'll have to show you all of my waste makes me much more inspired to use up my produce. Before, I'd stare at the green beans and feel utterly unmotivated to trim and cook them, and now, even if I have no other motivation, I cook them because I don't want to have to show you moldy beans!
Public accountability is a marvelous thing.
A second uber-helpful thing has been a more detailed menu plan. I used to buy produce willy-nilly, bring it home, and forget to use it. Now when I plan my menus, I write down which nights we're having salad, or roasted green beans, or steamed broccoli. This helps me buy and use the produce.
A third useful tactic has been paying more attention to what's in my fridge. Before, I used to rummage around in the fridge looking for whatever I was in the mood to eat. These days, I do more mindful rummaging (Is there such a thing??), searching for produce that might need to be used.
Lastly, I've learned to use the most perishable produce first. At the beginning of the week, we eat up the berries, spinach, and bananas, and by the end of the week, we're more likely to be eating things like citrus fruits, carrots, and hardier greens.
Admittedly, I could have cut back on my food waste problems by simply buying less produce.
In fact, avoiding fresh foods is a very simple way to waste less. As a rule, the fresher and less processed the food, the more likely it is to go bad.
And if low food waste was the goal to trump all other goals, maybe I'd choose Ramen over avocados.
But, as so often is the case, there are multiple virtues we should be striving for, and elevating one way above the others causes us to have unbalanced lives.
For instance, if you strive for a low grocery bill above all else, you're probably not going to buy enough healthy food (by the same token, if you raise organic food to the tip-top, you might find yourself in debt, especially if you shop exclusively at Whole Foods!)
If frugality in general is your highest goal, you probably won't be generous.
And if zero food waste is the be all, end all to you, your kitchen probably won't boast much green food.
So, please don't ever think that I'm advocating a low-produce sort of existence. That's not at all the point of Food Waste Friday. I want you to keep buying produce! I just want you to use what you buy.
Need more food waste tips? Check out 10 Ways To Reduce Food Waste. And join the rest of us on Food Waste Fridays! The accountability it provides has changed my life.
Your turn! How do you manage to buy plenty of produce without wasting it?